Sorry, Utes: Utah's 2014 football uniforms rival the BYU bib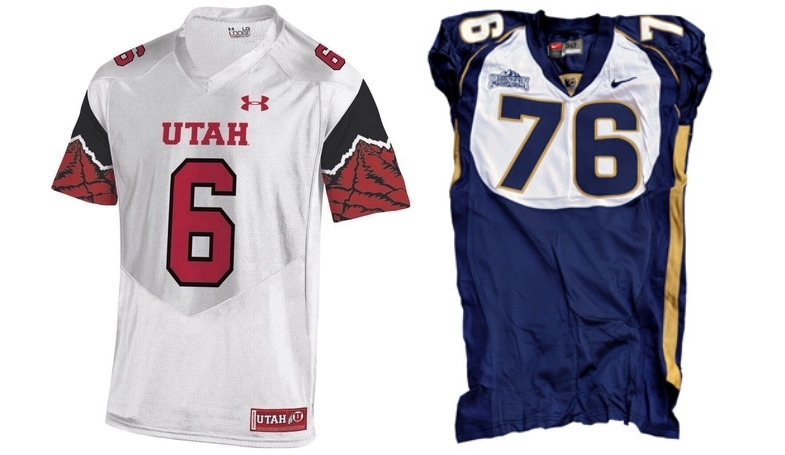 Under Armour keeps going backward with Utah's uniforms.
The football uniforms the Utah Utes will wear in the 2014 season have been revealed by Under Armour. The white version is seen above. The home reds are seen below.
What is Under Armour trying to do? Utah's uniforms keep going backwards. I thought the move away from the more unique curved number fonts to the block numbers was a bad one, too.
Utah fans are responding (see Twitter threads here and here):
Please no
ohhhhhhh fuuuuuuuuuuuuuddddgggeee
what the hell
We'll look like an AFL team. Dammit.
No wonder Langi is leaving
Absolutely horrible
Looks like a Major League Lacrosse jersey, and that isn't a compliment
Those are not real are they?
Yes, it appears they are real, confirmed by an Under Armour catalog and appearing on Amazon (already with one review: "This better be a joke, it looks like dog s***.")
Utah's only saving grace might be what the sleeves end up looking like on the versions with the elastic sleeves that fit tightly around the pads, which is almost exclusively what players wear. The volcano mountains may get hidden. Still, though, the above monstrosities are what will be available for fans to purchase.
You'll hardly ever see any posts about Utah on this site, or even on my Twitter account. But I haven't taken the time to put together this little post to mock or deride.
In the David Tennant era of the British television sci-fi drama Doctor Who, any time something awful and unavoidable is about to happen that Tennant cannot stop, or when he encounters someone who has had a great wrong done to them by an evil-doer, he usually says, "I'm sorry. I'm so sorry."
The very first clip in the series of clips shown below sums it up quite well. The blonde, Rose Tyler, is you, Utah fans. The Doctor is me. Between the 1999 bibs and the 2004 monstrosities of tan and stripes and seriously why so many tan stripes — I know how it feels.
"That's disgusting. What's wrong with [it]?"
"I'm sorry. I'm so sorry."
Utah fans hold hand up to nose in disgust.
***UPDATE***
From my man Josh Furlong. There is still some hope, Utah fans.
Uniforms being passed around are not the ones Utah will wear. New uniforms expected to be released about Aug. 6 according to university.

— Josh Furlong (@JFurKSL) July 16, 2014
However, the "retail photos are a fairly accurate depiction of the new jersey," Liz Abel, associate athletic director told me.

— Josh Furlong (@JFurKSL) July 16, 2014