Best Game Ever: 59-0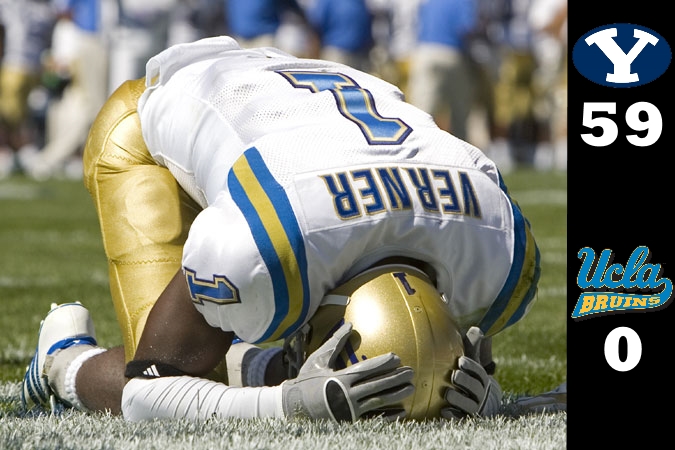 Jake Welch recalls that time everything went right and nothing went wrong, and who was there to watch it — part of the Loyal Cougars "Best Game Ever" series.
The very best moments of my life as a sports fan are those in which I have thought to myself, "I literally don't believe what I just saw." It's as if the outcome was so unexpected that you have to assume that what you witnessed was either due in part to extreme sleep deprivation or a drug-induced dream. Many of these moments came by way of one James Taft Fredette.
Going back through the annals of my BYU fandom, there is one game that aces the utter disbelief test. That game: 59-0.
I reference it as such because it shouldn't need any other qualifier. If you're even a fair weather BYU fan you should know the opponent and the specifics.
7 TD passes. 35 points in the second quarter. Four forced turnovers. Zero points (0) allowed.
I could go into great detail about how magnificent this victory was, but the very best part about this game wasn't so much the game itself but what I was able to witness before it all happened.
Before every home game, I had what I considered a very sacred tradition. I would arrive about 45 minutes before the game would start and I would watch the team warm up. I would go down the very front row, because at that time there was no one there checking tickets. I would then sit and wait as the crowd would fill in around me and I found myself sitting on a bleacher in the very front row. I'm sure I created a tighter squeeze for some of you and for that I don't really feel the need to apologize.
I remember getting to the stadium particularly early on the day of the UCLA game, and the chatter amongst the fans was cautiously optimistic. BYU had narrowly escaped with a victory the previous week after Jake Locker's "excessive" celebrating penalty and Jan Jorgensen's heroic PAT block. This week we were playing the familiar foe in UCLA.
I loved / hated hearing fans talk about their prognostications for the game mostly because they were comically off-base. To put it lightly, what we happen upon in the internet message boards is sensible compared to the utter foolishness one hears in the stands before a BYU football game. "Did you hear that Bronco might switch over to a 2-6-3 defense? I mean our strength is at the linebacker position!"
Anyhow, while I was listening to a fan explain why BYU should go back to the option offense, I noticed someone on the sideline. Usually before the game, just about everyone and their great uncle is on the sideline as the team runs onto the field so there was usually a good number of recognizable faces. This one one, however, was more intriguing than the rest. It was a high school basketball recruit from up the road in Alpine. He was one of the best basketball players in the state, and many high-profile programs in California were in hot pursuit of him.
I watched as this recruit paced the sidelines with a couple of his friends. They were talking with a few current players and alumni before standing directly in front of me as they watched the team take the field. I'm not going to try and romanticize the beauty that is a college sports team taking the field of play (be it a field or court) because I would never be able to do it justice. There is something deeply emotional about watching your team enter into "battle:" some walk tall with confidence, and others dance their way on, beating their chest with swagger.
So on this fateful day, I stood here watching this basketball recruit watch the football team run onto the field. The highlight video flashed across the screen and the music started blasting. One of the recruits friends turned to him and said, "You see this Tyler? I know you want to be part of this." He looked over to his friend and nodded.
The rest is history. BYU took UCLA to the woodshed and that scrawny high school kid, Tyler Haws, turned down Stanford and committed to play basketball at BYU. I guess Tyler still has another season at BYU, but in his first three he's provided us with some "did that just happen?" moments of his own.
So looking back, was this the best game ever because it was in every sense the exact definition of a drubbing? Or was it the best because as a result, we have been witness to one the greatest mid-range jump shooters in BYU history?
Either way, it was undoubtedly the best game I have ever seen. Even if at first I didn't believe it.
(18) BYU 59, UCLA 0
September 13, 2008
Provo, UT | Attendance: 64,153
Box Score
The Loyal Cougars "Best Game Ever" Series is about shared stories — the time you left a game you attended in person and thought "that was the best game ever!" If you have a story to tell of such a game, submit it to bestgame@loyalcougars.com and share it with the fan base.
Read the timeline of published stories at the Best Game Ever page.