Four reasons why BYU hoops will be better next season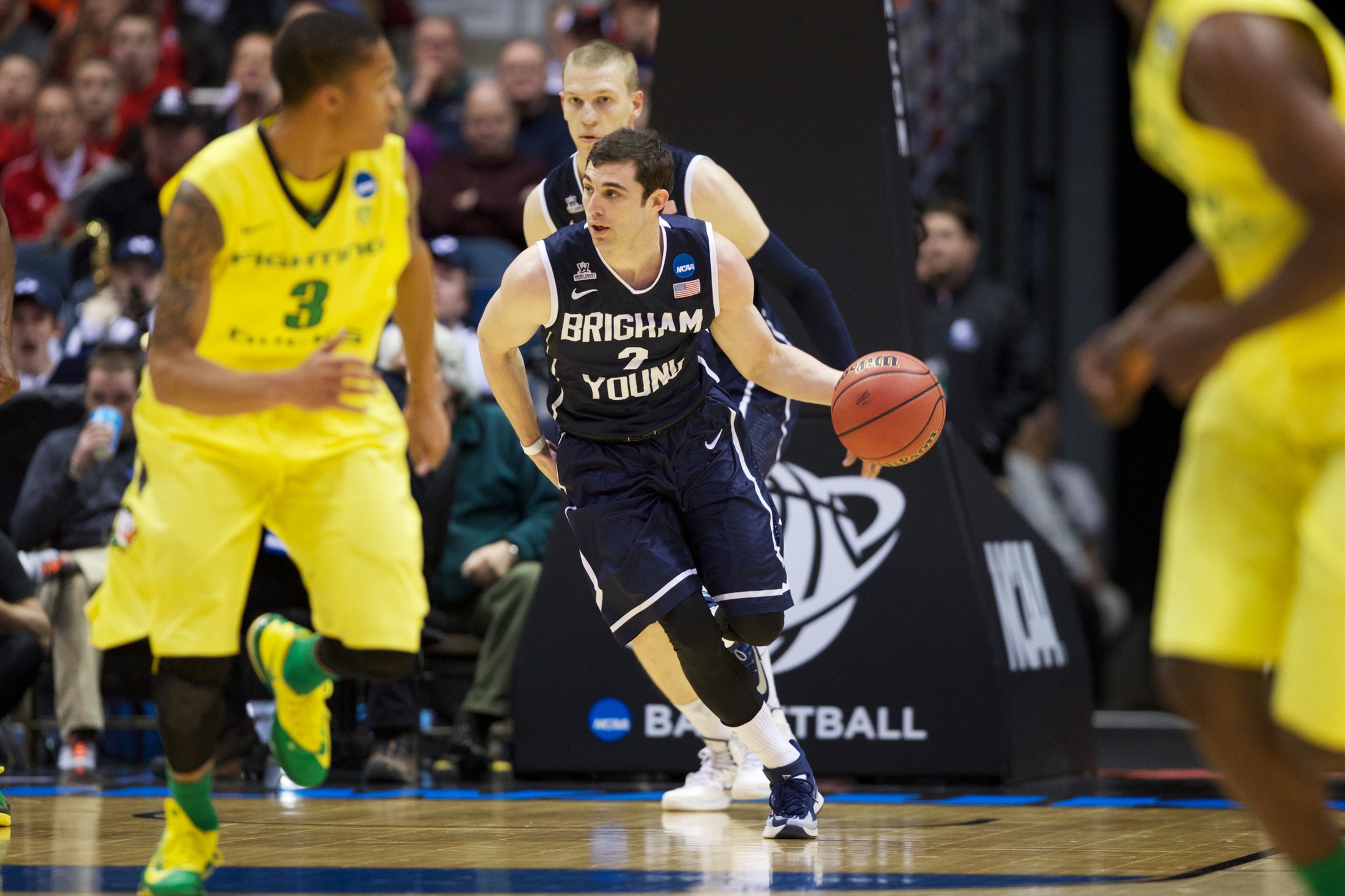 Self-proclaimed BYU optimist Geoff Johnston knows why and how the Cougars will be better in 2014-15.
Despite losing an NBA player in Brandon Davies, the BYU men's basketball team ended up being better than last season. The 2012-13 Cougars bowed out of the WCC tourney early with 21 wins and landed an NIT invitation. The 2013-14 Cougars were defeated in the finals of the WCC tournament and finished with 23 wins before being awarded a 10-seed in the NCAA tournament. The improvement this season was due to a combination of returning players improving and new guys contributing in a big way .
Here are four reasons why the 2014-15 team will be better still.
1. Hola, Seniors!
The team this year had zero seniors. That is a real anomaly for a BYU basketball team. The team next season is slated to have six seniors. (In this post we'll assume all will be back despite the scholarship crunch Greg posted about recently.) Six seniors means there will be a lot of savvy, experienced guys on the court for BYU. That leadership and experience alone ought to buy BYU 2-4 extra wins. Hopefully those wins will come in the form of avoiding the four "bad losses" BYU suffered this season. That's a decent leap ahead of 2013-14 already.
2. All 13 scholarships filled
BYU only had 10 scholarship players available this season. Next season, Dave Rose will have 13 scholarship players ready to go.
Several very talented kids are set to join the program next season. Sharpshooting Wake Forest transfer Chase Fischer will be eligible to play after sitting out a year due to NCAA transfer rules. Hotly-recruited-late low post man Jamal Aytes transferred from UNLV and will become eligible in December. And while freshman phenom Eric Mika will be speaking Italian to Romans on his mission, BYU will be bringing in two more big men in returned missionary Isaac Nielson and high school senior Ryan Andrus. Add to those guys the former Washington state player of the year, Jordan Chatman, who returns also from his mission, and you have a promising influx of new blood to help the team.
3. MOAR THREES
BYU didn't take or make enough three point shots this season. Here is a chart of the threes attempted and the percentage made over the last several years:
Year – Attempts – 3pt%

2006-07 – 617 – .415
2007-08 – 764 – .363
2008-09 – 624 – .381
2009-10 – 700 – .417
2010-11 – 865 – .361
2011-12 – 679 – .343
2012-13 – 630 – .338
2013-14 – 498 – .355
In Jimmer's senior year, when BYU advanced to the Sweet 16, BYU attempted 865 three pointers and connected on 36.1% of them. This season BYU attempted just 498 three pointers while connecting on a slightly-lower 35.5% of them. That resulted in BYU making 135 more threes in that 2010-11 season than in the just-completed season despite shooting a very similar percentage. With Fischer getting minutes along with Carlino, Haws, Winder, and the other guards, I am hoping to see the attempted threes number get closer to 700 again next season and the 3pt shooting percentage to top 37%.
4. Another year wiser
Besides the seniors on the squad next season, all of whom should be improved, BYU brings back everyone else but Mika as well. Hopefully Collinsworth will recover swiftly and pick up where he left off this season, vying for the title of the best player on the team. If his work to get back to playing shape after his mission is an indicator, there is every reason to believe he'll work hard to get back the right way and be ready. Bartley and Worthington will return as well, both a year wiser and more experienced. I'm expecting both of them to be even more capable of making serious contributions next season.
Managing Expectations
I'm not predicting BYU will become a Final Four team next year, but I do think the team will be markedly better. That should translate into more than 25 wins, put BYU into serious contention for its first WCC regular season title and WCC tournament title, and lead to a better seed in the NCAA tournament. And if history is a guide, a better seed in the Big Dance probably should lead to a victory (or two) in the NCAA tournament. And when you consider that BYU has made it past the round of 64 only twice in the last 20 years, advancing past Thursday in the NCAA tournament would be progress indeed.
What say you? Why will BYU basketball be better or worse in next season? Sound off in the comments below.