How BYU can round out its 2015 recruiting class
Updated: November 5, 2014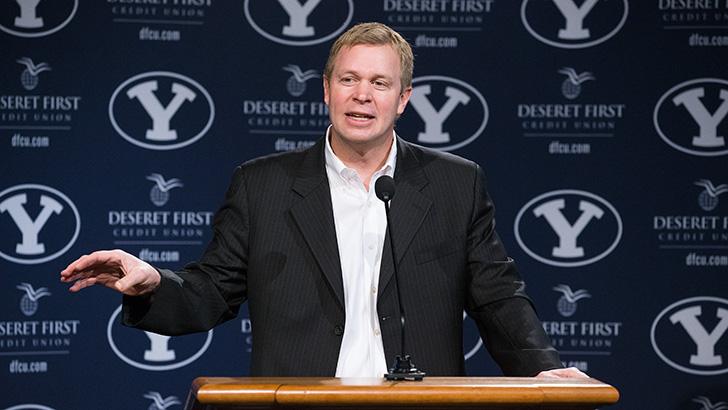 "Sign and Send" Targets
The BYU coaching staff currently has eight (+/-) offers out to players that I believe will serve a mission prior to enrolling in college. With somewhere near 13 open spots currently in the 2017 class, I don't think the Cougars expect to sign all eight of these prospects, but a lot can happen between now and then to free up additional spots (transfers, injuries, players losing scholarships for disciplinary or performance reasons, etc.). I believe Martzen and co. will take their best shot at these guys and hope to get as many as possible.
1. Semisi Uluave, OG, The Punahou School (Hawaii)
At 6'5″ and 320 pounds, Uluave is a beast of an Offensive Guard specimen. He uses his hands, feet, size, and strength well and is ranked by Scout as the #18 OG prospect of the 2015 class. He has a ton of offers, but has seemed to close in on a Top 2 of Oregon and UCLA. Here are his 2013 highlights:
2. Kieffer Longson, OT, Dougherty Valley High School (California)
Kieffer Longson (6'7″/300) is the #33 ranked Offensive Tackle prospect in the country. He holds about nine offers from P5 programs and lists his Top 4 as Ohio State, BYU, UCLA, and Utah. He is being recruited by Coach Tujague and he'd be a big prospect for BYU to sign. His highlights are also available on Hudl.
3. Mufi Hunt, DE, Brighton High School
Hunt is a fantastic DE prospect, ranked the #53 Defensive End by Scout. BYU was the third team to offer Hunt, joining a list that now includes Arizona, ASU, Cal, Oklahoma, Oregon, Oregon State, Utah, Utah State, Vanderbilt, Washington, and WSU. At 6'6″, Hunt would be a Bronson Kaufusi-type end for BYU. Just yesterday, Hunt came out with a Top 3 of Utah, Cal, and WSU. You can see his Senior highlights on Hudl.
4. James Empey, OT, American Fork High School
Empey (6'4″/270) is the son of former BYU player and coach Mike Empey. He is ranked by Scout as the #45 OG in the nation. He has offers from several Pac-12 programs and has narrowed his Top 3 to BYU, Utah, and Washington. Empey would be another outstanding signee for the Cougars. Empey's highlights from the beginning of 2014 can be found here.
5. Gabe Reid, DE, Timpview High School
Gabe Reid came close to committing to BYU back in February. He is the son of former BYU linebacker Spencer Reid. He currently holds nine offers from Arizona, Arizona State, BYU, Stanford, Utah, Utah State, Navy, Oregon State, and Washington State. He is mostly focusing on his Senior year at Timpview, which for right now means a 4A Quarterfinal game against Sky View this Friday. The highlights of his Junior year are on Hudl.
6. Quinn Fabrizio, S, Alta High School
Fabrizio (6'3″/208) is ranked the #73 Safety in the U.S. by Scout. He holds offers from nine programs, but has been mostly focused on a Top 5 of BYU, Utah, Wisconsin, Washington, and Utah State. Coach Poppinga has been Quinn's primary recruiter. Below are Fabrizio's highlights from 2013:
7. Britain Covey, IR, Timpview High School
At 5'9″ and 170 pounds, Covey is being recruited as a slot receiver. He holds offers from all three major programs in the state of Utah and will likely choose to attend one of those three following a church mission. An excellent student, Covey also holds an offer to play football for Harvard. Coach Holliday and Coach Poppinga are leading BYU's efforts to sign him. Covey plays QB for Timpview. Cougar fans everywhere hope he will follow the footsteps of his brother Stephen and join the Cougar football program.
8. Zayne Anderson, S, Stansbury High School
Anderson (6'3″/194) committed to Utah State last year, but has since earned an offer to play for BYU following his missionary service. Zayne is ranked by Scout as the #96 Safety prospect in the country. Here are some of his highlights from the 2013 season:
Prediction
For starters, Uluave is off the table since BYU is not among his Top 2. Anderson has held his BYU offer for 6 months and has not shown any signs of decommitting from Utah State, so it seems he will stick with his original commitment. As for the other six, any number of them could choose the Cougars and it would not be surprising to me. I've heard the coaches feel good about the chances of signing Longson. Gabe Reid seemed high on BYU before receiving a lot of attention from Stanford, which is where I'd bet he'll sign. I don't see BYU signing Hunt or Fabrizio, but it's still early and things can change. I think BYU has a good shot to get Covey. I'd say Empey is a toss-up. To review, if I had to venture a guess as to which of the eight prospects will end up signing with BYU in three months, I'd say Longson, Covey, and one more (Empey most likely of those remaining).