How BYU can round out its 2015 recruiting class
Updated: November 5, 2014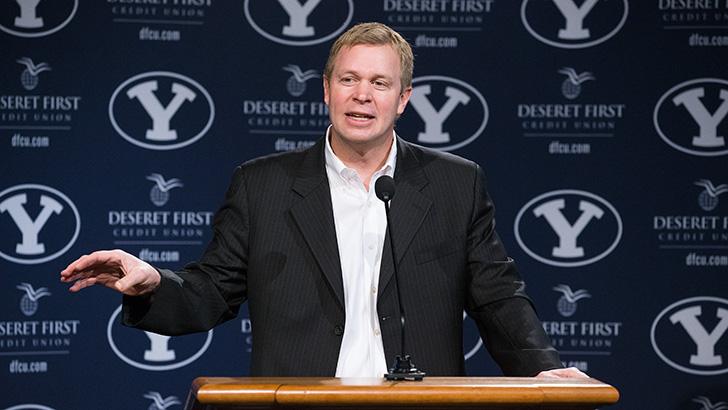 Wide Receiver
Based on the remaining offers out to those 13 or so athletes who could contribute immediately for the Cougars, it seems that wide receiver is another position of need and an additional WR will likely fill one of the four remaining scholarship spots for 2015. DeSoto (TX) H.S. WR Akile Davis has already committed to BYU, but the coaches seem to be angling for one more receiver. Here are the 2015 receivers with current BYU offers:
1. Jeremy Kelly, Bishop Mora Salesian High School (California)
Kelly (6'1″/170)  is the #78 WR in the country by Scout and the #42 athlete in the country by Rivals. Aside from a BYU offer, he reports offers from ASU, Cal, Colorado, Fresno State, Hawaii, Nevada, SJSU, SDSU, Utah, Washington, and Wisconsin. Watch him below (I especially liked his block at 5:47).
2. D'erren Wilson, Greenville High School (Texas)
The 6'3″, 172-lb Wilson was close to a decision this summer before choosing to wait a while longer. He has narrowed his choices from nine offers to a Top 3 of BYU, Arkansas State, and Indiana. D'erren is ranked by Scout as the 130th best receiver in the country. He is being recruited by Coach Guy Holliday.
3. Jonah Trinnaman, Snow College
Trinnaman (6'0″/185) attended American Fork High School and originally signed with Utah State as part of the Aggies' 2014 class. He wanted to play WR and Utah State told him late that they wanted him at DB, so he decided to attend Snow College instead. He will be eligible to play immediately in 2015 at whichever school he chooses. You can see the highlights from this season at Snow College on Hudl. Through 9 games, he has caught 22 passes for 339 yards and 6 touchdowns.
4. Micah Simon, Bishop Dunne High School (Texas)
Simon (6'0″/175) plays QB for Bishop Dunne, but his mobility and speed prompted BYU to extend him an offer to play receiver. He has offers from Air Force, Cornell, and Grambling to play Quarterback.
Prediction
The simple fact that BYU extended offers to Trinnamann and Simon two weeks ago seems to indicate that they don't feel good about either Kelly or Wilson. Kelly's offer list is impressive, but one would think that BYU would be able to beat out Indiana and Arkansas State for Wilson's services. Though I'm sure the coaches will continue recruiting them both, at this point, it would appear the Trinnaman is the best bet to take the single spot for a 2015 receiver.
Offensive Line
The position that the coaches seem to be targeting to fill the final spot for 2015 is offensive line, which is always a position of need for BYU. The Cougar coaches have three outstanding offers out to 2015 prospects:
1. Zach Bateman, Orange Coast College (California)
Zach Bateman (6'7″, 320-lb) plays Left Tackle for Orange Coast College and should have 3 years to play 2 beginning in 2015. He holds quite a few offers from major programs including Arizona State, Florida, Missouri, Ohio State, Oklahoma State, UCLA, and Wisconsin. Bateman has already made official visits to UCLA and Oregon State. His highlights are viewable on Hudl.
2. Viliamu "Amu" Auwae, Kapolei High School (Hawaii)
Auwae is 6'5″ and 275 pounds and being recruited by Coach Atuaia and Coach Tujague. He's the type of tackle BYU likes to recruit and was offered while on an unofficial visit to BYU in June. He also holds offers from Nevada, Utah State, and Washington State. You can see the highlights from the first part of the 2014 season on Hudl.
3. Charlie Grammel, Lone Star High School (Texas)
The 6'4″, 285-lb Grammel plays Offensive Guard. He holds 16 offers and listed an official Top 4 of BYU, New Mexico, Tulsa, and Colorado State. You can see his 2013 highlights on Hudl.
Prediction
Based on his offer and visit lists, Bateman seems likely to select a more prestigious program. However, BYU might be able to sign either Auwae or Grammel with continuous recruiting overtures in their direction.
Other "Immediate Contributor" Prospects
Aside from these 11 players being looked at to fill the remaining four spots for 2015, there are just four other players holding 2015 offers from BYU. They are probably "pipe dream" recruits, but if BYU extends the offer and there is reciprocated interest, the coaches can put on the full-court press in the hopes of signing them.
1. Osa Masina, OLB, Brighton High School
Masina (6'4″/205) is a 5-star Outside Linebacker prospect ranked #2 in the country at his position. As such, he can basically choose where he wants to go to school, and it doesn't look like that's going to be anywhere in the state of Utah. His stated Top 5 is Arizona State, Wisconsin, Michigan, UCLA, and USC. He appears to be leaning towards one of the Pac-12 programs. Here are his 2013 highlights:
2. Thaddeus Daniels, CB, Cerritos College (California)
The 6'2″, 195-lb Daniels is a JC Cornerback prospect with offers from BYU, Utah, and Utah State. He was offered by the Cougars following an unofficial visit to Provo in June. He plans to graduate in December and enroll early at the college of his choice. As such, I expect him to announce a decision soon. He is being recruited by Coach Tujague and he'll have 3 years to play 2. Hudl has the highlights from Daniels' first season at Cerritos in 2013. There hasn't been much news on the Daniels front, but I'd say BYU stands as good of a chance as either of the other two.
3. Kavika Johnson, QB, Maxfield High School (New Mexico)
Johnson (6'2″/200) is a dual-threat QB who has also been offered by New Mexico, New Mexico State, and UTEP. He attended Junior Day at BYU this past June. Much like Daniels, there hasn't been a lot of news about Johnson lately. But, BYU is always trying to expand its pool of serviceable mobile quarterbacks. The coaches may have the best idea of anyone regarding the odds of landing Kavika. Here are Johnson's Junior highlights:
4. Jonah Moi, OLB/DE, Riverside City College (California)
Moi, a 6'3″, 245-lb JC Defensive End prospect, is listed as being committed to Hawaii. His Hawaii commitment occurred back in March, but BYU came in late with an offer in June. There's been no word on how seriously Moi is considering his BYU offer, but it seems that, at least for now, he remains committed to Hawaii. Here are some of his highlights from this season.