Around the NCAA: Michigan Fans Now Hate Football
Updated: October 21, 2015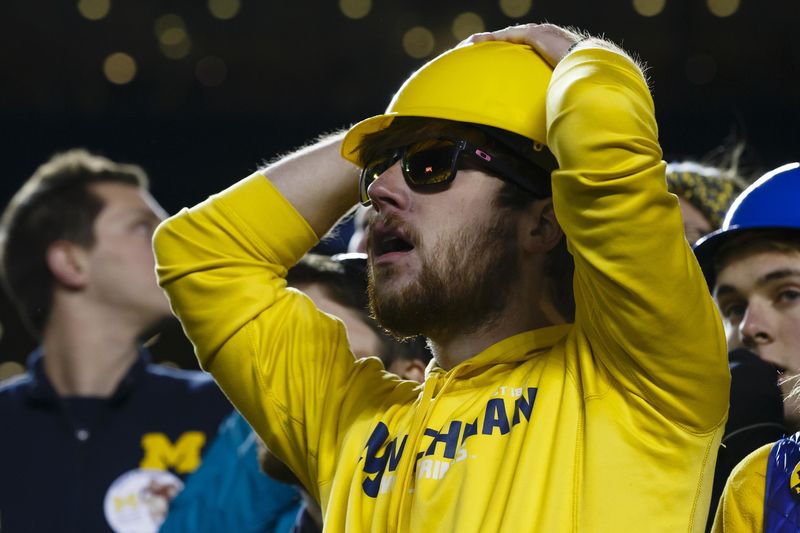 Week 7 of the 2015 college football season is in the books, and Week 7 of some inexplicably crazy stuff is in the books as well. There are currently 4 (four!!) G5 schools that are undefeated and ranked. So for those of you still holding out hope for BYU to maybe get a NY6 bid, I don't know what to tell you other than, it ain't gonna happen. Granted, 3 of those undefeated ranked teams are AAC, so at least one of them (and likely all of them) are going to lose at some point.
Toledo in the MAC probably has the easiest path to stay undefeated. If they keep winning, they will continue to creep up the rankings and easily gain that auto G5 bid, making an at-large BYU bid nearly impossible, in my opinion. There are too many variables and too many teams that have to lose in order for a 2-loss BYU team to get the nod. So, I wouldn't get my hopes up. In fact, I'm not. At this point, a Las Vegas Bowl match-up against a mid-level Pac-12 team is probably the best BYU can do. But guess what? The entire Pac-12 is mid-level teams this year, so it'll be a fun game either way!
Football Craziness
Speaking of the Pac-12, how about them Utes, huh? They are having a terrific season thus far. I would hope that Ute fans would admit that the Pac seems a bit down this year, but we also know that Pac teams almost always have at least one head-scratching loss and are terrific at eating their own. And Utes, if you really want to be part of the cool kids table, darn it, you better get with the program!
But did you see that weird kick return/safety thing from the Utah-ASU game? Weird, right? I think better than the weird play though was ASU Head Coach Todd Graham's reaction to what appears to be the ref doing the Macarena. Uh, that's not the signal for safety, my friend! Way to perpetuate stereotypes! #Pac12Refs
Todd Graham's reaction the Pac 12 referee's safety call is hilarious pic.twitter.com/PsgHLcz99q

— CJ Fogler (@cjzero) October 18, 2015
In other crazy news, the Michigan Wolverines finally beat their in-state rivals, the Michigan State Spartans…except that they didn't. Now I'm not going to pile on this punter like I'm sure many have and will, but man, if there ever was a call for "you had one job!" It yet again shows us that it ain't over 'til it's over!
And here's the fan reaction:
Speaking of punters, here's one that can fly!
And here's Lane Kiffin giving Nick Saban the stiff arm, preventing him from calling timeout. Does this not seem like an awkward coaching relationship?
8 Turnover Performance of the Week
The Utah State Aggies destroyed the Boise State Broncos thanks mostly to seven BSU turnovers in 1st Half, and 21 points scored by USU in the final 85 seconds before halftime. The score was 10-24 with less than 2 minutes left in the half, so you can see it was already getting out of hand for Boise. BSU fumbled the ball on its own 45 and 2 plays later USU scored a TD.
Then, BSU fumbled again on own its own 21! Just 1 play later, it was another TD for USU! And then, on the last play of the half, with Boise in USU territory, they were trying to go for the endzone, but the pass was intercepted at the 10, and subsequently returned 90 yds for a TD, because why the heck not! Boom: 45-10 at halftime.
As if that wasn't crazy enough, to start the 2nd Half, BSU fumbled one more time, just for good measure. The 2nd Half had a lot of punting by both teams, with basically no way for BSU to really recover from that. Craziness! The only explanation, clearly, is that BYU is the dirtiest team in college football.
Other Scores
The Memphis Tigers beat Ole Miss (SEC! SEC!) to stay undefeated. Thankfully BYU did not start any brawls during that game, because if you haven't heard, the Cougars are the dirtiest team ever.
And Oklahoma played like they just got embarrassed by a not good Texas team, and won 55-0 against KState.
UCLA was completely outmatched by Stanford, a team which will most likely win the Pac-12 championship, and is probably the most improved after a Week 1 loss. Anyway, Stanford won 56-35 in a game in which this happened:
Fat Guys Doing Things That Are More Exciting Because They Are Done By Fat Guys
It's always exciting to see linemen and other hefty guys that don't normally score points be able to do so. Here's a couple from this week (the last one is actually from LAST week, but still fun).
Watch as Le'Raven Clark houses the 2-point conversion, to put Tech up by 11! #LetTheBigDogEat #WreckEm http://t.co/LvifmydUXm

— Texas Tech Football (@TexasTechFB) October 17, 2015
And here are two gifs of a fat Memphis fan playing the guitar with a megaphone.
Finally
This last one is not from the NCAA, but it's still fun.  Detroit WR Golden Tate makes a flag appear, like some kind of magician:
What other thoughts do you have about CFB Week 7?  Anything exciting I missed?