BYU finds footing, blasts Colorado College in first exhibition game
Updated: October 26, 2013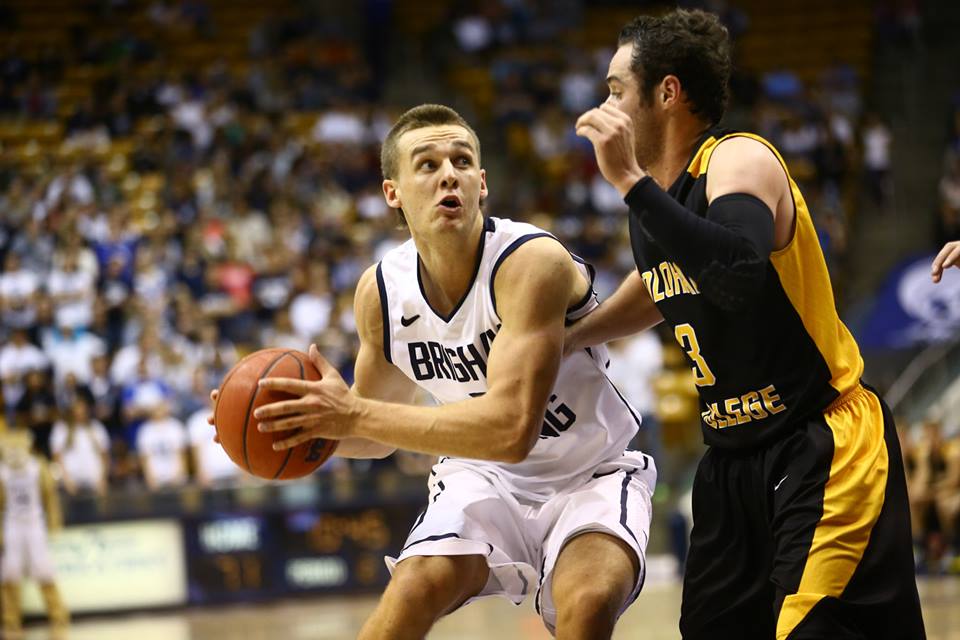 After a rocky first half, the Cougars used tough defense and strong performances from Matt Carlino and Kyle Collinsworth to put away their first exhibition game of the season.
BYU beat Colorado College Saturday night in the Marriott Center, 94-58. Matt Carlino was BYU's leading scorer with 23 points in 21 minutes, while Kyle Collinsworth pulled down 11 rebounds in 25 minutes of play.
Exhibition games aren't supposed to be hard. And while Colorado College did pull ahead of BYU briefly in the first half, there was never a risk of this being a close game in the end. The game did, however, give BYU players a chance to compete against someone other than themselves. It also gave BYU's coaching staff a chance to identify the team's strengths and weaknesses as BYU prepares for the regular season to begin.
Below are some observations about the team and each of the 10 scholarship players based on the game tonight.
Team
While the offensive pace was solid from the start, BYU's defense was porous in the first half as the Cougars gave up 39 points to this D-III opponent. Coach Dave Rose must have given a rousing halftime speech because the BYU defense improved dramatically in the second half. Colorado College only scored four points in the first 11 minutes of the second half, en route to 20 total points after the break. That pace of scoring was certainly more to the liking of the BYU coaching staff.
As usual for this time in the season, Rose is still experimenting with lineups. The really encouraging thing about this team is the 10 available scholarship players are all talented and ready to contribute now. There are no long-term project guys on this squad that won't be able to help this year.
Managing fouls for BYU's big guys is probably going to be an adventure this season. Luke Worthington and Eric Mika both collected three fouls and Nate Austin had two. Seems likely that against tougher opponents those foul numbers will be higher. With only three legitimate big guys on the team, Rose is going to have have his hands full managing their fouls this season.
Tyler Haws — Not much new to report on Ty. He's the best player on the team and will be the main BYU star this year. He scored 14 points in 20 minutes on a relatively cold 4-for-12 shooting night. He did go for 1-for-2 on threes and will surely not be cold very often this season.
Matt Carlino — Matt started the night on fire and stayed hot throughout. It seems Matty has picked up right where he left off last year with his excellent NIT run. Carlino is establishing himself as the second best player on this team and BYU will count on him heavily as a leader and a scorer.
Kyle Collinsworth — Kyle showed that he is still good at doin' what he do (namely, rebounding, distributing the ball, and slashing to the basket), but that he still isn't very good at doin' what he don't do (shooting jumpers). Kyle is obviously still shaking off mission rust, but his 11 rebounds, 5 assists, and 13 points on 13 shots have to be encouraging to the BYU coaching staff. KC will only get better as he gets back into the swing of things, and if he can avoid the returned missionary injury bug, he'll be a real force by mid-season.
Eric Mika — Eric had a frustrating night and you could see his frustration in his face. He picked up two fouls in the first half and another in the second half. He also took a hard shot to the nose that had trainers putting gauze in one of his nostrils to stop the bleeding. Mika finished the night with 6 points and 4 rebounds in 20 minutes of play. He'll surely have better nights in the future, but we fans probably have unrealistic expectations for a true freshman like him. He's going to eventually be very good but needs time to adjust to this level of play.
Anson Winder — Anson got the start tonight in a 4-guard rotation and played well. When he gets open looks at threes, he drains them pretty reliably; he plays solid defense; and now that he is healthy, he has shown that he can finish at the rim reliably as well. Winder finished the night with an impressive 13 points on 4-for-6 shooting. He also chipped in with 5 rebounds and 2 steals. With contributions like that, Anson will continue to earn plenty of playing time.
Nate Austin — Nate was the first guy off the bench and looked as good or better than he looked last season. He had an nice highlight reel play tonight on a fast break dunk over a Tiger player. He finished the night with 5 points on 2-for-2 shooting and 7 rebounds. His only trouble on the night was going 1-for-4 from the free throw line.
Frank Bartley IV — Frank was the second guy off the bench and ended up being the guy that surprised me most. You can never tell how ready an incoming freshman will be until the lights come on, and Frank shined tonight — especially on defense. He only scored 2 points, but he dished out 4 assists, grabbed 4 rebounds, and also got 2 steals. Most importantly, he was just disruptive on defense and seemed to make life much harder for the Tigers when he was in.
Luke Worthington — Luke was the third guy off the bench and proved to be just what we expected — a big, tough, savvy, low post presence. Luke scored 10 points on 50 percent shooting and grabbed 6 rebounds in his 15 minutes on the floor.
Skyler Halford — Skyler was the fourth man off the bench and continued to impress. Unlike the true freshman new guys, Skyler is a returned missionary JC transfer, and his maturity and savvy on the court is readily apparent. Halford scored 8 points on 3-for-5 shooting. He also recorded an impressive 3 steals. I expect we'll see a lot of Halford this season.
Josh Sharp — Josh came in and gave a Sharp-like performance with no shot attempts but 5 rebounds in 10 minutes of play. I expect we'll see a lot of nights like that from Josh, with him helping the team in relief by playing defense, grabbing rebounds, and of course throwing down an occasional dunk.
There is a lot to be excited about for this BYU basketball team. The talent from top to bottom is deeper and more consistently good than any BYU hoops team I can remember. Of the 10 scholarship players I listed above, I expect all to play meaningful minutes and make legitimate contributions this season. While having only 10 scholarship guys available might seem like a handicap, having 10 guys who are good enough to play D-I ball right now is not something we have seen a lot at BYU in the past — even when there were 13 scholarship guys on the roster.