Skyler Halford: More than just a deep threat
Updated: October 28, 2013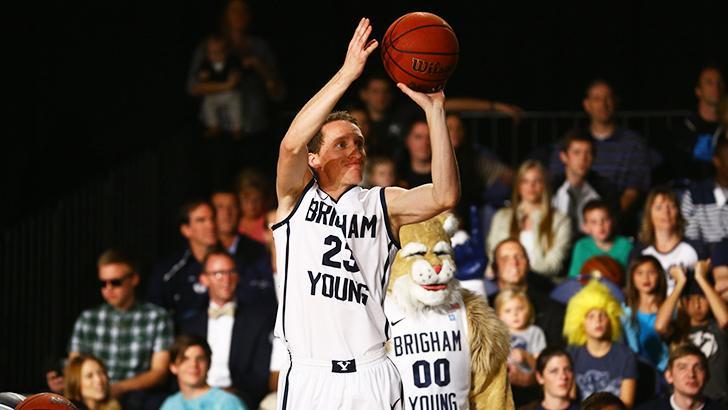 Brandon Jones examines how Skyler Halford can help solve BYU's outside shooting woes — and much more. This is the latest installment of our ongoing season preview, profiling each member of the 2013-2014 BYU basketball team.
Newcomer Skyler Halford will look to be an immediate factor at guard on this year's BYU basketball team. The 6-foot-1, 180-pound JC transfer joins the Cougars from Salt Lake Community College, where he led his team to conference and regional championships in the NJCAA.
Halford's long road to BYU began at Timpanogos High School. He honed his skills each year, averaging 13.2 points per game as a sophomore, 19.7 as a junior, and 23.6 during his senior season. As a senior in 2007-08, Halford led his team to the state tournament for the first time in five seasons, taking home All-State honors in the process. However, Skyler did not receive much recruiting interest and ended up walking on at Utah State the following year, where he redshirted.
Utah State had informed Halford that they would have a scholarship waiting for him following his missionary service in the Brazil Porto Alegre North Mission. But when Skyler returned, no scholarships were available with the Aggies and he decided to play a season at Salt Lake Community College. As a Freshman in 2011-12, Halford led the team with 10.6 PPG on 45.2 percent shooting from the floor and 45 percent shooting from 3-point range.
He chose to remain at SLCC for his sophomore season — a decision that paid large dividends as Skyler took home NJCAA first-team All-America honors, while averaging 31.9 points, 4.5 rebounds, 4.0 assists and 1.6 steals, with a 46.1/39.3/90.8 shooting split. (See his sophomore highlights here.) He led the Bruins to a 29-5 record, a No. 5 national ranking, and an appearance in the Round of 16 at the NJCAA tournament.
That success resulted in Halford finally starting to receive heavy recruiting interest from schools such as Hawaii, Seton Hall, Portland, UNLV, Utah State and San Diego. He committed to coach Dave Rose on March 4, 2013, citing BYU's pace and tempo, coaching staff, and his previous relationships with BYU teammates as major factors in his decision. Skyler grew up cheering for the Cougars and signed his National Letter of Intent on Signing Day. He will have two years to play two at BYU.
As an athlete, Halford is quick off the dribble and is obviously an outstanding shooter. He also has the ability to penetrate the defense and score from inside the arc, and he's a decent ball-handler. Of Skyler's abilities, Rose said, "We're excited for the versatility he brings to our guard line. He's a great scorer and shooter and also has the ability to run a team. He's a fantastic teammate and someone who's been a proven winner at every level. We feel that his abilities as a basketball player and his attitude will be a perfect fit with our returning group of guys."
We've already had a small taste of what Halford can do in a Cougar uniform. Fans have watched him win the 3-point contest at Boom Shakalaka and score 17 points in BYU's Cougar Tipoff intra-squad scrimmage.  In the 3-point contest, Halford made 68 percent of his 3-point shots in the final round, including a run of 13 consecutive. (You can watch his performance here.) It is immediately clear that Skyler is this team's biggest threat from long distance. At the Cougar Tipoff, we witnessed his game in its entirety as he finished with 17 points on 6 of 12 shooting (including 3-for-5 from distance). He added 3 rebounds, 2 assists and 2 steals in a well-rounded 32 minutes on the court.
Based on his skill set and the little we've seen him play in a scrimmage situation, we can expect Halford to fill a more productive Craig Cusick-type role for the Cougars this season. He will likely see most of his playing time as a backup guard behind either Matt Carlino or Tyler Haws. As Coach Rose shifts to a more guard-heavy lineup, Halford will likely see a lot of minutes with Haws sliding over to the small forward spot.
As for the immediate contribution we should expect from Skyler this season, there is no reason to not predict a similar contribution to that of Kyle Collinsworth (behind only Haws, Carlino, and Eric Mika in their level of impact). Without a doubt, Halford is the second most important newcomer on the 2013-14 squad.
Want more hoops action? Get your fix by reading more player profiles from our 2013-2014 season preview:
The cerebral Kyle Collinsworth
Next Level: Cougars need polarizing Matt Carlino to make 'the leap'
BYU newcomer Frank Bartley knows the importance of family
Non-traditional Anson Winder a perfect fit for BYU system
The Tyler Haws Offense: Can BYU's star scorer carry them alone?
What's Cooler Than Being Cool: Nate Austin and the 3-point shot
Freshman Eric Mika expected to fill big shoes
Josh Sharp: Come for the dunks, stay for the dirty work
Happy Days: Luke Worthington and the power of fun