WCC co-champion Cougars ready for NCAA Tourney
Updated: November 11, 2013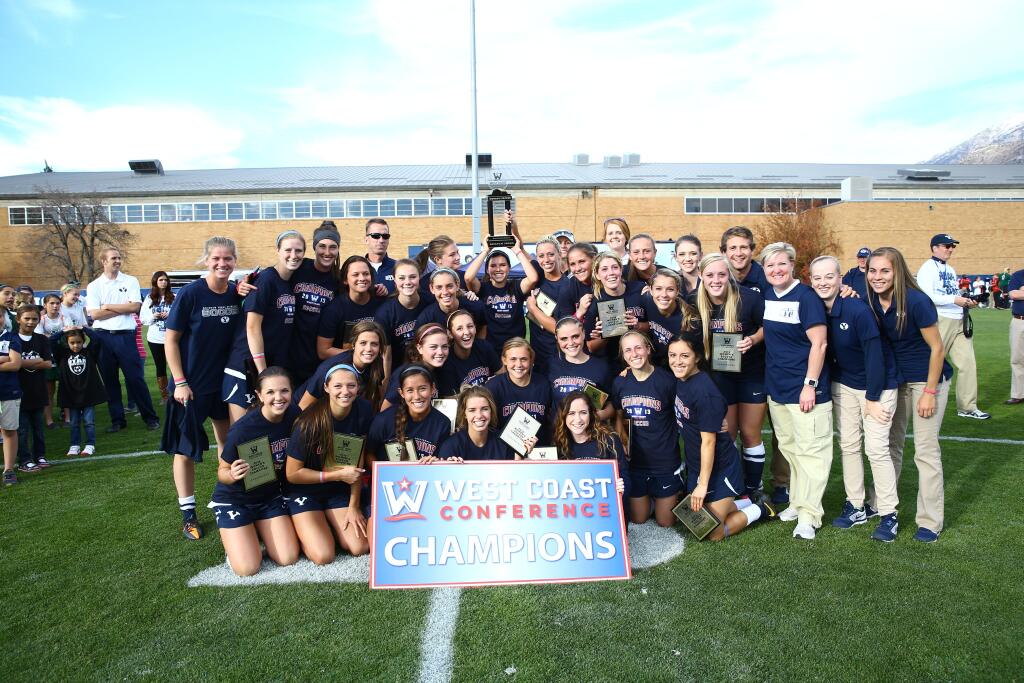 Things couldn't have started much worse for the BYU women's soccer team in its regular-season finale against St. Mary's on Saturday at South Field.
But in similar fashion to the rest of the year, the Cougars responded hard with a 6-1 drubbing of the Gaels that clinched a share of the West Coast Conference championship. The title is the second straight for BYU in its three years as a member of the conference, and head coach Jennifer Rockwood's eighth conference title in Provo.
St. Mary's forward Briana Campos struck first less than eight minutes into the match, but six different goal scorers responded for the Cougars (14-4-1, 8-1-0 WCC). Niki Fernandes led the way with a goal and two assists, while team co-leaders Cloee Colohan and Ashley Hatch each tallied their sixth bangers of the year.
Sarah Chambers scored her first goal of the season a half hour into the contest, while seniors Rachel Manning and Kyleigh Royall each added a second-half goals as the Cougars outshot the Gaels (6-14-0, 2-7-0 WCC), 27-3.
WCC officials presented BYU with a championship trophy following the match, marking the first time in league history the top spot has been shared by three teams. Santa Clara and Portland, which are ranked in the NSCAA Top 25 along with BYU, also earned hardware on the regular season's final day.
No. 8 Santa Clara clinched its share of the title with a 6-3 win over Gonzaga on Saturday, and the Broncos receive the league's autobid to the NCAA Tournament on the third tiebreaker, goal differential. The high-scoring Broncos posted a +27 goal differential, far outdistancing No. 24 BYU (+14) and No. 12 Portland (+12).
The Pilots edged San Francisco, 1-0 on senior Ellen Parker's second-half goal to stay in the WCC co-championship conversation. Portland also downed the Broncos, 3-1 in the final week of the regular season.
All three teams will receive berths in the NCAA Tournament. The WCC has been a multi-bid league since the conference began sponsoring women's soccer in 1992. The official tourney announcement, as well as pairings, will be streamed live at the Women's Soccer Selection Show on NCAA.com at 2:30 p.m. MST.
Loyal Cougars will be in the viewing room when BYU receives its bid for the tourney, with updates posted online and in social media directly from coaches and players.