BYU soccer stays home, draws Weber State in NCAA first round
Updated: November 11, 2013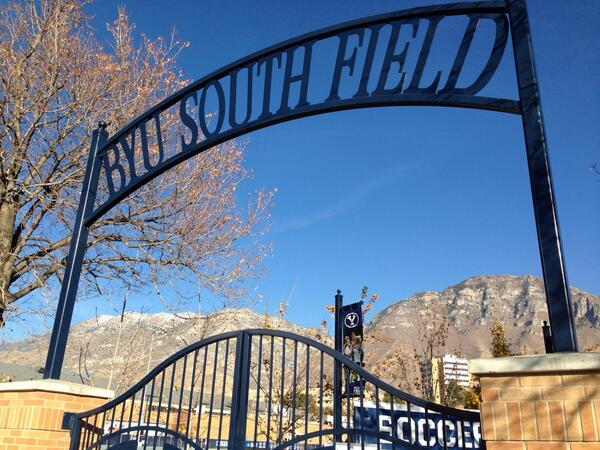 WCC co-champion BYU earned one more game at South Field, an NCAA College Cup kickoff against in-state rival Weber State on Friday.
The BYU women's soccer team used a little home-field advantage to unlock a potent offense in the final week of the regular season with dominating wins over San Diego, Pacific and St. Mary's.
The Cougars will get to try to replicate that South Field edge in the postseason, drawing Big Sky champion Weber State in the NCAA College Cup first round on Friday. Time and broadcast information of that match will be announced later in the week.
BYU will host a local school for the second-straight year when it kicks off against the Wildcats on Friday. The Cougars hosted Utah State last year as part of an NCAA regional that also saw them topple Auburn and Marquette before losing to North Carolina in the Elite Eight.
Playing another local school is familiar territory for BYU head coach Jennifer Rockwood, who admitted her staff has known most of the Wildcats since their youth soccer days.
"We all have a lot of Utah kids on our teams; we're very familiar with all the Weber State kids," Rockwood said. "They're almost all local; we've watched them play since they were probably U-14s. They've got a great group of girls, and girls who have played together for quite some time. They're coming off one of their best seasons in a while.
"I'm sure they're looking forward to coming down and playing us. We haven't played them in the regular season in a few years. And it's important that we don't look beyond that matchup. We just want to focus on the first game, and not worry too much. If you can't make it past the first game, you aren't going anywhere."
For BYU's seven seniors, a final game at South Field will go a long way in finishing their careers.
"We love playing at home," Rockwood said. "We have tremendous fans that give a lot of energy to the girls; they love playing in front of big crowds. We hope it isn't too cold, and people will come out and watch the game. We worked hard to try and get at least one home game, and it's great for the seniors to have at least one final game at South Field."
The College Cup final will be played Dec. 8th at WakeMed Soccer Park in Cary, N.C. But senior Cloee Colohan knows the Cougars have a long road ahead of them if they want to challenge for a spot in the season's final game. The West Point, Utah native and Portland transfer was even scouting the Wildcats on Sunday evening, with a hunch that BYU could face its northern rivals early in the tournament.
"We're super excited," Colohan said. "I think we have a really good chance in this tournament. I think we're well prepared for Weber.
"I couldn't ask for a better situation. Everybody wants to be home, where you feel confident going into the tournament. I love it."
BYU owns a 14-0-1 all-time regular-season record against the Wildcats, with the last match played Aug. 27, 2010 in Provo, a 5-1 win for the Cougars. The last time the two teams met in the postseason, however, the Wildcats earned an upset win on penalty kicks over the fourth-seeded Cougars in the first round of the NCAA College Cup tournament. The rivalry continues in the postseason.
"Any of the in-state games are always the most challenging," Rockwood said. "Those are some of the games that make you the most nervous. The kids all know each other, there's a real rivalry there. There seems to be a little bit more emotion on the line with the familiarity that is there.
"That kind of atmosphere, where it's a rivalry, makes a lot riding on it."
NOTES: The state of Utah represented well for the second straight year, sending three teams to the NCAA tournament. Beyond the Cougars and Wildcats, Utah will travel to Texas A&M, who nabbed a four-seed in their region. The Utes finished the regular season at 10-4-6.
Big Ten champion Nebraska (18-3-1), who lost at BYU 3-0, drew a No. 2 seed in the Cougars' region. The Top 4 seeds in that quadrant of the bracket were Florida State, Nebraska, WCC co-champ Portland and Denver… The Pilots will host WAC champion Seattle in the first round, while the final team in the West Coast Conference tri-championship, Santa Clara, drew a 4-seed and will host Cal… Virginia, Virginia Tech, Florida State and defending champion North Carolina each earned a top seed, with Virginia earning the No. 1 overall bid…
VIEW THE FULL WOMEN'S SOCCER BRACKET