BYU outshoots, outworks Santa Clara for 89-76 win
Updated: February 7, 2014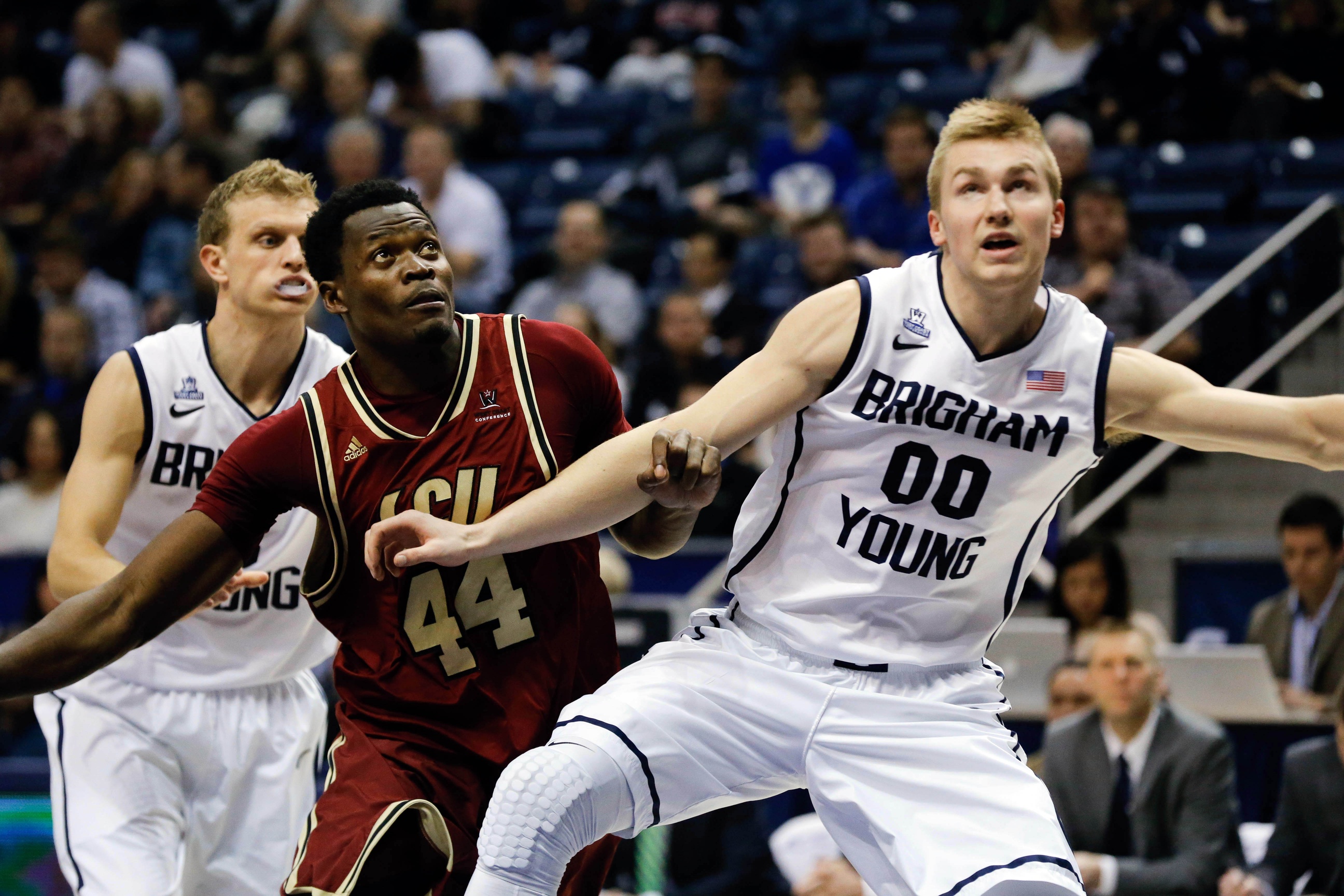 BYU took care of business in convincing fashion tonight at the Marriott Center, beating the Santa Clara Broncos by the final score of 89-76. BYU pulled ahead by 11 points in the first ten minutes of the game and never looked back.
Once again, Tyler Haws led the Cougars in scoring, shooting a blistering 9-12 from the field and 8-9 from the free throw line to finish with 27 points in 28 minutes on the floor. Haws' first miss of the game came with 42 seconds left in the first half. He was just way too much for Santa Clara to handle. Haws' performance moved him passed Mekeli Wesley on BYU's all time scoring list and into 8th place.
A newly spry-looking Eric Mika contributed with 15 points and 10 rebounds, and BYU's Mr. Everything, Kyle Collinsworth, chipped in with 18 points, 4 assists, and 5 steals. Skyler Halford had another nice night against the Broncos with 12 points as well. BYU's fifth leading scorer tonight was… wait for it… Luke Worthington! Luke finished with a season high seven points after hitting a couple of shots from the field and going 3-4 from the line.
BYU improves to 8-4 in conference and 16-9 overall, and hosts San Francisco (15-9, 8-4) on Saturday. With a win over USF, the Cougars would take over sole possession of second place in the WCC.
Stray Observations
After seeing Eric Mika's twisting, reverse dunk tonight, I think it's safe to say he's feeling healthy again. That is very good news for BYU.
Nice to see Frank Bartley log some productive minutes tonight. He hustled on defense and had one strong drive to the rack for a bucket.
Kyle Collinsworth is a dunking machine. I predicted Mika would dunk 40+ times this year. That won't happen but KC might be approaching 40 dunks already.
Kind of weird seeing Carlino only get 15 minutes on the night. Not sure if he's back in the doghouse or if he got dinged up or what. But it was odd.
How about that Luke Worthington? He gave BYU more than just a few good fouls tonight. His lefty hook shot was nice, but I was especially impressed with his 75% free throw on the night. (If you're not impressed by that, in comparison, Collinsworth has 169 free throw attempts to Worthington's 12 on the season, and only shot 54% at the line tonight.)
After BYU gave up 51 points in the second half at Santa Clara in the WCC opening weekend, only giving up 36 in the second half tonight was a welcome improvement.
Anson Winder played a quietly effective 25 minutes tonight. He only scored 1 point, but grabbed 6 rebounds and dished 3 assists (and committed zero turnovers).
BYU dominated Santa Clara in several crucial categories: shooting percentage, rebounds (50-32!), and assists. The main reason this game wasn't more of a blowout was because SCU hit 9 threes to BYU's 4.
Speaking of hitting threes… I still think BYU needs to take more threes. Ten three-point attempts on the night is not enough. SCU took 26 threes and that helped keep the game respectable for them. The Cougars shot 40% tonight. That's a good ratio if you take more than 10.