BYU's offense rolls on in rout of Mount Saint Mary's, 108-76
Updated: November 15, 2013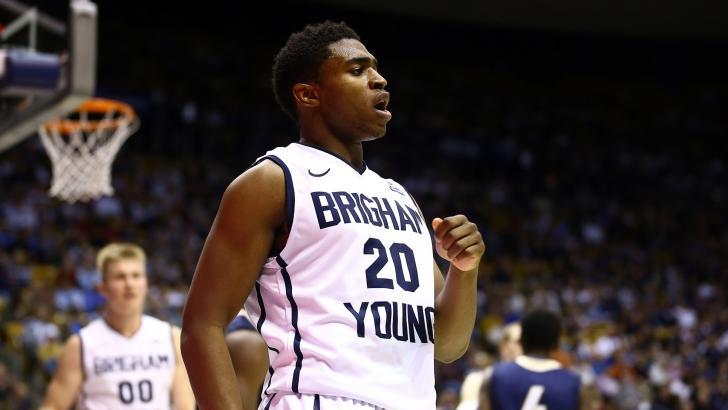 Despite missing their leading scorer, BYU ran past Mount Saint Mary's for a blowout victory.
Junior Anson Winder stepped in for an injured Tyler Haws, leading the Cougars to a 108-76 victory over Mount Saint Mary's on Friday in the Marriott Center.
It was BYU's second 100-point effort of the season and the Cougars' first back-to-back 100-point games since the opening of the 1986-87 season. Three games into the year, BYU is averaging 100.3 points per game.
Six Cougars scored in double figures, including Anson Winder's career high of 22, Eric Mika's career high of 20, Skyler Halford's career high of 15. Frank Bartley IV also added 16 points, while Kyle Collinsworth chipped in 13 and Matt Carlino finished with 10.
BYU finished the game shooting an impressive 60.3 percent on 41-for-68 shooting, while holding Mount Saint Mary's to 37 percent on 26-of-70 shots.
Mount Saint Mary's placed ninth in the country last year with 8.6 made 3-point shots per game. Head coach Jamion Christian said at halftime that their hope was to use the deep ball, but the shots continued to fall for Cougars, with BYU opening the second half shooting 12-for-15.
BYU's defense also showed well with 7 steals overall, with 3 coming from Matt Carlin as well as a pair of blocks from Mika and another from Josh Sharp.
Tyler Haws sat out with a lower abdominal strain and is listed as day-to-day. His status for tomorrow night's game against Colorado Mesa is yet to be determined. BYU can likely survive through the weekend without him, but with Iowa State coming to Provo on Wednesday, Cougar fans and coaches are likely hoping he's healthy by then. BYUtv's Jarom Jordan reported after the game that Haws will have an MRI on Saturday morning.
Mika seemed to tweak his ankle at the end of the Stanford game Monday, but showed little, if any, ill effect on Friday. He had some huge dunks, including one that capped a 17-2 run in the second half. Mika ended the night with ice on his left hand after nicking it on the rim after his fourth dunk of the night.
After the game, Winder told BYUtv, "We all came in with a lot more confidence this year. We've just been rolling and trying to score as many points as we can and I think we've accomplished that so far."
Kyle Colinsworth also showed some impressive ball handling skills with an around-the-back move on a coast-to-coast drive in the first half and a nice baseline spin move and dunk in the second. He also added 10 rebounds.
Friday and Saturday's games were booked as part of the College Basketball Experience Hall of Fame Classic, which will continue with BYU playing Texas on November 25 in the Sprint Center in Kansas City and then will conclude with the Cougars taking on either Wichita State or DePaul on November 26.