Old problems doom BYU yet again in 80-74 loss to Pepperdine
Updated: December 31, 2013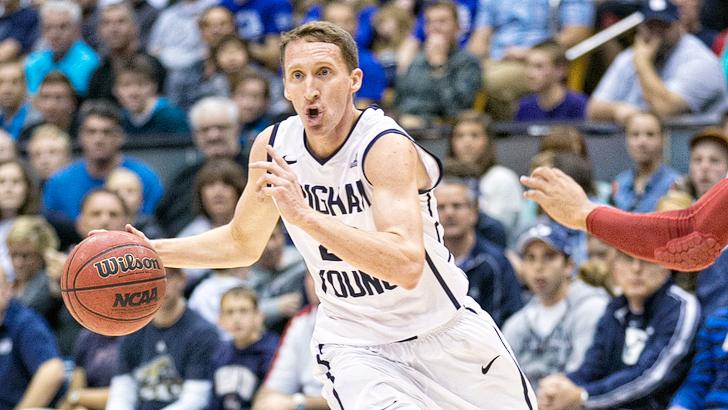 The Cougars continued their December slide with another road loss.
We have most certainly entered the darkest timeline.
Just when BYU fans thought things couldn't get any worse, they did on Monday in Malibu as a listless Cougars squad dropped its fourth consecutive game, losing 80-74 to the West Coast Conference's perennial doormat Pepperdine. Tyler Haws led the visitors with 20 points, while Kyle Collinsworth and Skyler Halford each added 11.
It's hard to know where to begin, because there's so much wrong with this BYU team right now that it's almost impossible to simultaneously process it all. On the court, in the locker room, tangible, intangible — it's all just a big awful mess right now, and I'm not sure anyone (Dave Rose included) knows quite what to do with it.
The point guard situation is toxic. It has spilled into the rest of the team, damaging chemistry and morale. It's visible on the court. Where the guys were care-free and fun-loving just a month ago, a tense feeling of unease and nervousness seems to hover over them now. The conventional wisdom about this team before the season was that these guys really seemed to like each other as human beings — and that no longer seems to be true. All of this seems to stem from the melodramatic saga that continues at the point guard position, and there are thousands of words that could (and probably will) be written on that topic. But for now all you need to know is this: there's bad jujubes in that locker room, and it's showing on the court.
Not that bad jujubes can be blamed for all the tangibly terrible things that BYU is currently doing. The defense continues to be porous, as the Cougars gave up 80 points to a team picked to finish last in the WCC and allowed the Waves to shoot a blistering 55 percent from deep. Granted, Pepperdine still had to make those shots, so credit where it's due — but BYU made it a whole lot easier for them by leaving them completely unguarded time and time again.
As has been the case for at least the past several years, many of the team's problems in guarding the 3-point line stem from a deeper issue: their fundamental inability to deter dribble penetration and subsequently rotate to find open shooters. It's one of the most simple tenets of basketball, but BYU cannot seem to grasp it. If anything, it's getting worse — and Pepperdine took full advantage. Somewhere in Malibu, Malcolm Brooks (6-for-9) and Amadi Udenyi (4-for-6) are still making it rain from beyond the arc.
But the effects of the Cougars' bad defense don't end there — they extend all the way to the other end of the floor, too. When BYU can't get stops, it makes it more difficult for them to get out and run in transition, neutralizing their most effective offensive weapon. When they are forced to continually take the ball out of the basket and walk it up the floor, they easily get bogged down in a half court offense that has looked uninspired and uncreative of late. Most possessions have ended with someone careening into the lane and throwing up a difficult off-balance shot over the outstretched arms of multiple defenders, then helplessly watching as it's either blocked or misses badly. Every Cougar guard was guilty of it on Monday — with Haws, Collinsworth, Halford, Matt Carlino and Frank Bartley being the prime culprits — and the inability to execute and get a good shot in key moments ultimately doomed their comeback attempt.
If there's anything positive to take from a very negative evening, it's that the boys did fight. The intensity was there, particularly in the second half when they managed to finally string together some stops and turn them into fast-break buckets the other direction. (Amazing how that happens, huh?) For a brief moment, it looked like the tide had turned and BYU would be able to flip a switch and pull out the victory. There was some energy in the building, the very pro-BYU crowd was coming alive, and there was actual defense being played. The Cougars even cut the Waves' lead to 3 with 2:55 to play. Things were looking good for the boys in blue.
But then their old nemesis came calling. Free throws. As bad as they played on both ends of the floor, BYU was still in a position to win the game if they could make their freebies — but they couldn't. They left 10 points at the charity stripe, including 3 in the final 1:30 of play. Bartley's back-to-back misses with 49 seconds remaining and the Cougars' down just 4 points were particularly heart-rending. Yet again, BYU's inability to convert fouls into free points — particularly when it mattered most — proved decisive and damning.
In sum, there's not much different here than what we've seen over the past few weeks. Bad chemistry. Bad defense. Bad offense. Bad free three shooting. These are all the same problems that fans have lamented before. What's notable is that they haven't yet been fixed — and might even be worse — and now they're costing the Cougars games against very beatable conference opponents.
It's all a bit of a trainwreck right now. It feels like the wheels have finally come off. Any dream of making it back to the NCAA tournament has been harshly exposed as just that — a dream, which now likely relies solely on a WCC tournament championship for its realization. If the season is to be salvaged in some way, some serious soul-searching will need to take place in the coming days — every player and coach needs to dig deep and assess the sicknesses that have crept so deep into this once promising team. Because if BYU can't begin turning things around on Saturday against San Diego, in the comfort of the Marriott Center for the first time in nearly a month, then the darkest timeline is about to get even darker.