Understudy no more: Underwood helps BYU net first win
Updated: January 10, 2014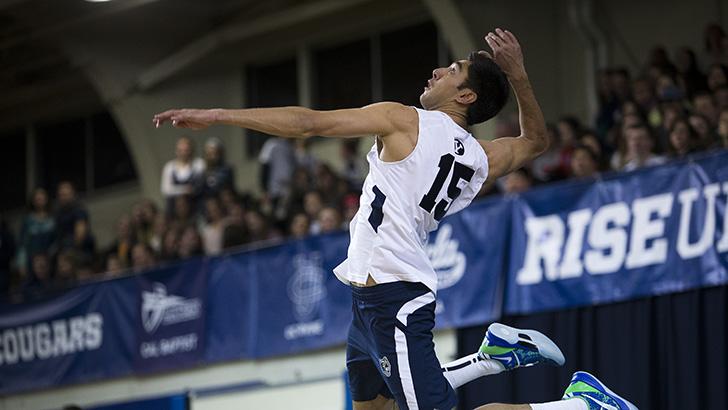 There were a lot of questions coming into the 2014 men's volleyball season for BYU.
Who would replace AVCA Newcomer of the Year Ben Patch, who is now serving a mission for the LDS church? What would BYU do in the middle of the net, with All-American Russ Lavaja graduated and moved on? Who would step up to be the next to preseason All-American Taylor Sander, the volleyball prodigy now entering his senior season?
More importantly, after two losses on the road last week: when would BYU get its first win?
The last question was answered Friday night in No. 9 BYU's 25-23, 25-22, 25-15 win over Cal State Northridge at the Smith Fieldhouse.
Sander led the way with 14 kills, including a match-high nine as the Cougars rallied to take the second set. But Matt Underwood, who played a total of six sets in 2013, gave BYU a strong No. 2 scorer for the night — and perhaps the season.
Underwood hit at a match-high .389 clip for 10 kills and four blocks, and Devin Young added five kills and five blocks for the Cougars. Tyler Heap dished out 37 assists for BYU in his first start as the team's full-time setter following the graduation of Ryan Boyce.
Northridge came out firing in the thin air of Provo, scoring its first nine points on a .500 hitting percentage before the Cougars came back. Greg Faulkner had 5 kills to only one error as the Matadors looked to go up in the first set. But Sander took a block in the face midway through the first set, and momentum flipped to the Cougars.
Underwood took over early in the second set, scoring three of BYU's first nine points. The hot start allowed Sander to warm up, and his nine kills led the Cougars to a slightly easier win and a 2-0 lead at the break.
BYU used its front line in the third set to put the match away early, jumping out to a 4-1 lead on two blocks and rolling from there. The Cougars laid out three of their eight blocks in the final set — a number which will need to come up as the BYU spikers move through the MPSF season.
BYU hosts the nation's No. 1 team, the Long Beach State 49ers, on Saturday night in Smith Fieldhouse.