Opposite Day: Cougars use defense, free throws to top Dons
Updated: January 17, 2014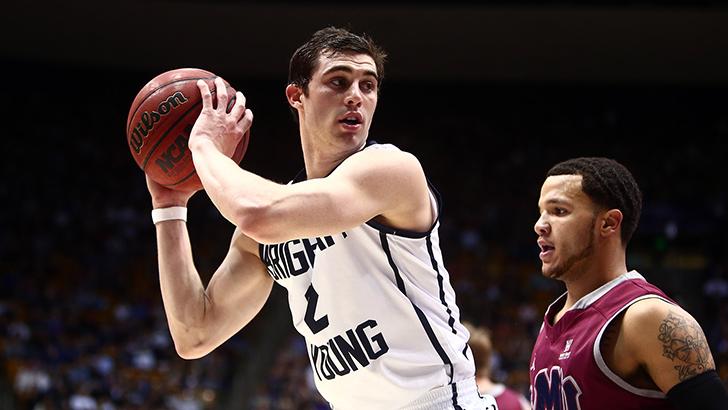 Uncharacteristically tough defense and clutch free throw shooting clinched BYU's second road win of the season.
The Facts
BYU conquered its road woes, at least temporarily, with a gutsy 83-76 win over a scrappy San Francisco team on The Hilltop. The game remained close throughout the first half and into the second frame before the Cougars ratcheted up their defense to pull away for good.
The pace and quality of play eventually descended into a comedy of errors down the stretch, with BYU repeatedly turning the ball over and giving the Dons multiple opportunities to close the gap. However, the home team couldn't quite capitalize and the Cougars (surprisingly) sealed the victory at the free throw stripe, where they went 8-for-10 collectively in the game's final three minutes.
Kyle Collinsworth led the team in scoring with 19 points, while Skyler Halford and Matt Carlino pitched in 18 and 17, respectively. Tyler Haws also added 15 of his own. With the win, the Cougars move to 4-2 in WCC play, and now sit all alone in second place in the conference race — just one game back of first-place Gonzaga.
The Analysis
That was cathartic. I hadn't fully realized it before the game, but BYU hadn't won a true road game since their big win at Stanford in the second game of the season. That's a long time without seeing someone else's scoreboard trumpet a victory in your favor. That kind of drought can weigh on a team and get in their heads, so it had to feel nice for the Cougars to pull out a tough one over a top-100 RPI team.
It wasn't always pretty. In fact, it was frequently pretty ugly. The Cougars struggled through the first half, scoring with reasonable efficiency but getting repeatedly pounded on the boards — allowing the Dons multiple chances per possession, an opportunity of which the home team took full advantage.
While BYU never really figured out how to keep the USF big men off the glass, they did find some defensive fire in the second half — and that made all the difference.
With the game muddling by and the Dons still in the lead at the under-16:00 media timeout, something sparked within the Cougars. There was a different look in their eye. I don't know where it came from. I don't know if Dave Rose said something. I don't know if they were touched by angels. But they started playing some defense.
Matt Carlino checked into the game and immediately hit a three to tie it up, then Nate Austin played nice defense to force a USF missed layup, then Eric Mika gave the Cougars the lead on a layup of his own. They would never trail again.
You could see they'd finally flipped the switch, even from 3,000 miles away on my couch in Washington, DC. The momentum was flowing, everyone was swarming the ball and rotating with purpose on defense, and it was creating transition opportunities the other direction. That stretch won the game for BYU — and though they did give up even more points in the second half than the first (and you can thank the late-game foul fest for that), those few minutes of defensive intensity were enough to put them over the top.
Imagine if they played like that all the time? That's probably not a realistic request. It's difficult to sustain peak defensive energy for 40 minutes. These are human beings. Attention and excitement will wane over such a long period of time. It's only natural. But what if they just played with that fire more often? What if they didn't wait until they were trailing in the second half to flip that switch? How could things be different?

I suppose such an exercise in hypotheticals is ultimately unproductive. You can't change the past — but the future is still very much up in the air. Now that they're back in the thick of the WCC title race, with an NCAA tournament bid still very much up for grabs, this would be as good a time as any for the Cougars to flip that defensive switch and leave it on until April.
Good things happen when they do.
Stray Observations
BYU absolutely did everything they could to try and give this one away to the Dons in the closing minutes. Despite building a double-digit lead, the Cougars repeatedly turned the ball over in the closing minutes. And it wasn't just one player — everyone looked brain-dead out there. It was like the basketball equivalent of Night of the Living Dead.
The visitors' careless play allowed USF to cut into the lead, but they never quite got within striking distance. Why not? BYU made a ton of free throws when it counted. Hold on. Wait. Let me say that again: BYU made free throws! Important ones! Try not to die of shock, please. Take a minute to catch your breath. In all seriousness, the Cougars have shot much better from the stripe over the last few games — an encouraging trend that ultimately saved them from their own foolishness in this one. Let's hope the trend continues.
It seems like Rose has really tightened the rotation, at least in close games. Only seven players saw more than 5 minutes against the Dons — and five players scored 80 of BYU's 83 points. This has never been Rose's deepest squad, but you'd think they're going to need to get some more non-Carlino bench production in the future.
Speaking of the Carlino bench experiment, BYU is now 4-0 since making the switch, so it doesn't appear poised to end any time soon. I'm fine with that — it's much more important who finishes a game than starts it, and Carlino has played a ton of minutes (and played very, very well) these last few contests. The only thing that potentially concerns me is how long Rose waits to insert him into the game. Matt didn't enter the game until there were 12 minutes and 15 minutes left in each half against San Francisco. In the time he sat, the Cougars struggled mightily and looked out-of-sorts. As soon as Carlino checked in, though, the ship was quickly righted and things started looking up. This was fine against the Dons — they're not a great team, so the damage wasn't severe. But against Gonzaga or St. Mary's? Rose could be staring a 10- or 15-point deficit right in the face if he waits too long. The team is so much better with Carlino on the floor — I wonder how long they can really afford to use him as the third guy off the bench.
BYU sure does get their shots blocked a lot. I'm not sure why that is — Schematics? Sheer lack of athleticism? Something else? — but it felt like every third field goal attempt got swatted away by the Dons. The box score says USF only had four blocks on the night, but I believe that like I believe the moon is made of Swiss cheese. I remember Haws being blocked four times alone.
But that Haws and-one dunk, though. That was a thing of beauty. Set up by Matt Carlino's great defensive hustle and a pretty touch pass, Tyler hammered home an impressive breakaway jam despite getting hacked by a pursuing USF defender. It was undoubtedly the game's signature moment and the loudest indicator that the Cougars had really cracked things open. I imagine we'll get to watch that play on loop for eternity in heaven.
Skyler Halford seems to be really, really good at drawing fouls on 3-point attempts. And considering he scored 11 of his 18 points at the stripe in this one, that seems like a good thing to be really, really good at.
No one can guard Kyle Collinsworth — at least not in the WCC. I'm convinced of it. He's too big for the guards and he's too quick for the bigs. Either way, opponents have to pick their poison. USF tried to guard him with post guys for much of Thursday's game, and Collinsworth made them pay by relentlessly attacking the basket.
One weird thing about Kyle's night? He recorded zero assists and only 4 rebounds. For a guy that averages 5 and 9.5 per game in those categories, respectively — and who has been pushing the limits of a triple-double in multiple games lately — that's a pretty strange occurrence. It's even stranger that BYU won.
BYU as a whole didn't rack up a lot of assists either. Only five total on the evening, and that's for a team that normally averages around 18. I didn't feel like the ball movement was all that bad. The stratospheric number of free throws taken by the Cougars probably played a big role. But again, they (strangely) won, so no big deal.
The Cougars shot 31 free throws… in the second half. They racked up 37 freebies for the game. That's a whole lot of fouls.
Eric Mika looked pretty good in his return to the hardwood, contributing 11 points and moving smoothly in his 24 minutes. There was a brief re-injury scare when he went down hard and limped off upon collecting his fourth foul, but he was (thankfully) quickly cleared to reenter the game — at which time he quickly picked up his fifth foul. Sigh. The boy has quite a few things to learn about defense.
Speaking of bad defense, Tyler Haws can be a truly horrific defender at times. This isn't news or anything, and he does so many good things on the offensive end that his defensive deficiencies are almost excusable. But there were a few particularly glaring moments of ineptitude in this one that just made me want to pull my hair out. On multiple occasions, you could see that Haws simply didn't know who he was guarding or what scheme BYU was running. Each time, the Dons scored an easy basket. Rose even started subbing offense-for-defense with Haws and Nate Austin down the stretch. I thought it was a smart strategy — but perhaps coach can look into whether the refs will give him enough timeouts to do that the whole game in the future. (Kidding! I think…)
As much as he can struggle defensively, Haws is just a straight offensive wizard. When he stops on a dime and hits a ridiculous fadeaway with two hands in his face, single-handedly shifting the momentum in BYU's favor, my heart does somersaults then explodes into the most brilliant fireworks display the world has ever seen. All is forgiven, Ty. All is forgiven.
San Francisco's Cole Dickerson is a really good basketball player. He blitzed BYU for 26 points and 14 boards in this one, and absolutely manhandled every single one of the Cougar bigs in the paint. He's strong and he's immensely skilled — and he used both of those traits to his advantage. Kudos.
He may not do much else, but Josh Sharp hedges-and-recovers on ball screens like a boss — and I say that will all due respect and admiration.