Carlino, Winder provide bench power to keep BYU rolling
Updated: January 18, 2014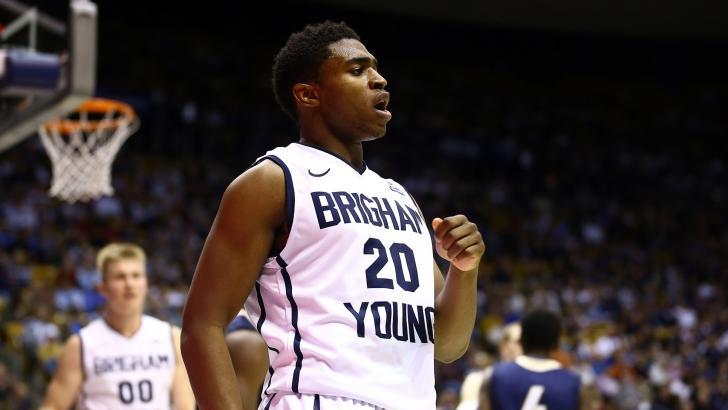 The Cougars got a big contribution from their second unit in an impressive road win over Santa Clara. 
BYU came out scorching hot on Saturday, taking a 47-30 lead over Santa Clara in the first half of their West Coast Conference tilt. The Broncos put up more of a fight in the second half but never challenged for the lead as the Cougars cruised to an 81-71 victory. BYU shot a blistering 63.6 percent from three on the night and 61.5 percent from the field.
Tyler Haws picked up an uncharacteristic two quick fouls in the first minute of the game, resulting in Haws heading to the bench and Anson Winder coming in to cover for BYU's star scorer. Winder answered the call by scoring a quick 10 points and played so well that Dave Rose kept him in the entire half. Winder finished with 16 points in the half and contributed to a terrific defensive performance by BYU in the opening frame.
Haws was back in the second half and did his Tyler Haws thing, scoring 16 points in his 19 minutes on the night. BYU also got 18 points from Mr. Everything, Kyle Collinsworth, and 10 points each from Eric Mika and Skyler Halford.
But the star of the night was Matt Carlino. On a night where TheW.tv played about a billion commercials for Captain Phillips, BYU was led by Captain Carlino. Despite coming off the bench, there was absolutely no question who was running BYU's ship when Matt was on the floor tonight. Carlino finished with an efficient 15 points on 5-for-9 shooting and dished out an impressive 9 assists, several of which were of the eye-popping variety. Carlino's swagger is back and BYU is a vastly better team as a result.
With a Bay Area sweep completed, the Cougars now prepare for an even tougher road trip to Portland and Spokane next week.
Stray Observations
On a night of mostly positives, BYU has to be concerned about giving up 51 points in the second half while getting outscored by seven points. It's hard to stay focused when you blow a team out in the first half, but BYU can't be giving up 51 in a half if they want the be a truly good team.
Eric Mika did get a nice dunk in this one, but it seems like his hip or sciatica or whatever it is has negatively affected his hops. Hopefully the next week will help him heal more and get that explosiveness back.
You gotta feel good for Anson Winder making the most of his minutes. BYU needs role players to consistently step up like that.
Speaking of guys stepping up, Josh Sharp has quietly earned himself a lot more minutes lately. Josh got a full 25 minutes tonight. It can be argued that BYU's improvement in defense is directly related to Mr. Sharp's efforts.
Santa Clara was down two starters tonight, due to academic issues. So while a 10-point win was good to get, it was also expected in this one.
So many gorgeous Carlino assists tonight, but none more spectacular than that no-look wrap-around to Mika. Wow.
BYU has got to clean up their late game sloppy play. The Cougars have been afflicted with late turnover bug the last couple of games.
How about Tyler Haws and his ferocious dunks in traffic this week? More of that, please.