Player Power Rankings: The resurgence of Matt Carlino
Updated: January 22, 2014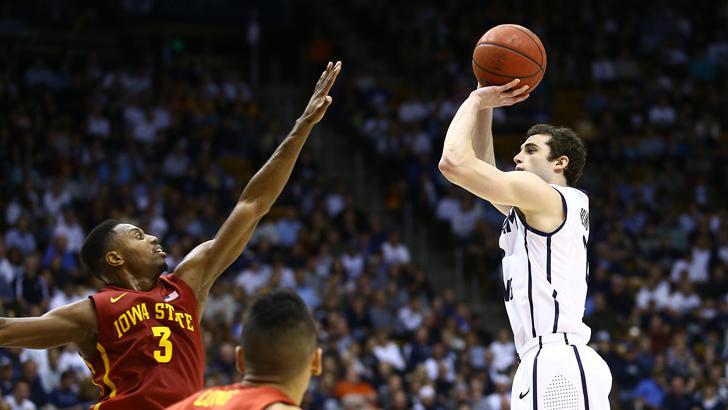 Our staff ranks the BYU hoopsters' performance on their undefeated road swing through the Bay Area.
Welcome to the Player Power Rankings, the weekly feature where we rank each member of the BYU basketball team based on how they're playing right now. The Cougars continued to roll this past week, seemingly vanquishing their previous road woes with impressive wins over San Francisco and Santa Clara. Each victory was highlighted by a balanced performance with significant contributions from several players, so things could get interesting with everyone's favorite arbitrary rankings.
As a reminder, here's how this works: Each member of the Loyal Cougars staff is given the opportunity to rank each player on the roster, in order of performance, from 1 through 10. Each ranking is worth a descending number of points. For example, a first-place vote is worth 10 points, a second-place vote is worth 9, a third-place is worth 8, and so on. With 10 staff members voting, that means each player could potentially earn as many as 100 points (if he received all of the first-place votes) and as few as 10 points (if he received all of the tenth-place votes). We tally up the points for each player, rank them in order, and then I add some commentary and recent statistics to fill it all out.
Are you ready for week three?
1. Kyle Collinsworth (93 points)
Last Week: 2nd (+1)
This Week: 18.5 PPG (63.2% FG / —% 3P / 68.4% FT), 5.5 RPG, 2.0 APG, 3.0 SPG, 2.5 TO
Collinsworth rises back to the top of the power rankings, despite having one of his least impressive statistical showings in quite some time. Now, feel free to take that with more than a few grains of salt, because this is still Kyle Collinsworth, King of Stats we're talking about here — even his unimpressive stat lines are impressive. He continues to do so much for this team on the court, and the increased presence of Matt Carlino back at point guard seems to have freed Kyle up to do what he does best — attack the rim. He's done so ferociously, and he has become an even more efficient scoring weapon as result.
2. Matt Carlino (92)
Last Week: 3rd (+1)
This Week: 16.0 PPG (55.6% FG / 54.5% 3P / 54.5% FT), 2.5 RPG, 5.0 APG, 1.5 SPG, 1.0 TO
If you would have told me a few weeks ago that Carlino would be one point away from the top spot in these rankings, I wouldn't have believed you — so nasty was the Slump Monster with which the junior point guard was grappling and so poisonous the public opinion of his play. Talk about a turnaround. Matt has been a revelation off the bench, choosing shots wisely, scoring efficiently, and running the offense like John Stockton himself had his hands on the wheel. If there's been a key to the Cougars' recent resurgence, that discussion has to begin and end with Matt Carlino's performance. The only remaining question: Is he getting enough playing time?
3. Tyler Haws (85)
Last Week: 1st (-2)
This Week: 15.5 PPG (55.6% FG / 50.0% 3P / 90.9% FT), 0.5 RPG, 2.0 APG, 0.0 SPG, 2.0 TO
When you shoot 55 percent from the floor (on a high shot volume, I might add) and still fall two spots in the power rankings, it's a sign your team had a good week. Haws topped the heap last week, but gets knocked down this week not because he didn't play well when he was on the floor, but because he simply couldn't stay on it. Haws struggled with foul trouble in both games, playing only 25 minutes per contest as a result. When he was on the floor, he was his usual brilliant self, slicing and dicing with ruthless efficiency. BYU just needs more of him.
4. Skyler Halford (62)
Last Week: 4th (even)
This Week: 14.0 PPG (50.0% FG / 60.0% 3P / 91.7% FT), 2.0 RPG, 1.0 APG, 1.5 SPG, 2.0 TO
With each passing week, it becomes more and more clear that Halford is, indeed, for real. His sudden breakthrough from a few weeks ago was not a mirage — he actually is this good. Sure, he's probably not going to drop 28 like he did against San Diego on a regular basis, but he can certainly be a big-time contributor for the Cougars. As weird as it sounds (since he replaced him in the starting lineup), Halford has also benefitted from Carlino's resurgence. When the two share the floor in small lineups and Matt is putting pressure on the defense, opponents are often forced to over-rotate and, thus, are slower to close out on open shooters — which makes a guy like Skyler Halford very happy and very effective.
5. Eric Mika (61)
Last Week: Not ranked (injured)
This Week: 10.5 PPG (45.0% FG / —% 3P / 75.0% FT), 5.0 RPG, 1.0 APG, 0.5 BPG, 2.5 TO
Mika returned from a nagging hip/leg/who knows what else injury this week and, while he certainly wasn't bad by any means, it's clear that he's not 100 percent healed yet. Dave Rose admitted as much in his media availability on Tuesday. You could really see the limitations bugging him in the Santa Clara game, as he struggled through a 5-for-11 performance, missing several shots that he makes every night in his sleep while earning the ire of the Broncos' student section for good measure. To be sure, a 5-for-11 night on the road for a freshman isn't really that bad at all — it's just not quite as good as Eric Mika has already shown he can be.
6. Anson Winder (47)
Last Week: 7th (+1)
This Week: 8.0 PPG (55.6% FG / 50.0% 3P / 100% FT), 2.0 RPG, 0.5 APG, 0.0 SPG, 0.5 TO
Winder took full advantage of his circumstances at Santa Clara, stepping in for a foul-plagued Haws and promptly catching fire for 16 points in 19 first-half minutes. It was an impressive performance, and one that you could feel building for a few games as Anson gradually regained confidence and (not coincidentally) playing time. Then he only played 2 minutes in the entire second half, which was both a little weird but perfectly understandable — with Haws no longer in foul trouble and the team humming, Rose couldn't afford to upset the apple cart. And that will be the challenge for Winder moving forward: staying ready to produce when needed, while not losing confidence when circumstances dictate that his number isn't called. It's harder than it sounds.
7. Josh Sharp (39)
Last Week: 5th (-2)
This Week: 3.5 PPG (60.0% FG / —% 3P / 33.3% FT), 5.5 RPG, 0.5 APG, 1.0 BPG, 0.0 TO
Josh Sharp is officially back in the rotation. He averaged 23 minutes a game this past week, proving his renewed presence in Rose's good graces wasn't just a brief Mika-related aberration. Sharp only has himself to thank. He has earned his spot by playing great team defense, rebounding well on both ends, and making hustle plays. With the team's newfound defensive focus, Rose can't afford not to have him on the floor for significant minutes, particularly against teams with more size. He may not be a great scorer, but Josh's defensive versatility and intelligence is a weapon in and of itself. It's good to see that being recognized and rewarded.
8. Nate Austin (37)
Last Week: 6th (-2)
This Week: 1.0 PPG (50.0% FG / —% 3P / 0.0% FT), 7.5 RPG, 1.0 APG, 0.5 BPG, 0.5 TO
Nobody notices as a lot of the really important things that Nate Austin does. Taking charges, tipping offensive rebounds out for extra possessions, setting solid screens to free his teammates to score, contesting opponents' shots with his go-go-gadget arms — the list could go on for quite some time. But fans might begin to notice pretty quickly — because he may not be there to do them for a bit. Austin reportedly injured his ankle in Tuesday's practice, casting doubt on whether he'll be available for Thursday's game at Portland. If he's not ready to go, it will be a huge blow for BYU — not just because they'll miss his size, but because they'll miss all the essential little things he does that might actually be recognized when he's not there to do them.
9. Frank Bartley IV (23)
Last Week: 9th (even)
This Week: 0.0 PPG (—% FG / —% 3P / —% FT), 0.0 RPG, 0.5 APG, 0.0 SPG, 0.0 TO
Bartley moved out of the basement this week, even as his struggles continue. Not that we can really know. Frank saw only four minutes of game action on the road trip, hardly enough to enable us to make a fair evaluation of his play. But that's just the nature of the beast right now — Rose needs to win games, and he has tightened his rotation to give him the best possible chance to do that. That means less minutes for fringe guys like Bartley, and fewer opportunities to prove himself. Chances are an opportunity will come again, perhaps when he least expects it — and he needs to be ready to perform when it does. Ask Anson Winder about that.
10. Luke Worthington (11)
Last Week: 10th (-2)
This Week: Did Not Play (Coach's Decision)
Worthington is back in the basement, solely by virtue of the fact that he didn't get off the bench this week. Like Bartley, Luke is another young player whose minutes have been squeezed out of existence as Rose (understandably) tightens his rotation. That doesn't mean opportunities won't come up — BYU's big men always seem to be in foul trouble, and the potential injury to Austin could open an immediate window for Worthington to prove his mettle against some tough WCC competition. But regardless of what happens, the freshman will have to stay patient. The season will likely be a roller-coaster of sorts, with his fortune seemingly tied to the randomness of tweaked ankles and the whims of unpredictable referees. It'll be hard to enjoy that kind of ride, but it's also his only option. Stay ready, young fella.
What would your personal power rankings look like? Let us know in the comments below!