Player Power Rankings: Holy Tyler Haws, Batman!
Updated: January 30, 2014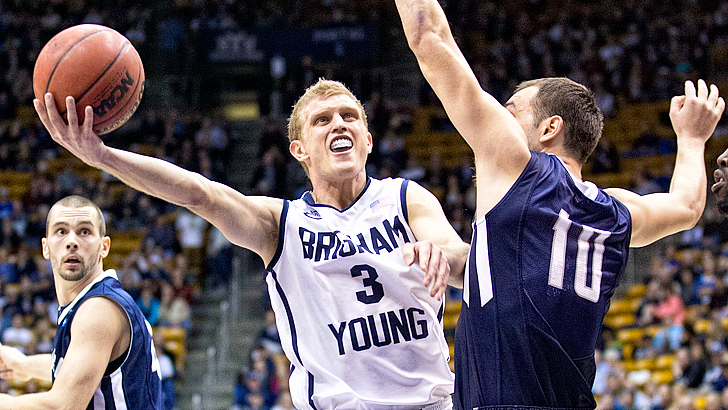 Our staff ranks the BYU hoopsters' performance on a tough road trip to the Pacific Northwest.
Welcome to the Player Power Rankings, the weekly feature where we rank each member of the BYU basketball team based on how they're playing right now. The Cougars stumbled through a tough road trip to Portland and Gonzaga last week, dropping both games in frustrating fashion and further injuring their NCAA tournament hopes. However, despite the poor outcomes, there were some dazzling individual performances in each of those games — beginning with the new occupant of the top spot in our rankings.
As a reminder, here's how this works: Each member of the Loyal Cougars staff is given the opportunity to rank each player on the roster, in order of performance, from 1 through 10. Each ranking is worth a descending number of points. For example, a first-place vote is worth 10 points, a second-place vote is worth 9, a third-place is worth 8, and so on. With 10 staff members voting, that means each player could potentially earn as many as 100 points (if he received all of the first-place votes, like our victor did this week) and as few as 10 points (if he received all of the tenth-place votes). We tally up the points for each player, rank them in order, and then I add some commentary and recent statistics to fill it all out.
Chin up, Cougar fans — the team may be on a losing streak, but you can console yourself with Week 4 of our rankings below.
1. Tyler Haws (100 points)
Last Week: 3rd (+2)
This Week: 35.5 PPG (49.0% FG / 50.0% 3P / 81.8% FT), 2.0 RPG, 0.5 APG, 1.0 SPG, 3.5 TO
Holy Tyler Haws, Batman! There's not much else you can say about the show BYU's junior scorer put on last week. Despite the two losses, Haws was absolutely sensational, particularly as he dropped 48 points in 50 minutes against Portland. He scored from everywhere on the floor, including in clutch moments, and it was truly a joy to watch. Haws even found ways to be effective and get good looks when Gonzaga threw multiple defenders at him — a sign of real personal growth after he scored just a single point in The Kennel last year. One thing is clear: BYU might be down right now, but if they're going to make a run, Tyler Haws will be the one to carry them — and he's more than up to the task.
2. Matt Carlino (85)
Last Week: 2nd (even)
This Week: 13.5 PPG (37.9% FG / 25.0% 3P / 100% FT), 2.0 RPG, 5.0 APG, 4.0 SPG, 0.5 TO
Carlino's week was defined by two very different performances. He was amazing against Portland, racking up 25 points, 9 assists and 7 steals, carrying his team through long stretches, and making the defining defensive play to send the game to overtime. It was the best Carlino has looked all season. But then he followed it up with a tough night against the Zags. With his legs likely tired after playing 44 minutes just 48 hours prior, the shots weren't falling for Matt, as he went 1-for-6 from the floor and remained generally invisible elsewhere. However, he does deserve credit for recognizing his struggles and limiting his shot volume accordingly, while still taking care of the ball  — that's a sign of progression.
3. Kyle Collinsworth (77)
Last Week: 1st (-2)
This Week: 12.5 PPG (45.0% FG / 0.0% 3P / 43.8% FT), 9.5 RPG, 4.0 APG, 0.5 SPG, 3.5 TO
Collinsworth falls from the top spot after looking like a zombie for much of the Portland game, sleepwalking through regulation while turning the ball over six times. While he eventually came alive in the extra session and played a key role in big moments, it was probably his worst overall game of the season. He looked much more like his usual self against Gonzaga, but at least one big problem remains: Kyle still can't convert at the stripe. He shot a disastrous 43 percent on freebies for the week, and those missed opportunities played a huge role in the Portland loss. This kind of performance is inexcusable for a player of Collinsworth's caliber — especially when he's averaging a team-leading 7.4 free throw attempts per game.
4. Eric Mika (68)
Last Week: 5th (+1)
This Week: 8.0 PPG (50.0% FG / —% 3P / 57.1% FT), 6.5 RPG, 1.0 APG, 0.5 BPG, 1.5 TO
Mika didn't do much against Portland, but he showed us something with his great effort against Gonzaga's massive frontcourt. He was aggressive and effective early against the Bulldogs, a pleasant surprise for a freshman playing in such a hostile environment for one of the first times in his college career. Mark Few's staff corrected their course at halftime and Eric wasn't quite as effective after the break as a result, but on the whole, this was a promising performance against as good a pair of bigs as Mika will see all season — and an even better sign for the future.
5. Nate Austin (63)
Last Week: 8th (+3)
This Week: 6.5 PPG (80.0% FG / —% 3P / 83.3% FT), 9.5 RPG, 0.0 APG, 1.5 BPG, 1.0 TO
Shhh! Don't tell anybody, but Nate Austin may be having a bit of a personal offensive renaissance. Normally content to hustle and defend, the junior big man flashed a little offensive aggression this week, connecting on four of his five shot attempts, including several smooth mid-range jumpers. Lest we get too carried away, Nate isn't some kind of offensive savant. He made a few jump shots, and we should celebrate that for what it is. Because if guys like Austin and Josh Sharp can prove to be legitimate offensive threats that defenses have to at least pay attention to — even if it's just being able to knock down the occasional open jumper — that will make life a whole lot easier for BYU's actual offensive savants.
6. Skyler Halford (47)
Last Week: 4th (-2)
This Week: 7.5 PPG (29.4% FG / 22.2% 3P / 75.0% FT), 3.0 RPG, 1.0 APG, 0.0 SPG, 2.0 TO
Halford came crashing back down to earth a bit this week with a somewhat sub-par outing in Portland and a horrific no-show in Spokane, shooting 22 percent from deep in the process. The truth of the matter is, if Skyler's shots aren't falling, he doesn't bring a whole lot else to the table. He's not a rebounder, he doesn't create much off the dribble for others. Sure, he can be a capable high-energy defender — but that kind of energy burst can only last for so long before it wears off and he's just as athletically overmatched as anyone else. The long and short of it: Halford must find his shot again — and quickly. If he can't, it doesn't make sense for BYU to have him on the floor for extended minutes.
7. Anson Winder (42)
Last Week: 6th (-1)
This Week: 3.5 PPG (50.0% FG / 100% 3P / 80.0% FT), 0.0 RPG, 1.0 APG, 0.5 SPG, 0.0 TO
The voters knocked Winder down one spot this week, but I continue to be impressed with his recent play. One thing has become clear: BYU is in desperate need of defensive help, especially on the perimeter — and Winder remains their most effective on-ball defender. That much has never been disputed. The questions have always come on the offensive end. Could Anson pose enough of an offensive threat to force opponents to respect him, thus enabling Rose to leave him on the floor longer for maximum defensive impact? The answer, at least as of late, seems to be yes. He's shooting a solid 51 percent from the field and a respectable 38 percent from three on the year, with his recent results even a touch better than that. If Winder can continue that kind of production in a larger sample size, he deserves more minutes — because the time has come for the Cougars to take defense seriously or kiss the postseason goodbye.
8. Josh Sharp (34)
Last Week: 7th (-1)
This Week: 1.5 PPG (100.0% FG / —% 3P / 50.0% FT), 3.5 RPG, 0.0 APG, 0.0 BPG, 0.0 TO
With Mika fully back in the rotation, Sharp's minutes have declined and his production has decreased accordingly. It's not that Josh is playing any worse — he's playing the exact same, just in fewer minutes. However, as Rose tries to solve the team's defensive woes, I hope he'll turn to Sharp more often — because, as I've written in this space previously, no one on the team plays help defense quite like him, and that's something they'll need more of moving forward.
9. Frank Bartley IV (22)
Last Week: 9th (even)
This Week: 2.0 PPG (33.3% FG / 0.0% 3P / —% FT), 1.0 RPG, 0.0 APG, 0.0 SPG, 0.0 TO
10. Luke Worthington (12)
Last Week: 10th (even)
This Week: 0.0 PPG (—% FG / —% 3P / —% FT), 0.0 RPG, 0.0 APG, 0.5 BPG, 0.0 TO
And last but not least, our freshman roommates in the basement. Bartley didn't see the floor in the Portland game, which was surprising considering the sheer number of minutes available. He snatched a few minutes against Gonzaga, in which he promptly put up three shots, making one — but at least he looked confident and tried to impact the game, which is promising. Worthington continues to get spot minutes as the foul situation demands, but hasn't had much impact in those opportunities of late. As always, the important thing for both players will be to continually stay ready to play and take advantage of the chances they are given. Keeping things in perspective, while difficult, will serve them well.
What would your personal power rankings look like? Let us know in the comments below!