Top 5 commitments of BYU's 2014 recruiting class
Updated: February 3, 2014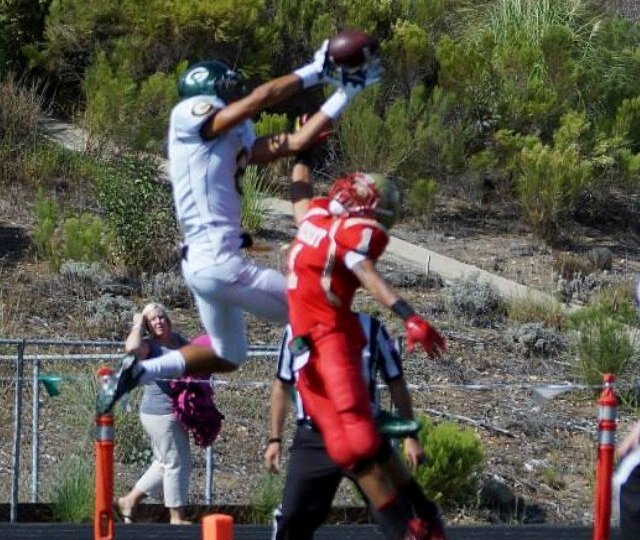 3. ISAIAH NACUA (?)
DEFENSIVE END | 6'2″ 240 lbs | Provo, UT
3-star – 85.82 rating
#31 DE
Nacua is definitely the most enigmatic of BYU's 2014 targets. Once committed to BYU along with brother Kai, Isaiah decommitted from BYU in the summer of 2013 before his senior season — or the offer was pulled, depending on who you talk to. 247 Sports still lists Nacua as a BYU commit; other services have him as uncommitted.
Nacua moved from Las Vegas (Bishop Gorman) to Provo (Timpview) to play his senior year after the death of his father, who died at 45 due to complications from diabetes. The Nacua brothers committed to BYU a month after his death, reportedly fulfilling their father's football wish for them.
In this video, Nacua talks about his recruitment, saying he opened his recruitment after interest from several Pac-12 schools and after hearing from Alabama and Oregon. Consensus among services is that his top three offers are BYU, Utah, and Arizona State. About Utah, he says he "loves Jay Hill and all them" — Hill, formerly an energetic recruiter as a Utah assistant, is now the head coach at Weber State.
What makes Nacua enigmatic is the lack of official or on-the-record information since his BYU decommit/pulled offer. There have been rumors that Nacua is coming back around to BYU and that whatever issue stood in the way is being resolved — but others seem sure there are no more ties to BYU at all and to expect Nacua to sign at Utah or Arizona State. In the linked video, Nacua says he will likely decide on Signing Day — just days away, we wait. If he is/was committed to BYU, he'd be the third-best prospect among current commits.
According to the Deseret News, Nacua recorded 71 tackles, including a whopping 18.5 sacks, in 13 games at Timpview.
Nacua's main highlight video available seems to be his junior season from Bishop Gorman:
2. NICK KURTZ
WIDE RECEIVER | 6'6″ 205 lbs | Grossmont College / El Cajon, CA
3-star, 87.05 rating
#6 WR
Kurtz, a highly-sought-after junior college receiver, garnered a lot of attention over his recruitment. He had interest from Oregon. His interest in Texas Tech led to the famed incident with Wes Welker. Then, Kurtz garnered a late offer from USC.
Through it all, Kurtz has stayed true to BYU. "I was in love with the program months before I even visited," Kurtz told us in September. "You're not going to find a place like [BYU] anywhere else in the country."
Unlike others on this list, Kurtz is signed and already attending classes in Provo.
Presumably, Kurtz will step in right away and start in the absence of graduating star Cody Hoffman, though he does have three years to play two. Despite his height, Kurtz reportedly runs a 4.5 40-yard dash. He hauled in 18 touchdowns and 1,301 yards in 18 games at Grossmont College.
Freshman highlights:
Sophomore highlights: Hudl