Player Power Rankings: Haws dominates, Collinsworth surges
Updated: February 6, 2014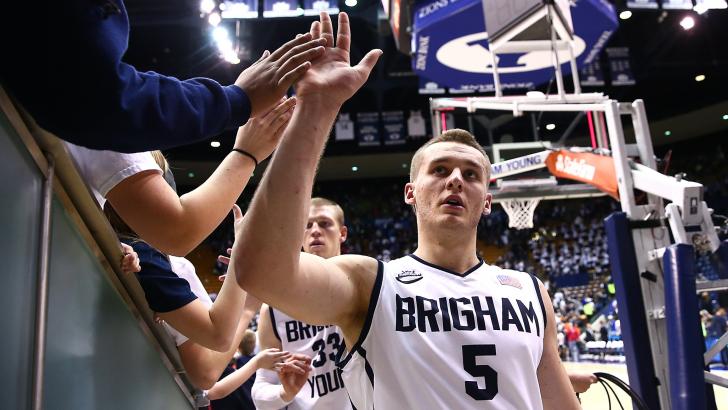 Our staff ranks the BYU hoopsters' performance during their most recent homestand, which featured a big win over a key rival.
Welcome to the Player Power Rankings, the weekly feature where we rank each member of the BYU basketball team based on how they're playing right now. After stumbling through a tough road trip to Portland and Gonzaga, the Cougars got back on track at home with a victory over conference newcomer Pacific and a massive win over fellow bubble-dwellers St. Mary's — bolstering their NCAA tournament resume in the process. Tyler Haws continued his dominance in both games, but there were some interesting shake-ups elsewhere in the rankings.
As a reminder, here's how this works: Each member of the Loyal Cougars staff is given the opportunity to rank each player on the roster, in order of performance, from 1 through 10. Each ranking is worth a descending number of points. For example, a first-place vote is worth 10 points, a second-place vote is worth 9, a third-place is worth 8, and so on. With 10 staff members voting, that means each player could potentially earn as many as 100 points (if he received all of the first-place votes, as Haws did again this week) and as few as 10 points (if he received all of the tenth-place votes). We tally up the points for each player, rank them in order, and then I add some commentary and recent statistics to fill it all out.
And now for Week 5…
1. Tyler Haws (100 points)
Last Week: 1st (even)
This Week: 35.5 PPG (59.4% FG / 66.7% 3P / 91.3% FT), 4.5 RPG, 1.0 APG, 2.0 SPG, 1.0 TO
What more is there to say about Tyler Haws at this point? I mean, just look at those numbers. He's been so good and so consistent over the last few weeks that his 30-plus-point explosions are nearly unremarkable now. It's almost like we're taking them for granted. To be fair, they do tend to sneak up on you — usually Haws starts slow from the field as he finds his rhythm, then all of the sudden it's midway through the second half and he's got 25 and hasn't missed a shot in five minutes. Tyler's on an absolutely unbelievable streak right now, but he makes it looks so effortless that it's easy to forget the awesomeness of what you're watching. Don't be lulled into that trap — BYU fans need to savor every time Haws steps on the floor. This is special.
2. Kyle Collinsworth (86)
Last Week: 3rd (+1)
This Week: 15.0 PPG (36.3% FG / —% 3P / 77.8% FT), 7.5 RPG, 3.5 APG, 1.0 SPG, 3.5 TO
After a slight downtick in the previous two games, Collinsworth got back on track last week with a couple nice performances — including a game-saving showing against St. Mary's. When BYU faltered out of the gate, Kyle put his head down and repeatedly got to the rim for easy baskets, single-handedly preventing the Cougars from falling too far behind. Sure, they still fell into an early 14-point hole, but the climb would have been much worse without his contributions — perhaps even insurmountable. A big reason for his improved play? His free throw shooting is actually getting better. Collinsworth shot just shy of 78 percent from the stripe last week, a very positive sign for BYU moving forward. Because of his attacking style of play, he takes more free throws than anyone on the team not named Tyler Haws — so the more he can convert, the better they'll be.
3. Eric Mika (78)
Last Week: 4th (+1)
This Week: 12.5 PPG (64.3% FG / —% 3P / 70.0% FT), 7.5 RPG, 1.5 APG, 1.0 BPG, 1.5 TO
Is Eric Mika finally feeling close to 100 percent again? The freshman had a beast of a game against Pacific, posting a 20-point, 8-rebound effort in dominating fashion. He looked much more like his early season self, using a variety of smooth post moves and his elite athleticism to give the Tigers' frontcourt fits all night long. He struggled to keep pace with St. Mary's big man Brad Waldow in the next game, but that's not totally surprising considering Mika's relative inexperience and Waldow's obvious polish. Eric hadn't looked fully fit since returning from a nasty collection of injuries a few weeks ago, but the events of the past week show he may be turning the corner toward health — and that would be a big boost for BYU.
4. Matt Carlino (67)
Last Week: 2nd (-2)
This Week: 5.0 PPG (28.6% FG / 28.6% 3P / —% FT), 2.0 RPG, 4.0 APG, 1.5 SPG, 1.0 TO
Let's get one thing out of the way up front: Matt Carlino did not shoot the ball well at all last week. He just couldn't find his range in either game, and his poor shooting splits reflect that. However, to Matt's credit, he continued to find other ways to impact both games despite his struggles putting the ball in the basket. He managed the offense beautifully and efficiently, providing a calming presence that helped the Cougars ride out their early deficit against the Gaels and find the offensive flow they needed to claw out of the hole. Simply put, when his shots aren't falling, Carlino embraces the role of being a pass-first point guard (he's posted a 9-to-1 assist-to-turnover ratio in the last couple weeks) and he puts his scorers in the best possible position to succeed. BYU doesn't make on/off stats publicly available, but I'd be willing to wager that Haws is scoring at a much higher clip with Matt on the floor than he is without him. A lot of that comes from his pace and passing acumen, but it also comes from his newfound mindset. BYU is still at their best when Carlino is a scoring threat that opponents have to account for, but when that doesn't work out, he has proven he can help the team in other ways.
5. Nate Austin (63)
Last Week: 5th (even)
This Week: 6.5 PPG (100% FG / —% 3P / 70.0% FT), 6.5 RPG, 1.5 APG, 2.0 BPG, 1.5 TO
Nate Austin continues to be his typical Nate Austin self. The big man had a nice week, continuing his recent streak of offensive aggression and getting to the free throw line at a higher clip as a result, while continuing to provide the same hustle and defense that he always has — even upping his block totals to a healthy two per game. There's not much more to say about him than that, but that, in and of itself, is quite a bit. Nate always leave it all on the floor and does whatever his team needs to win. In the humble opinion of this writer, a team can never have enough Nate Austins.
6. Skyler Halford (51)
Last Week: 6th (even)
This Week: 7.0 PPG (35.7% FG / 30.0% 3P / 50.0% FT), 0.5 RPG, 0.5 APG, 0.5 SPG, 1.0 TO
It's generally a problem when shooters can't shoot, especially when they don't really bring much else to the table. Such has been the life of Skyler Halford in recent weeks. The junior college transfer has fall into a slump of sorts, failing to connect on shots that he was knocking down with great consistency just a short time ago. Interestingly, Halford's shooting struggles closely parallel those of his teammate Matt Carlino (in fact, Halford is shooting slightly better of late), but the key difference lies elsewhere. As pointed out above, Carlino has found ways to impact the game when his shots aren't falling — he manages the offense with aplomb, he sets up other players for scoring opportunities, he defends reasonably well. Halford hasn't quite figured out how to do that yet. When his shot is off, he's of limited value — the production just isn't there on either end. Now, that's not to say he can't figure out how to contribute in other ways — he's certainly a talented player — and it's only a matter of time until he works his way out of this slump and resumes knocking down open looks like a banshee. But until one of those two things happen, Halford will likely see his minutes continue to dip.
7. Luke Worthington (33)
Last Week: 10th (+3)
This Week: 0.0 PPG (0.0% FG / —% 3P / —% FT), 0.0 RPG, 0.0 APG, 0.0 BPG, 0.5 TO
A question you might be asking yourselves: How can a guy who didn't register a single stat except 7 fouls and a turnover jump three full spots in our power rankings? That would be a fair question, but it would also bely the fact that you probably didn't watch the St. Mary's game. It's true that Luke Worthington didn't do much of statistical consequence — but basketball can't merely be measured by stats alone. What Worthington did do was play some great defense on the Gaels' Brad Waldow — something that no other BYU player had proven capable of doing. Sure, he fouled him five times in 10 minutes, but he also provided just enough resistance to frustrate the talented big man, slow him down, and throw him off his rhythm. That seemingly small contribution paid huge dividends for the Cougars as they ran out to a sizable second half lead and, eventually, a much-needed victory. None of that happens without Worthington. When Waldow was rolling, BYU was losing. It really was that simple. Nobody could figure out how to make life difficult for him — he just seemed to score at will. But Luke used his size and his strength to push back on the mouthguarded one, bumping him off his spots and forcing him to catch further away from the basket. Yes, he fouled a lot in the process — but he still had the desired effect. Waldow was never quite the same afterward, eventually losing his cool and picking up a crucial technical foul that effectively turned the tide. And BYU beat St. Mary's for the first time since joining the WCC. Who says fouling isn't valuable?
8. Anson Winder (32)
Last Week: 7th (-1)
This Week: 3.5 PPG (100% FG / 100% 3P / —% FT), 0.5 RPG, 0.0 APG, 0.0 SPG, 0.5 TO
Anson Winder continues to make shots — he's shooting 40 percent from deep on the season — but he can't seem to find consistent minutes. I'm not sure why that is, besides the fact that the guard lineup is already jampacked and Rose is actively looking for ways to tighten his rotation. But if Skyler Halford can't find a way out of his slump soon, it may be Winder who stands to benefit most.
9. [TIE] Frank Bartley IV (21)
Last Week: 9th (even)
This Week: 1.0 PPG (16.7% FG / 0.0% 3P / 0.0% FT), 1.5 RPG, 0.5 APG, 0.5 SPG, 0.0 TO
9. [TIE] Josh Sharp (21)
Last Week: 7th (-2)
This Week: 0.0 PPG (—% FG / —% 3P / 0.0% FT), 3.5 RPG, 1.0 APG, 0.0 BPG, 0.0 TO
A tie in the basement! Things actually seem to be looking up slightly for Bartley, as he notched 9 minutes and showed some nice flashes in the week's two contests — but like Winder, the lack of available playing time on the guard line have affected his opportunities. Sharp seems to be falling further down the big man rotation, a slide that can likely be at least partially attributed to Mika and Austin staying out of early foul trouble and playing more minutes on the whole. It's not that Josh is playing much worse than usual — he is who he is — it's just that Eric and Nate are better players and, when they're available, they'll grab the bulk of the minutes. The challenge for guys like Sharp and Bartley will be to avoid winding up as the odd men out as Rose continues to contract his rotation as March draws ever nearer.
What would your personal power rankings look like? Let us know in the comments below!