Haws still on fire, gives Cougars first win over Saint Mary's
Updated: February 2, 2014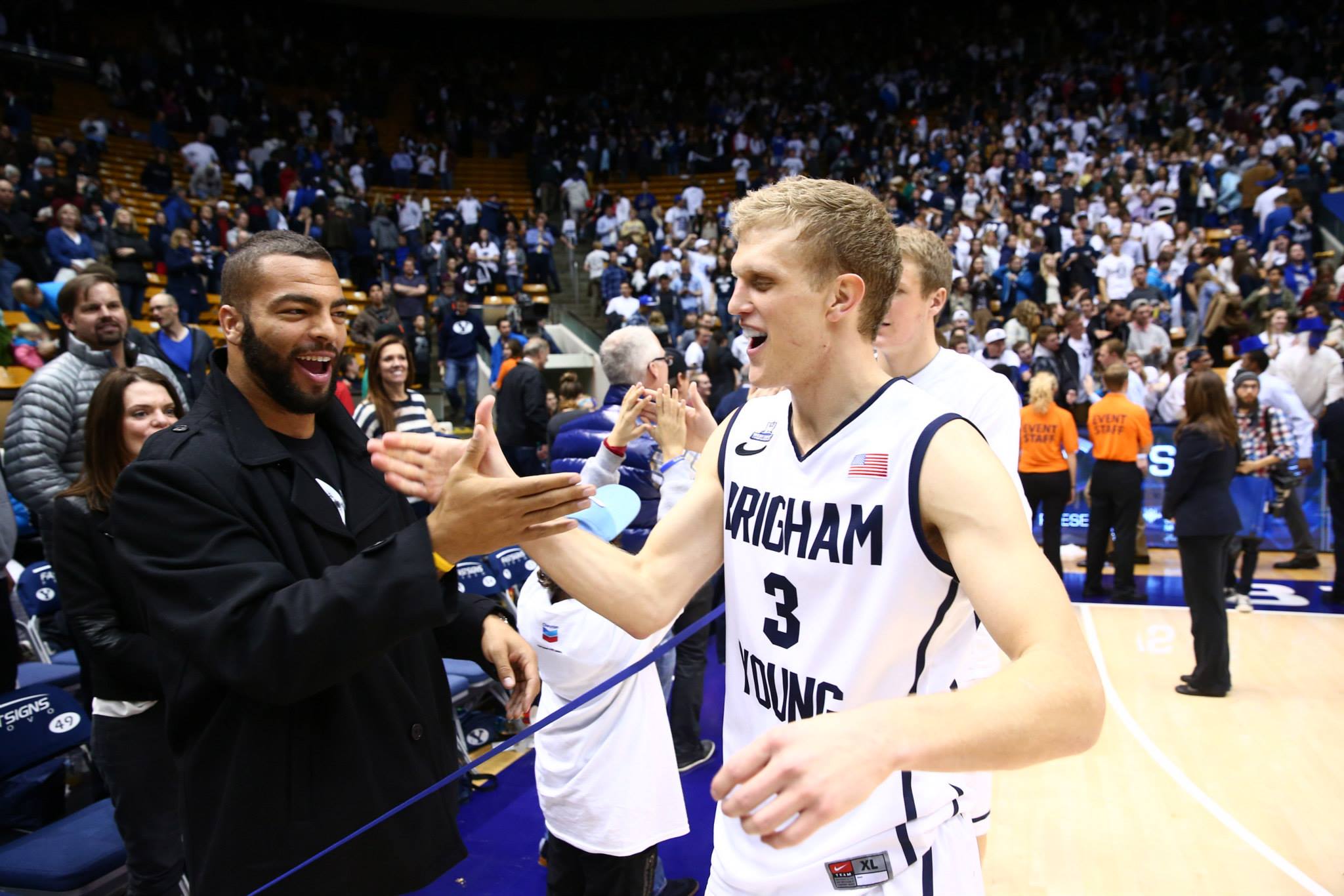 Tyler Haws continued his scoring outburst with 33 points as the Cougars rallied for their first win over Saint Mary's since joining the West Coast Conference.
In an alternate universe, Steve Holt is a third-year senior and high school jock whose vanity is only surpassed by his inability to recognize the identity of his birth father, even when the once-proud street magician is standing in front of him.
In another universe, Stephen Holt is a sharpshooting guard at Saint Mary's who went off on a small BYU team to push its win streak against the Cougars to 5-0.
Fortunately for BYU fans, Tyler Haws and Kyle Collinsworth kept the latter universe from existing after a late Saturday night burst brought the Cougars to an 84-71 win over the Gaels — the Provo squad's first victory over its California rival since joining the West Coast Conference.
One night after seeing his former Lone Peak High School jersey hung in the rafters of the Alpine, Utah-based school, Haws shot down the Gaels with 33 points, seven rebounds and two steals in a remarkable effort. The junior swing man missed his first four shots from the field as Saint Mary's built up a 21-10 lead, but finished the night making 10 of his final 13 shots to lead the Cougars in scoring for the fourth-straight game.
Haws is averaging 35.5 points per game over those four contests.
Collinsworth added 20 points, nine rebounds and two assists for BYU, which also got seven points off the bench each from Matt Carlino and Anson Winder. Eric Mika chipped in five points and seven rebounds for the Cougars.
But the real story of the night, surprisingly, was BYU's defense. After Holt and Saint Mary's standout center Brad Waldow scored 12 and 14 points, respectively, in the first half, BYU limited the duo to 15 total points after the break. A combination of Eric Mika and Luke Worthington, two freshmen big men who have been as known for their fouling as their offensive efforts in previous games, kept Waldow — one of the WCC's best post players — from scoring at will and making every one of his 25 points and seven rebounds a battle.
For the first time in the history of the series, BYU out-rebounded the Gaels, 38-33. Worthington's efforts contributed to this defensive dominance greatly, though his 10-minute, o-point, one-turnover effort won't astound any reader of the box score. The 6-foot-10, 245-pound forward from Mequon, Wisc. used every inch of frame and five fouls in slowing the rolling train that has been Brad Waldow. The former offensive lineman even caused Waldow so much grief that he temporarily spit out his oversized mouthguard in frustration, leading to a technical foul late in the game that kept Saint Mary's from clawing back into contention.
Holt, meanwhile, scored 14 of his 16 points in the first half, helping the Gaels build up a 14-point lead with 10 minutes to go until the break. Yet a rejuvenated focus on defense, along with a couple of long-range shots by Haws, Collinsworth and Winder, helped the Cougars bounce back to within one at 38-37 at halftime.
The Gaels shot 53 percent from the field in the first 10 minutes of the first half, but finished the period closer to BYU's 43 percent after cooling off substantially.
Matt Carlino made his presence felt in only 25 minutes of game time, despite his lackluster stat night of seven points, three rebounds and two assists. The junior from Arcadia, Ariz., drove in for a coast-to-coast layup with just under 11 minutes to play to give BYU a 10-point lead, and the Cougars could coast for the final outcome.
The only other mentionable moment came late in the second half came when Saint Mary's forward Garrett Jackson swung an unreasonably high elbow at Mika, who promptly told him where to stick it. Jackson was assessed a flagrant 2 foul and ejected on the play, and the event let the steam out of a potential Gael comeback. Good video of the incident can be seen here. Suspendable offense, no?
BYU hosts Santa Clara and San Francisco next week.
For a full box score of the game, click here.