Jordan Leslie explains his path to BYU, 'pressure to be successful'
Updated: February 11, 2014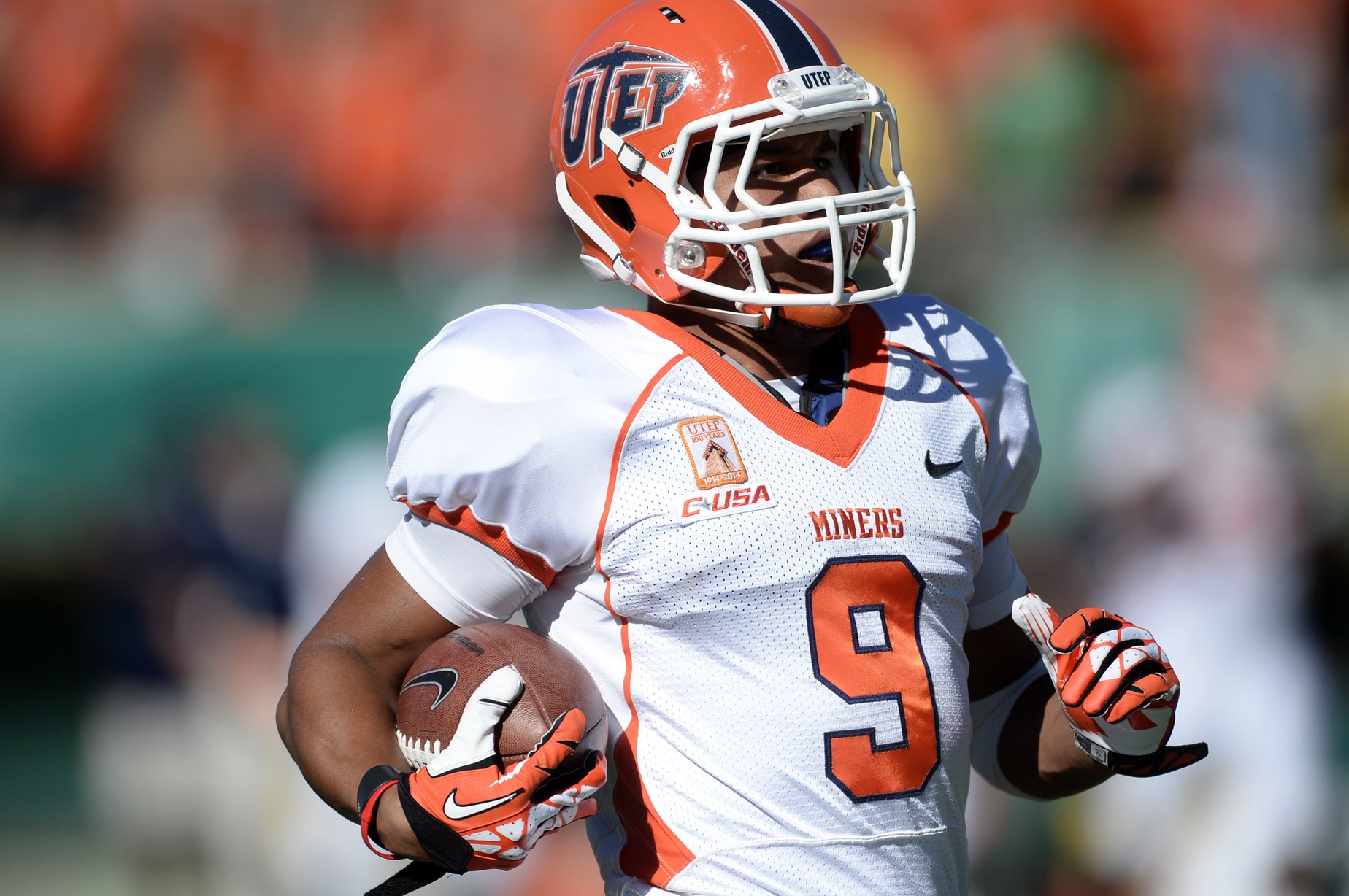 Jordan Leslie tells Loyal Cougars he wants his talents to have an impact, which was key in deciding to transfer to BYU.
Among the exciting targets of BYU's 2014 recruiting class, a player that surfaced late as being on BYU's radar was UTEP receiver Jordan Leslie. The 6-foot-3 receiver from Houston is graduating this Spring with a degree in electrical engineering and signed with the Cougars on Signing Day.
In 2011, Leslie became the first Miner freshman in eight seasons to post a game with 100+ receiving yards. In his junior season he saw more success, catching 51 passes for 973 yards and six touchdowns, enough to be named to the 2013 Biletnikoff watch list, the award given to the nation's best receiver.
Then, nine-year UTEP head coach Mike Price decided to step down and end his coaching career. Pittsburgh Steelers offensive line coach and Miner alum Sean Kugler was named as his replacement, and in 2013, Leslie's production dropped by 360 yards.
"The coaching staff came in with a run first mentality, " Leslie told Loyal Cougars on Monday night. "We were dedicated to getting the run game started before the pass game." With graduation coming, Leslie began seeking an opportunity to use his talents more fully with a final-year transfer.
"After I received my release I worked on gathering my options. I knew I wanted to go somewhere receivers were needed, a coaching staff I could get along with and a team that had a great chance to be successful … The offensive system was the biggest factor."
Still, the decision to leave UTEP was not easy. "I had developed such a bond with the players and the people of the community," Leslie said. "With the direction the offense was going I felt like I needed to move to an offense where I could be utilized more. I greatly respect the coaching staff and especially Coach Kugler, but sometimes you have to make decisions that you feel will be the best for yourself."
Staff changes both in El Paso and in Provo allowed BYU to pursue UTEP's fifth-year receivers coach Guy Holliday, who not only has been a passionate addition to the Cougars' coaching and recruiting efforts, but made a move to BYU a natural one for Leslie.
"I had the chance to be coached by Coach Holliday for three years, and I owe a lot of my success to him," Leslie explained. "He taught me fundamentals and discipline that allowed me to be successful on and off the field. Being with a coach for that long, you learn to really appreciate and respect him. I trust coach a lot, and I know he always has my best interest in mind."
Leslie said that BYU became his plan, but his trip to campus on Jan. 31 made his decision sure. "I was blown away by the campus, the facilities and the people there. The players I was able to meet were great guys with great morals. I could tell they were all dedicated to do whatever it would take to win next year."
Aside from his trust in Coach Holliday, Leslie said other factors that made BYU an appealing destination were the Cougars offensive system, great coaches, nine-straight bowl appearances, and a good combination of returning talent and opportunities to make an immediate impact.
"I hope to be a big playmaker for the offense and be that guy players see as a leader," said Leslie, who will enroll in the Marriott School's Executive MPA program. "I know I have a lot of pressure to come in and be successful wherever [coaches] put me … I have the speed to run past most defenders, but also have the ability to run great routes. I am very physical and find ways to get open. If the ball is in the air, I feel like it's my job to bring it down and make a play."
While BYU's facilities were impressive, it was the people around BYU football that really impacted Leslie. "I really enjoyed meeting the coaches. They are a great group of men that truly care about their players. I already feel comfortable talking to all of them, and I'm really excited to get to know each one of them on a more personal level.
"But one thing that impressed me the most was the fans. I was able to see the video that won the Hyundai challenge, and it really hit me deep[ly] seeing the passion and love the fans had for BYU football. I just want the fans to know how excited I am to come to Provo. I can't wait to step out on that field in front of all the fans and make them proud."