Player Power Rankings: All quiet on the bubble (for now)
Updated: February 13, 2014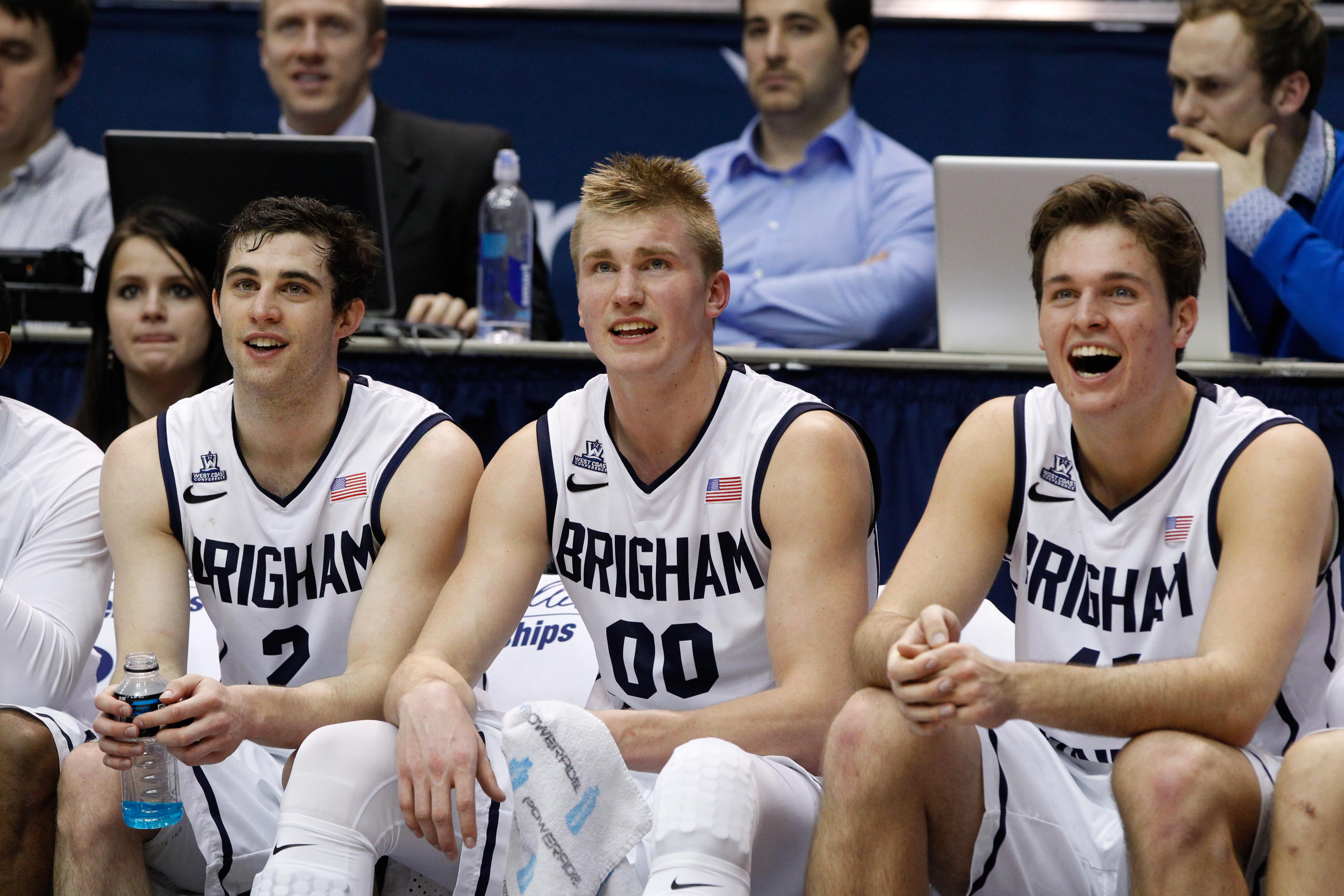 Our staff ranks the BYU hoopsters' performances as they kept their unbeaten streak — and tournament dreams — alive with two home wins.
Welcome to the Player Power Rankings, the weekly feature where we rank each member of the BYU basketball team based on how they're playing right now. The Cougars rolled through a homestand against Santa Clara and San Francisco, extending their unbeaten streak to four games and keeping their NCAA tournament hopes alive. For the moment, all seems quiet on the Western front bubble (and with very little movement, this week's rankings reflect that ephemeral tranquility) — but a bruising, do-or-die road trip to Pacific and St. Mary's looms in the immediate future.
As a reminder, here's how this works: Each member of the Loyal Cougars staff is given the opportunity to rank each player on the roster, in order of performance, from 1 through 10. Each ranking is worth a descending number of points. For example, a first-place vote is worth 10 points, a second-place vote is worth 9, a third-place is worth 8, and so on. With 11 staff members voting this week, that means each player could potentially earn as many as 110 points (if he received all of the first-place votes) and as few as 11 points (if he received all of the tenth-place votes). We tally up the points for each player, rank them in order, and then I add some commentary and recent statistics to fill it all out.
And now for Week 6…
1. Tyler Haws (102 points)
Last Week: 1st (even)
This Week: 23.0 PPG (50.0% FG / 20.0% 3P / 76.5% FT), 3.0 RPG, 1.5 APG, 0.5 SPG, 2.0 TO
Well, that was a let-down. After averaging over 30 points for the past two weeks, Tyler Haws only averaged 23 points against Santa Clara and San Francisco — or, you know, his season average, which has him ranked third nationally in scoring. Alright, enough facetiousness: Haws is ridiculous. Only people who are ridiculous average 23 points for a week's worth of games and it can reasonably called a step backwards from their previous performances. That's just how good he is — and the Cougars will need him to continue to be that good in order to survive their tough road swing through California this week.
2. Eric Mika (90)
Last Week: 3rd (+1)
This Week: 14.0 PPG (53.3% FG / —% 3P / 66.7% FT), 11.5 RPG, 0.0 APG, 1.0 BPG, 2.5 TO
Mika had a whale of a week, and certainly deserves the bump up in this week's ranking. The freshman was dominant inside on the homestand, showing once again the flashes of future greatness that got BYU fans so excited before he went down with a rash of injuries. But this wasn't just about flashes of potential that could be a few years away from full realization — this was about the here and now. It's clear that, despite being forced to work through injury, Mika has greatly improved as a player over the course of the season. Whereas there might have been moments of exciting raw ability before, those same moments have now begun to evidence themselves as expressions of honed, purposeful skill. He has more post moves now, he's going to his left with more confidence, he's making more free throws, and he's attacking the boards with more ferocity (as San Francisco learned first-hand). Mika's not just a nice prospect, he's turned into a very good player. And if you really want to get excited, given his recent rate of growth, just imagine how much better he can and will be down the road. Yikes.
3. Kyle Collinsworth (88)
Last Week: 2nd (-1)
This Week: 18.5 PPG (53.8% FG / 50.0% 3P / 42.1% FT), 5.5 RPG, 4.0 APG, 3.5 SPG, 2.5 TO
Kyle Collinsworth is a really excellent basketball player. That much is not up for debate. The man, quite simply, can stuff a stat sheet with the best of them. He affects the games in so many positive ways, particularly at the rim and on the glass, that it's natural to want to have him on the floor as much as possible. But therein lies the rub, which fully evidenced itself against San Francisco. As great as Collinsworth is, his game still has some very serious flaws — one of which could prove fatal to the Cougars before long. Namely, free throw shooting. It's inexcusable for a guard of Collinsworth's talent level to be shooting 42 percent from the stripe for the week. That's awful — it makes Dwight Howard look like a free throw shooting savant. And more than that, it's especially problematic because of how it affects BYU late in close games. You want to have your best players on the floor in those situations, Kyle included, but it's tough to justify when (as happened against the Dons) your opponents can feel comfortable in sending him to the free throw line repeatedly because they know there's a very good chance he won't convert. Collinsworth missed four free throws and turned the ball over once in the final minute or so of that game and nearly cost the Cougars a victory. No matter how well he played the rest of the game (and he was very good, as per usual), he almost wiped it all away with his one very problematic flaw. In a season where BYU cannot afford another significant misstep and still make the tournament, that's a huge risk — but there's not really another option either.
4. Matt Carlino (86)
Last Week: 4th (even)
This Week: 8.0 PPG (30.8% FG / 44.4% 3P / 66.7% FT), 1.5 RPG, 5.5 APG, 1.5 SPG, 1.0 TO
Matt Carlino may not be averaging the kind of gawdy offensive numbers he put up at the beginning of the season, but he's arguably more important to BYU now than he ever has been. Coming off the bench, the junior co-captain has been tasked with essentially steadying the Cougars after a series of uneven starts and using his innate sense of pace to power the team's offense to its highly efficient resting point. When Carlino's on the floor, things just seem to work better — and that's not a coincidence. He's playing so well and so much within himself right now that he's making everyone around him better. Haws, Collinsworth and Mika all get more and better looks with Matt on the floor, because he's pushing the pace (even off makes) and exploiting opportunities for his teammates before the opponent can set up its defense. And while he might not be shooting as often, Carlino proved against San Francisco that he can still bring the heat when BYU needs it most. His three momentum-shifting second-half threes, including the dagger to ice the victory, showed that the polarizing point guard is still absolutely essential to his team's success — no matter how inconsistent his playing time might be.
5. Nate Austin (74)
Last Week: 5th (even)
This Week: 3.0 PPG (100% FG / —% 3P / 70.0% FT), 12.0 RPG, 0.5 APG, 0.5 BPG, 2.5 TO
Nate Austin is a beast. There's no other way to put it. Together with Mika, his outstanding rebounding effectively won the San Francisco game for the Cougars. In a contest where BYU shot poorly from the field and missed a ton of free throws, the only thing that saved them was the mountain of second chance opportunities granted to them by their bigs — and Austin was the key cog in that glass-cleaning machine. It's been a long time since Provo has seen a player have this kind of effect on a team without scoring — and that's why Nate remains the unsung heart and soul of this squad.
6. Skyler Halford (46)
Last Week: 6th (even)
This Week: 7.0 PPG (31.3% FG / 28.6% 3P / 100% FT), 3.5 RPG, 2.5 APG, 0.0 SPG, 0.0 TO
Skyler Halford continues to struggle through a vicious slump, severely limiting the impact he's able to have on games and, thus, limiting the minutes Dave Rose feels comfortable giving him. He broke out a bit against Santa Clara, scoring 12 points — but he needed 11 shots to do it. Not exactly a picture of efficiency, and BYU simply can't afford to allow Halford to be a high-volume scorer. In order to be effective, he has to make the most of relatively limited opportunities — he's not going to get 11 shots a game to score 12 points. They need him to get 12 points on maybe four or five shots. Make no mistake, Halford is apart of this team's future — if they want to make any type of postseason run, they'll need him to pull out of this funk. But with Carlino playing an increasingly crucial role in powering the offense and Anson Winder coming on strong, you have to wonder how many minutes that will leave Skyler to work through things on the floor.
7. Luke Worthington (45)
Last Week: 7th (even)
This Week: 3.5 PPG (66.7% FG / —% 3P / 60.0% FT), 2.5 RPG, 0.0 APG, 0.0 BPG, 0.0 TO
The Luke Worthington renaissance continues! The much maligned freshman continued his string of breakout performances against Santa Clara, dropping a career-high 7 points on 67 percent shooting and generally playing really well in a blowout win. Mequon, Wisc., wants to know how you like them apples, huh? And while Luke didn't get quite as much time against San Francisco, due mostly to the otherwordly play of Mika and Austin, it feels like everyone's favorite bespectacled post player has worked his way back into Rose's good graces and earned a spot in the rotation. If he can continue to give BYU 7-10 minutes of quality play a game over the next month, holding the fort down while the starting bigs take a rest, it could prove to be an invaluable contribution.
8. Anson Winder (35)
Last Week: 8th (even)
This Week: 0.5 PPG (0.0% FG / 0.0% 3P / 50.0% FT), 3.0 RPG, 1.5 APG, 0.0 SPG, 0.0 TO
A case study in weirdness: Anson Winder played 25 minutes against Santa Clara. He only took two shots, but he grabbed 6 boards, dished out 3 assists and played some nice defense in a very good, balanced effort. He followed that up by playing only 3 minutes against San Francisco. Wait, what? I'm not quite sure what to make of the wild swings in playing time for Winder — he makes Carlino's minutes look downright stable — but it's a very strange phenomenon to say the least. Perhaps there was some kind of matchup inconsistency that Rose saw against the Dons that I missed, but it seems odd that Anson could play so well one game and then be deemed to have nothing of value to add in the next. Now, I know these things do tend to happen to coaches — the game just absorbs you in the moment, and then you look at the stat sheet afterward and notice, Oh, I didn't realize I only played Anson three minutes. That's likely what happened here, but I'd still like to see Winder get some more consistent opportunities, especially if he can continue to use them effectively.
9. Frank Bartley IV (22)
Last Week: 9th (even)
This Week: 1.0 PPG (25.0% FG / —% 3P / —% FT), 1.0 RPG, 1.0 APG, 0.0 SPG, 0.0 TO
I'll say this for Frank Bartley: he hasn't gotten many chances lately, but when a bone does get thrown his way, he goes after it with a voracity that is breath-taking. Now, that approach doesn't always work out. Sometimes it just results in a pile of missed shots. But you have to applaud his continued aggression — because at some point, BYU is going to need that spark and they will turn to Frank. And I feel confident that he'll be ready to bring it all, for better or for worse, in that moment.
10. Josh Sharp (19)
Last Week: 9th (-1)
This Week: 0.0 PPG (—% FG / —% 3P / —% FT), 0.5 RPG, 0.0 APG, 0.0 BPG, 0.5 TO
The steady play of Mika and Austin, paired with Worthington's emergence, has left Sharp stranded at the ended of the bench with very few minutes. But it's not all about outside circumstances. Sharp just isn't asserting himself like he was a month ago. He's never going to be a scorer, but he has proven in the past that he can rebound at a high rate — and that just hasn't been happening lately, even in his limited opportunities. Those opportunities will come again (it's only a matter of time until Austin or Mika wind up in foul trouble), and Josh needs to be ready to do what he does best when they do.
What would your personal power rankings look like? Let us know in the comments below!