Pacific ends BYU's at-large tournament hopes, Cougar D again exposed on road
Updated: February 14, 2014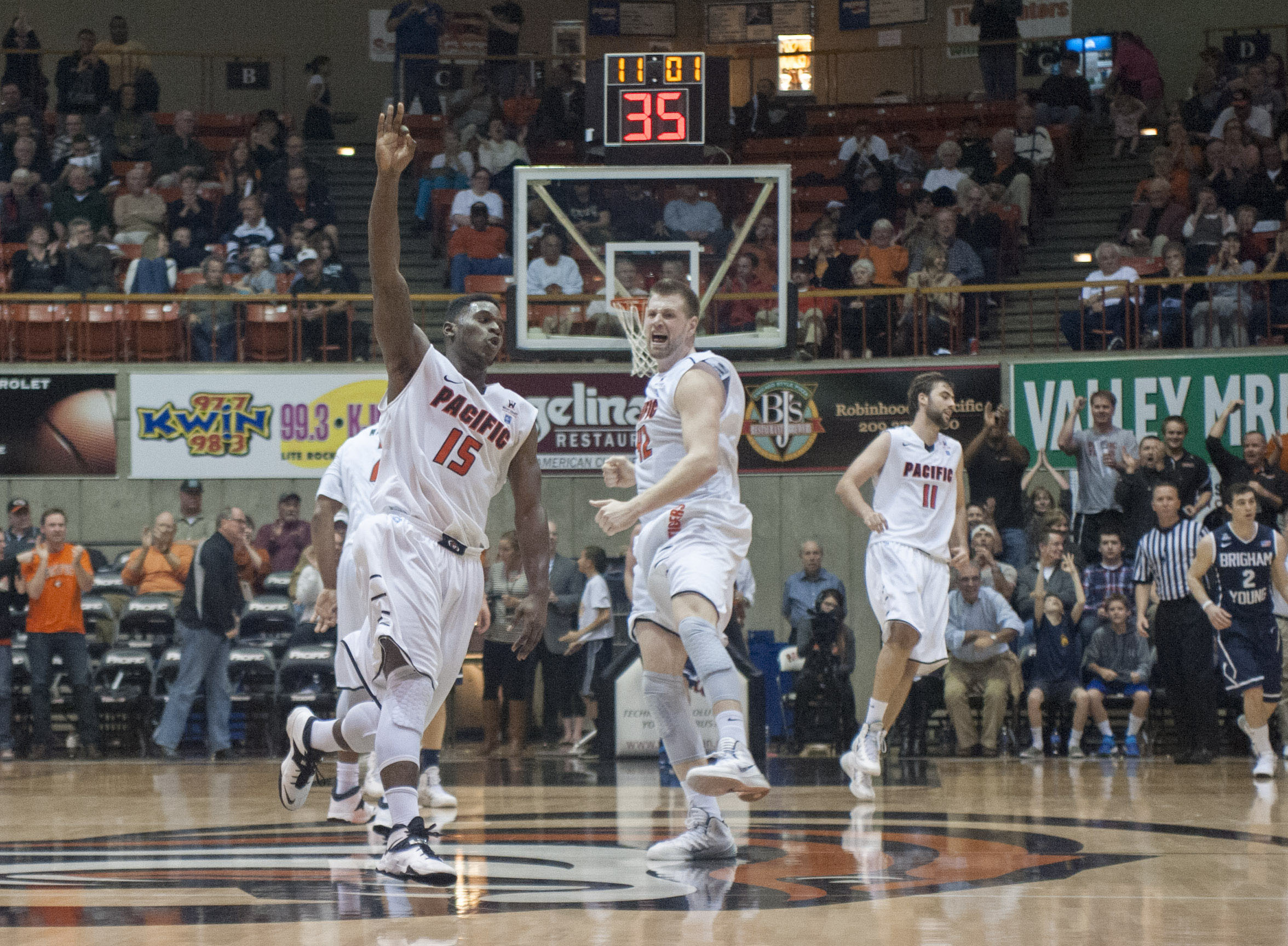 BYU's final lingering hopes of securing an at-large bid to the NCAA tournament were extinguished by the Pacific Tigers in an 89-82 loss Thursday night in Stockton.
Matt Carlino had the best game of any Cougar, scoring 28 on a strong shooting night (9-of-15, including 6-of-11 from three) however, the rest of team struggled to provide enough consistency to keep up with Pacific's torrid second-half pace.
Tyler Haws was good, but not quite his usual self. Haws scored 20, but did so on 6-of-16 shooting, often dragging defenders around the court. Haws also fouled out of the game for the first time in his BYU career. Skyler Halford gave up a few ugly turnovers and shot poorly, going 3-of-10 on the night and 1-0f-5 from deep. Collinsworth added 10 points and displayed his usually-nice slashing cuts to the basket, but tonight there just wasn't enough.
The game featured a lot of whistles, with 53 fouls called and 65 foul shots in a 75-possetion game. Foul trouble significantly hampered the BYU big men. Erik Mika was only able to stay on the flour for 22 minutes, picking up four fouls and only scoring four points along the way. Nate Austin and Luke Worthington also each had four fouls.
While rebounding was able to save BYU at home against San Fransisco Saturday, tonight Pacific owned the glass, out-rebounding BYU 42-31.
BYU's first two minutes looked fantastic, opening with a 9-0 run to start, but Pacific answered with a 14-2 run of its own, with BYU going more than six minutes between made baskets.
Depending how you look at it, Pacific won the game on particularly strong shooting in the second half shooting, or by a particularly bad BYU defense in the second half. Pacific shot 7-of-9 from three in the second half. Aaron Short, Tony Gill, and Trevin Harris each hit a pair of long-distance shots, joining Loyola Marymount's Evan Payne (5-of-9), Pepperdine's Malcolm Brooks (6-of-9) and Portland's Bobby Sharp (8-of-13) in lighting up BYU from deep at home.
BYU was able to put together a 12-3 run at the end of the game, including a surprising Nate Austin steal and dunk with just under 2:00 to go to cut the lead to 4 — but BYU was unable to get stops and the game was finished at the free throw line.
The Cougars really couldn't afford any more slip-ups with an already shaky NCAA resume. While ESPN's Joe Lunardi had been nearly advocating for BYU's inclusion, people like CBS's Jerry Palm had been vocally against, already calling BYU's case "feeble" today. This loss certainly pushes BYU off the bubble.
BYU fans are perhaps facing a situation where the West Coast Conference teams aren't as bad as some may have expected them to be and BYU hasn't played as well as many were hoping.
In the five years before this one, the West Coast Conference always had at least three teams finish the year in the 200-350 range of Ken Pomeroy's rankings. As a league, the WCC has improved this year, with the lowest team, Santa Clara, currently ranked at 181.
That kind of improvement as a league won't get anyone extra NCAA bids, but it will make the road trips tougher. Tonight's loss at Pacific (112) or a 3OT loss at Portland (105) isn't nearly as ugly as losing at Loyola Marymount, currently ranked at 175.
On the other hand, from 2009-2011, BYU finished ranked 29th, 12th, and 13th. Since losing Jimmer Fredette, but perhaps more importantly Jackson Emery and Charles Abouo, BYU has finished 61st, 59th, and this season is currently at 56th.
There are certainly good pieces in place for BYU basketball, and Dave Rose has shown he can coach and win in the NCAA tournament, but it will be interesting to see what kind of events lead to his next trip to the big dance.
With BYU's bubble popped, its next concern is seeding for the upcoming WCC conference tournament. BYU faces St Mary's on the road Saturday and then home for Gonzaga, with both games broadcast on ESPN2.