Where to, Mr. Fredette? 6 potential destinations for Jimmer
Updated: February 25, 2014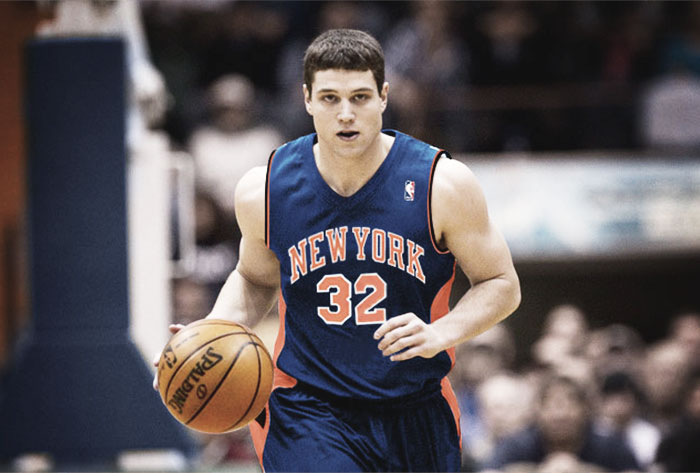 Jimmer Fredette may finally be freed in the very near future — but where might the Cougar legend end up?
For BYU fans, the last few years of Jimmermania have been pretty rough.
Jimmer Fredette has struggled to get consistent minutes since getting drafted by the Sacramento Kings with the 10th pick in the 2011 NBA Draft. In fact, Jimmer's minutes have gone down every season, even as his shooting percentages have skyrocketed. This season, Fredette is averaging just 11 minutes a game, despite a 47.5/49.3/89.5 shooting split — dangerously close to the vaunted 50/40/90 club.
Jimmer's problems in Sacramento were threefold. First, the Kings' roster has been the joke of the league for the last few seasons. When he first arrived in Sactown, he had to compete for minutes on a team full of shoot-first players, not exactly the ideal situation for a guy who posted a 36 percent usage rate his senior year.[1]
Then there was the rotating cast of coaches that came through the Kings organization during Jimmer's tenure; in just two and a half seasons, Jimmer has already played for three NBA coaches. And while the BYU Twittersphere reacted positively when Keith Smart was let go — assuming that Smart and Fredette had beef — Jimmer's minutes only continued to decrease under new head coach Mike Malone. If there's anything to worry about with Fredette, it's his inability to impress a coaching staff.[2]
Finally, there's Jimmer's game. While his shooting numbers have gone way up, Fredette has never demonstrated NBA-level point guard skills. Clearly Jimmer can shoot, but his ball-handling, court vision, (ahem) lackluster defense, and his lack of size make him a classic tweener. He's an NBA shooting guard stuck in a point guard's body.
Today, it became clear that Jimmer's time in Sacramento is — mercifully — up. Multiple outlets, starting with Yahoo's noted NBA clairvoyant Adrian Wojnarowski, have reported the Kings are planning on buying out Jimmer's contract, making him a free agent immediately available to sign with another team.[3] As BYU fans across the world joyously celebrated the news, the discussion immediately turned towards speculation about which team would land the former consensus college player of the year.[4]
Despite Jimmer's struggles in Sacramento and the questions about his game, he's proven that he is an elite shooter, and he's currently among the league leaders in 3-point percentage. As we've seen time and time again, it's absolutely possible to stick on an NBA roster with just a single elite level skill, and Fredette's 3-point shooting prowess should make him a valuable free agent.
The big question is what Jimmer will value most in a prospective team. The contract buyout will allow any team to essentially sign Jimmer for the NBA minimum for the rest of the season. No matter what, Jimmer will be a free agent again during the summer, and these next few months will essentially be a tryout for the rest of the league.
Jimmer could sign with a contender like Miami, but his minutes might be limited — especially with a team like the Heat who have a proven roster of shooters. Then again, in signing with a playoff team, Jimmer would also — hopefully — have the opportunity to play and hit big shots in May and June when the most people are watching.
On the other hand, Jimmer could sign with a non-playoff team where he may not have the chance to play in the playoffs, but were he can play 20-25 minutes a night for the next two months, showcasing his skills for the summer free agency period.
With that in mind, let's take a look at a few potential Jimmer destinations.
Miami Heat
Since the Big Three got together, Miami has consistently looked for shooters to put around them. Mike Miller, Shane Battier, Norris Cole, Ray Allen and Mario Chalmers have all hit big playoff shots for the defending champs over the last few seasons, and Jimmer could slide right into that Mike Miller-sized hole in South Beach.
With Mario Chalmers and Norris Cole solidified as the point guards, and with LeBron James playing pseudo-point guard, Jimmer would mostly play off the ball in Miami as a shooter, and he would certainly get plenty of shots. Playing with LeBron would also help cover up some of Jimmer's defensive flaws, and the King is a noted Jimmer fan.
The minutes question remains the biggest obstacle in any Jimmer-to-Miami discussion, and at his age, don't expect Jimmer to head to the Heat just to chase a ring — he'll only sign up if Pat Riley and Erik Spoelstra guarantee him significant playing time.
Dallas Mavericks
Perhaps the best NBA comparison for what Jimmer could become is J.J. Barea. While Jimmer has a size advantage on Barea, they have comparable skill sets.
A few years ago, Barea was instrumental during the Mavericks championship run, coming off the bench as a scorer/shooter. On that Dallas team, Barea was able to focus on being a scoring option, leaving much of the primary ball-handling and facilitating to other players, and playing with Dirk Nowitzki provided him with plenty of open shots and chances to cut to the rim.
Since Barea left the Mavericks for the Wolves, Dallas has been lacking that spark off the bench, and it's not inconceivable that Mark Cuban might look to add a player like Jimmer to push Dallas over the top in a heated Western Conference playoff battle.
Memphis Grizzlies
The Grizzlies are another team mixed up in the mess that is the Western Conference playoff race. Currently two games out of the eighth seed, the Grit And Grind Grizzlies are also one of the worst 3-point shooting teams in the NBA, and could use a dead-eye shooter like Jimmer for the stretch run.
Many of the reasons that make Dallas an attractive destination also apply to Memphis. Fredette would likely get significant minutes for a good team with a chance to play in the playoffs, and with Zach Randolph and Marc Gasol still demanding post double teams, he would have plenty of open shot opportunities. Then there's the chance to play with the reigning defensive player of the year in Marc Gasol, who tends to cover up defensive lapses, of which Jimmer has many.
Chicago Bulls
With Derrick Rose's injury and future looming over the franchise, the Bulls are in somewhat desperate need of scoring. Currently, Chicago is 28th in the league in offensive efficiency, scoring just 98 points per 100 possessions.
Last year, during Rose's injury-plagued season, the Bulls were able to generate offense using players like Nate Robinson who had previously been career NBA bench players, even winning a first round playoff series against the Nets. This season, Chicago has not been so lucky, with the offense becoming almost unwatchable without Derrick Rose and the now departed Luol Deng. But under the leadership of coach Tom Thibodeau, the team has maintained their defensive prowess, and is still (somehow) managing to win games, and they currently sit at 4th place in the Eastern Conference standings.
Jimmer could be a great pickup for the Bulls. His minimum salary wouldn't hurt their cap numbers (the Bulls are notoriously cheap), and he could become what Nate Robinson was to them last year. Fredette would be able to play significant minutes, both running the team and putting up lots of shots, while also getting major playoff exposure. In fact, Jimmer to Chicago makes so much sense that it probably won't happen — because very little in the NBA makes sense.
Utah Jazz
It's somewhat unclear whether or not the Jazz make sense for Jimmer — from a roster standpoint, Trey Burke, Alec Burks and Gordon Hayward take the majority of Utah's guard minutes. Jimmer might make sense as a fourth guard replacing the bench minutes of Diante Garrett or John Lucas III, but barring injury, it's hard to see him playing more than 15 minutes a game.
Then again, like Memphis, the Jazz are towards the bottom of the league in 3-point field goal percentage, and could use more shooting. Considering Jimmer's ties to the state, the Jazz should never be ruled out, but Utah probably makes more sense as a destination for Jimmer over the summer — after the Jazz figure out the Hayward situation and look to fill out their roster in the offseason.
New York Knicks
Over the last few years, the team most linked to potential Jimmer trades has been his hometown Knicks — and Jimmer to New York makes a lot of sense.
The Knicks have been bad this season. Like, really bad. As of right now, they are six games out of the eighth seed in the East, and with no draft picks this year, they desperately need to get into the playoffs. (No playoff revenue and no lottery pick is the NBA's worst lose-lose situation.) Raymond Felton — the team's starting point guard — is currently embattled in a criminal court case, struggling with injuries, playing poorly, and 30 pounds overweight.
With 36-year-old Pablo Prigioni the only other point guard on the roster, and Jimmer's recent exploits at Madison Square Garden fresh in everyone's minds, the Knicks might be a perfect fit for Jimmer. He could provide the spark the team needs to make a push for the playoffs, and with their depleted point guard rotation, Jimmer could get significant minutes running the team.
If Jimmer wants to prove that he can play point guard in the NBA, the Knicks might be his best chance. Knicks brass reportedly wants to fill out their last two roster spots with defensive-minded players, but with only a few of those around, don't be surprised if Jimmer ends up in New York — either immediately after the buyout or over the summer. There's been too much Jimmer-to-the-Knicks smoke for there not to be some fire.