Player Power Rankings: Carlino, Winder reignite BYU's tourney dream
Updated: February 27, 2014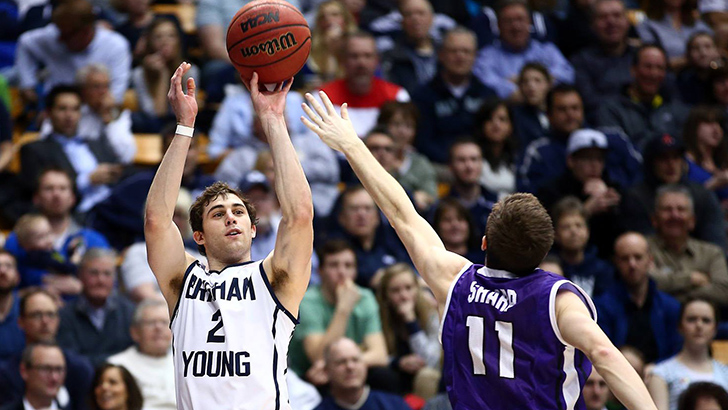 Our staff ranks the BYU hoopsters' performances as they blitzed the Bulldogs, pounded the Pilots and breathed new life into their NCAA tournament hopes.
Welcome to the Player Power Rankings, the weekly feature where we rank each member of the BYU basketball team based on how they're playing right now. The Cougars kept on rolling with a massive home win over a ranked Gonzaga team, then followed it up with a good old-fashioned beatdown of an overmatched Portland squad. The boys in blue's recent hot streak has put them squarely back on the NCAA tournament bubble — if not slightly on the right side of it — and has breathed new hope into the team and its fans, where just a few short weeks ago there was nothing but despair. How did this change happen? Well, it starts with a few outstanding and unexpected performances, which occupy the top of this week's charts.
Here's the requisite boilerplate, to remind everyone how this works: Each member of the Loyal Cougars staff is given the opportunity to rank each player on the roster, in order of performance, from 1 through 10. Each ranking is worth a descending number of points. For example, a first-place vote is worth 10 points, a second-place vote is worth 9, a third-place is worth 8, and so on. With only eight staff members voting this week, that means each player could potentially earn as many as 80 points (if he received all of the first-place votes) and as few as 8 points (if he received all of the tenth-place votes). We tally up the points for each player, rank them in order, and then I add some commentary and recent statistics to fill it all out.
And now, without further ado…
1. Matt Carlino (78 points)
Last Week: 2nd (+1)
This Week: 22.5 PPG (55.2% FG / 52.6% 3P / 75.0% FT), 3.5 RPG, 3.5 APG, 3.5 SPG, 2.0 TO
The Prodigal Son hath returned — not that he was ever really gone. Carlino has been quietly playing excellent all-around ball for the last month and a half. He's been doing everything, especially looking to set teammates up with good looks and then finding his own scoring when necessary. It may have been overshadowed by flashier performances by his teammates (namely, Tyler Haws being awesome at life), but Matt has been very much in control and done a nice job running this team in WCC play. And then, this past week, he finally broke out and demanded your attention. What a pair of performances. After playing a near-flawless all-around game to help the Cougars top Gonzaga (15-4-6-3 is never a bad line to get from your point guard), including a series of crucial plays to seal it down the stretch, Carlino then came out like gangbusters against Portland, dropping a career high-tying 30 points on 8-for-13 shooting from deep. Everything was going in, and you could tell Matt was playing with maximum confidence and having a blast while doing it. He's completely locked in right now, and the longer he can keep this streak going, the better off BYU will be.
2. Anson Winder (70)
Last Week: 6th (+4)
This Week: 18.0 PPG (83.3% FG / 50.0% 3P / 100% FT), 2.0 RPG, 1.0 APG, 0.0 SPG, 1.0 TO
Speaking of playing with confidence, what's gotten into Anson Winder? He's been quietly turning in good performances for weeks, but someone must have flipped a switch prior to the Gonzaga game. Finally given a chance to start and play significant minutes, Winder made Dave Rose look like a genius by turning in the two strongest performances of his career in back-to-back games. Anson is filling some crucial gaps for the Cougars — namely, playing tough perimeter defense (he locked down Gonzaga's Kevin Pangos, which is no small feat) and aggressively attacking the rim (and subsequently making his free throws). BYU hasn't really had anyone that can do either consistently to this point, so if Winder can continue to excel and turn those weaknesses into strengths for the team, he should continue to see a lot of minutes. And deservedly so. He has been simply fantastic. When he and Carlino play like they have been, BYU is borderline unbeatable.
3. Tyler Haws (62)
Last Week: 1st (-2)
This Week: 13.5 PPG (41.7% FG / 33.3% 3P / 83.3% FT), 3.5 RPG, 3.5 APG, 2.0 SPG, 1.5 TO
When Tyler Haws falls to third in the power rankings, you know two other guys had really outstanding weeks. Sure, Haws didn't score his normal amount this week, but the silver lining to that is he didn't need to. Carlino and Winder provided a massive, unexpected scoring punch against Gonzaga and Portland, which allowed Tyler to be more selective with his shots and not feel burdened with having to carry the offense by himself at all times. And as much as Haws has proven his is fully capable of fulfilling that role, the Cougars are better when he doesn't have to. Ty has traditionally been a highly efficient scorer — he's at his best when he's picking his spots and using his vast array of crafty moves and fakes to take smart shots. When he's tasked with carrying the offense solo, he sometimes starts to visibly press, trying to do too much and attempting to create looks that really aren't there. With Carlino and Winder rolling, he doesn't have to do that. He can sit back, be a distributor (his assists notably jumped to 3.5 per game this week), and let the defense worry about guarding his teammates — and wait for the perfect time to strike.
4. Kyle Collinsworth (57)
Last Week: 3rd (-1)
This Week: 7.5 PPG (36.8% FG / 0.0% 3P / 25.0% FT), 8.0 RPG, 6.0 APG, 2.0 SPG, 1.5 TO
I won't say Kyle Collinsworth has fully recovered from his nasty-looking, but thankfully non-serious knee injury, but he has looked much better and more mobile than I initially feared. If there's any hesitance on his part, it's when he attempts to make quick cuts and changes of direction (understandably), which has limited his ability to get good scoring opportunities. He seemed to force things a bit offensively last week, particularly when BYU needed a basket, tossing up a smattering of ill-advised shots — including way too many jump shots. If he can cut that out and get back to feeling comfortable doing what he does best — blowing by defenders and getting easy shots in the paint — he will truly bring BYU to another level, because his rebounding and distribution game has remained as insanely productive as ever.
5. Eric Mika (53)
Last Week: 5th (even)
This Week: 10.5 PPG (50.0% FG / —% 3P / 43.8% FT), 5.5 RPG, 0.0 APG, 0.5 BPG, 1.5 TO
Along with moving the surging Winder into the starting lineup, Rose's other master stroke of the week was bringing freshman phenom Eric Mika off the bench — not because he had played poorly, but to protect him from early foul trouble as the refs and players felt each other out in the game's early minutes. The strategy worked like a charm, sacrificing Josh Sharp and Luke Worthington to the WCC officials' quick whistles and allowing Mika to enter the game once things had settled down and, for the most part, avoid unnecessary foul trouble. That meant more Mika on the floor, and that's always a good thing for BYU — especially against big teams like Gonzaga. Eric constantly pounded the ball inside against the Bulldogs' two bigs, aggressively attacking the basket, drawing fouls and forcing both to the bench. It was a small, but exciting glimpse of how good and how effective the young kid could be a few years down the road.
6. Nate Austin (39)
Last Week: 4th (-2)
This Week: 1.5 PPG (25.0% FG / —% 3P / 50.0% FT), 5.0 RPG, 0.5 APG, 1.0 BPG, 1.5 TO
As I've said many time before in this space, Nate Austin is Nate Austin. He gives you what he gives you — heart, hustle, rebounds, reasonably good defense, some nice screens. And while he continued to provide BYU with his special brand of grit over the last week, it was odd to see his rebounding numbers drop so precipitously. Austin normally averages around 8 board per game, and that number fell off against Gonzaga and Portland. Perhaps it was a symptom of matchup problems (Nate tends to struggle with stronger posts), but the Cougars will need their junior big man to resume cleaning the glass and continue hustling his tail off to make the small but crucial plays that will get them into the NCAA tournament.
7. Luke Worthington (31)
Last Week: 7th (even)
This Week: 3.5 PPG (100% FG / —% 3P / 100% FT), 1.0 RPG, 0.5 APG, 0.0 BPG, 0.5 TO
Worthington has really come into his own over the past few weeks, which is an interesting development particularly because the man is essentially playing with one arm. After suffering a tough shoulder injury at St. Mary's, Luke returned to the lineup against Gonzaga and performed well in both games. He's not a statsheet-stuffer, but he does a lot of small things that are really important to the team's successes. As specifically called out in Jason Franchuck's excellent profile of the freshman in the Daily Herald, he does a great job of communicating and hedging on screen-and-roll plays — an incredibly valuable but under-appreciated skill that we've noted on Loyal Cougars previously. If he continue providing that kind of value and taking advantage of his limited scoring opportunities (as he did on a beautiful slip to the basket against Portland, receiving a masterful pocket pass from Carlino for an easy two), Luke will continue to gain the coaches' confidence and earn more and more minutes — whether he's got one or two good arms.
8. Skyler Halford (20)
Last Week: 8th (even)
This Week: 2.0 PPG (28.6% FG / 0.0% 3P / —% FT), 2.0 RPG, 2.0 APG, 0.0 SPG, 0.5 TO
The slump continues for Skyler Halford. He's shooting an abysmal 25 percent from deep over his past 13 games, which is a really tough stretch — but it's even tough when you consider knocking down perimeter looks is also his primary value. To his credit, however, Halford pieced together a nice effort (in understandably limited minutes) against Gonzaga, connecting on two good looks off passes from Carlino in the first half to help the Cougars gain momentum. His minutes have fallen into the single digits, where they'll likely remain as long as he keeps shooting this poorly and Winder and Carlino keep playing this well — but there have been a few nice moments that should provided a little hope for all parties involved moving forward.
9. Josh Sharp (19)
Last Week: 9th (even)
This Week: 2.0 PPG (100% FG / —% 3P / —% FT), 0.5 RPG, 0.5 APG, 0.5 BPG, 0.0 TO
Sharp got the start against Gonzaga as part of Rose's new post rotation and did exactly what he was expected to do — soak up a bunch of quick fouls and get BYU through the rocky first few minutes of officiating. At this point, that's really what Josh is: a long body Rose can throw out there to give a few fouls when needed to spell his more talented bigs. And that's OK. That's a role that needs to be played, and while it's not particularly glamorous, Sharp seems well-suited to it. After all, somebody has to do it — Rose's new strategy doesn't work without someone willing to eat the early fouls.
10. Frank Bartley IV (11)
Last Week: 10th (even)
This Week: 0.0 PPG (0.0% FG / —% 3P / 0.0% FT), 1.5 RPG, 0.5 APG, 0.5 SPG, 0.0 TO
Ah, Frank. He got 11 garbage-time minutes in the blowout win over Portland and looked pretty good, notching a couple boards, an assist and a steal, so that was promising. However, at this point in the season with Rose's rotation seeming to finally solidify and the team surging, I'd be very surprised to see the freshman Louisianan get many meaningful minutes from here on out. That's not meant as a knock against Bartley — he's a young player and the Cougars are exceptionally deep on the guard line. There will be plenty of opportunities for him to shine in the future.
What would your personal power rankings look like? Let us know in the comments below!