BYU Football Early 2014 Prospectus: Part 8 – Wide Receiver
Updated: February 25, 2014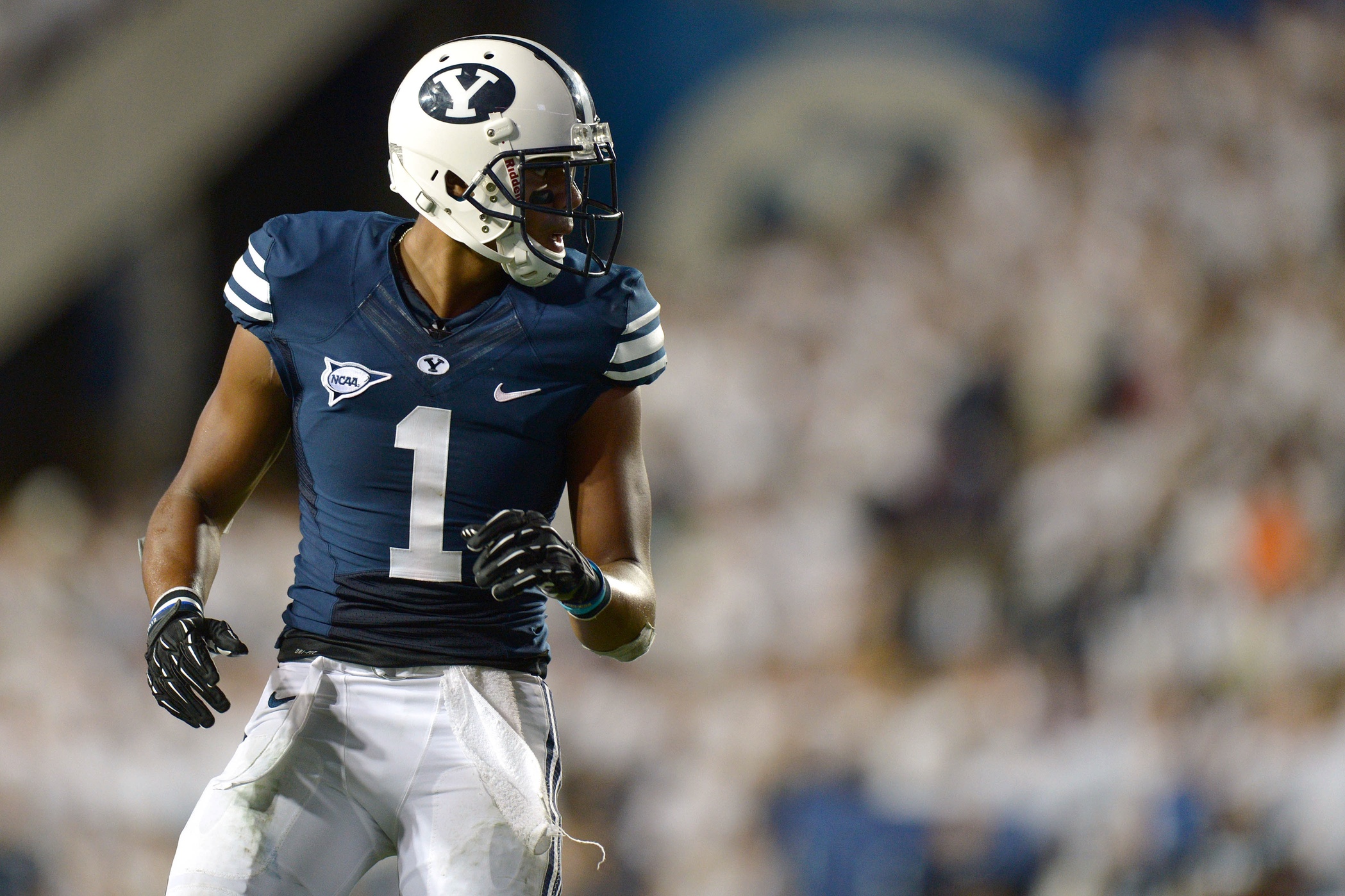 In Part 8 of an 11 part series, Brandon Jones looks at BYU's wide receiver corps heading into 2014.
Wide Receiver
In 2013, BYU's receivers combined for 2,394 receiving yards and 17 touchdowns. Three of the four most productive targets (Cody Hoffman, Skyler Ridley, and J.D. Falslev) have graduated and the 2014 squad returns only 29% of last season's yardage and 41% of its 2013 touchdown production. Wide Receivers Coach Guy Holliday and his colleagues have made all of the right moves on paper to replace last year's production, and more. But there remains a lot of work to do between now and the season opener in August to get this group game-ready.
The Cougars signed four scholarship receivers in the offseason, but only one will participate with the team in Spring practice. Based on talent alone, JC transfer Nick Kurtz would appear to have a leg up on one of the starting positions. He may even get starting reps when spring camp opens. Add in that he has a six-month head-start in the program, and there's no reason to question his position in the 2014 two-deep. With only four scholarship wide receivers in spring camp, I wouldn't be surprised to see Michael Davis get a look at his originally-recruited position. UTEP transfer Jordan Leslie, JC transfer Devon Blackmon, and incoming freshman Trey Dye will join the team for fall camp on August 1.
Returning scholarship receivers Mitch Mathews and Ross Apo will battle for the second outside WR spot and hybrid WR/TE Terenn Houk will likely see the most reps at the slot position along with Eric Thornton. Walk-ons Kurt Henderson and Colby Pearson saw playing time in 2013 and should continue to add depth to the position. With the dearth of experienced receivers this spring, it is now clear why BYU loaded up on walk-on WR's last fall. Walk-ons expected to return for spring ball are: Travis Frey, Chase Frei, Luke Nelson, Mitchell Juergens, Benson Manwaring, and David Kessler. 2013 walk-ons Nephi Stevens and Shad Pace may participate in spring camp prior to departing on church missions. One final addition to the 2014 Cougar receiving corps is Houston transfer Andrew Rodriguez, who is expected to redshirt this season due to transfer rules.
Though we likely won't be seeing any 5-receiver sets in 2014, the personnel appears to be in place to have an adequate group in 2014.
Outside Receivers
In spring practice, I expect most of the practice reps to go to Kurtz, Apo, and Mathews. Leslie's addition in the fall will likely round out the top 4 for the 2-deep. In spring ball, watch for Kurt Henderson, Colby Pearson, and Michael Davis (assuming he moves from corner) to get most of the practice time with the backup units. If Davis stays at corner, 6'5″ walk-on Chase Frei seems as good a candidate as any to get some playing time as the #6 outside receiver.
Slot Receiver
Thornton and Houk will have to hold down the fort for the time being until Blackmon and Dye arrive in the fall.
Departing Scholarships: 4 – Marcus Mathews (graduated, forgoes final year of eligibility), Cody Hoffman (graduated), Skyler Ridley (graduated), J.D. Falslev (graduated)
Returning Scholarships: 3 – Terenn Houk, Ross Apo, Mitch Mathews
Incoming Scholarships: 5 – Nick Kurtz (spring), Michael Davis (may move back from CB), Jordan Leslie (fall), Devon Blackmon (fall), Trey Dye (fall)
Departing Walk-ons: 2 – Nephi Stevens (mission), Shad Pace (leaves June 11 for Guatemala Quetzaltenango Mission)
Returning Walk-ons: 9 – Colby Pearson (possibly serve a mission?), Kurt Henderson, Travis Frey, Luke Nelson, Mitchell Juergens, Chase Frei, Benson Manwaring, David Kessler, Eric Thornton
Incoming Walk-ons: 1 – Andrew Rodriguez (transfer from Houston, will redshirt 2014)
Projected Depth Chart:
XR: Kurtz/Davis/Henderson/Kessler/Stevens/(Leslie)
ZR: Mi.Mathews/Apo/Pearson/Nelson/Frei/Frey
SLOT: Thornton/Houk/M.Juergens/Pace/Manwaring/(Blackmon)/(Dye)/(Rodriguez)
Click here for all Early 2014 Prospectus articles.