BYU Football Early 2014 Prospectus: Part 9 – Specialists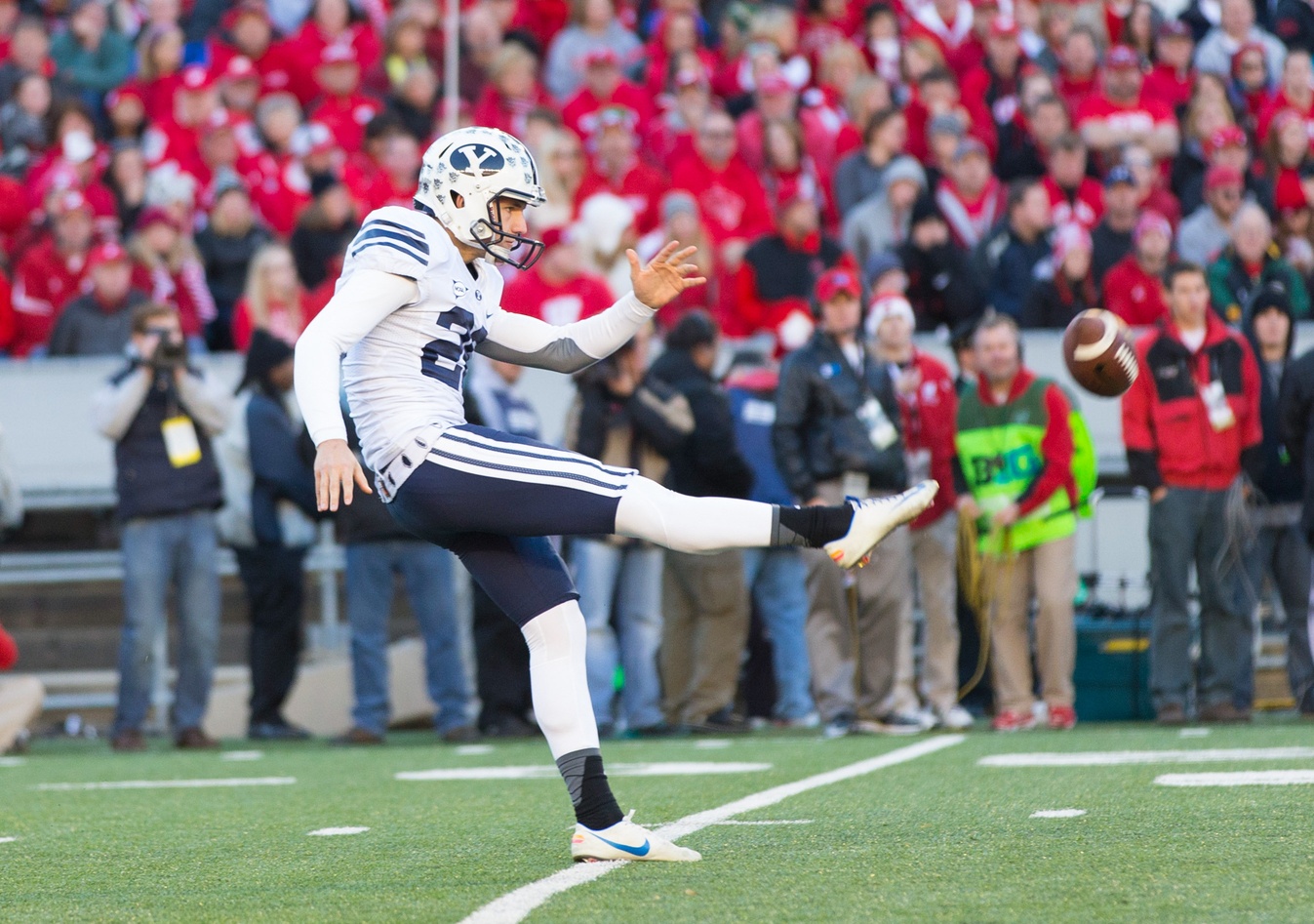 In Part 9 of an 11 part series, we examine the changes facing the BYU Special Teams unit heading into the 2014 season.
Kick Returns
Look for the solid kick return duo of Adam Hine and Paul Lasike to continue their duties in 2014. There could be value in giving looks to incoming speedsters like Devon Blackmon or Michael Shelton, but if it ain't broke, don't fix it.
Punter/Holder
Senior Scott Arellano is expected to return in 2014 and reprise his role as punter and holder after an adequate 2013 performance. Arellano tallied a 41-yard average on 80 punts (including a long of 73 yards) and only three blocked punts (despite his slow punting motion) and one fumbled snap (though it remains etched in my memory- why didn't he try to kick it?!). Paul Lasike has been mentioned as a potential backup and we've already seen Taysom Hill have a go at it. Further separation between Arellano and backup Jordan Miller during Spring practice may earn Arellano a scholarship for the fall and jeopardize Miller's spot on the fall roster.
Punt Return
Gone are all 3 Cougars who fielded a punt in 2013 – JD Falslev, Cody Hoffman, and Skyler Ridley. At this point, it's anyone's guess who will be out on the field following BYU's first defensive stop of the 2014 season. Jordan Johnson and Eric Thornton have the most practice reps and would seem to be the most likely choices. The most likely newcomers to get a look would be Blackmon and Trey Dye. We could also see Terenn Houk, Mike Davis, Trent Trammell, or Shelton get a look during Spring camp.
Deep Snapper
With the exception of one slightly high snap in the Fight Hunger Bowl, Kevin O'Mary performed admirably as BYU's deep snapper in 2013. The old adage about deep snappers is that if your team has a good one, you probably don't even know his name. So it was with O'Mary in 2013. Luckily, in 2011, BYU saw the need for a deep snapper in the pipeline and secured the services of Idaho Falls High School's Clark Gardner, who recently returned from a mission to California and will join the team for Spring practice. Gardner will likely have the position to himself during Spring ball, and barring unacceptable performance, the fall. If he performs well in 2014, past history indicates that he can earn a scholarship for future seasons and have a spot on the travel roster for the following three seasons. In a pinch, scout team linebacker Matt Relei and walk-on D-Lineman Parker Dawe have long snapping experience and should be serviceable as backups.
Kicker
Just when Coach Mendenhall was starting to get comfortable with the field-goal-kicking game, Justin Sorensen's BYU career is over and the battle for placekicker will re-open when Spring practices begin on March 3rd. And though Sorensen's 2013 numbers represent a career year for the kicker (a perfect 45-45 on Extra Points and 21-26 on Field Goals, with a long of 45), they fall short of the high expectations Cougar fans had for him on Signing Day in 2008. Regardless, Cougar nation would gladly accept those numbers from 2014's kicker as the job appears to be wide open yet again.
Incoming true freshman Corey Edwards would seem to have a leg up on the competition, if for no other reason than the scholarship he holds (Edwards returns from a mission to Taiwan after signing with BYU's 2011 recruiting class). Neither Utah transfer Moose Bingham nor JC transfer Trevor Samson saw any live kicks during the 2013. They will see plenty of reps during Spring camp in the battle for a roster spot as Edwards's backup prior to his arrival for Fall Camp.
Overall
The Cougar special teams coaches have their work cut out for them this offseason. They need to find a starting kicker to handle kickoffs and field goals, a new primary punt returner, and a new deep snapper.  Though BYU's struggles to turn red zone trips into touchdowns should be greatly reduced (the Cougars scored touchdowns on less than half of their red zone appearances in 2013), it will likely still be an important task to find a reliable field goal kicker to salvage three points from any failed red zone trips in 2014.
Departing Scholarships: 1 – Justin Sorensen (K)
Incoming Scholarships: 1 – Corey Edwards (K)
Departing Walk-ons: 1 – Kevin O'Mary (DS)
Returning Walk-ons: 4 – Scott Arellano (P), Jordan Miller (P), Moose Bingham (K), Trevor Samson (K)
Incoming Walk-ons: 1 – Clark Gardner (DS)
Projected Depth Chart:
K: Edwards (fall)/Bingham/Samson
P: Arellano/(Lasike)/Miller
DS: Gardner/(Relei or Dawe)
KR: (Hine)/(Lasike)
PR: (J.Johnson)/(Thornton)/(Blackmon or Dye)
H: Arellano
Click here for all Early 2014 Prospectus articles.