How BYU battled its demons and came away victorious in San Diego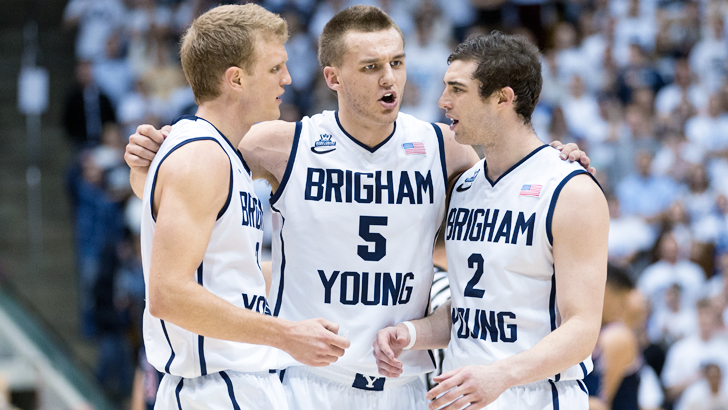 The Cougars blew a big lead but found a way to hang on for a must-have win over the Toreros.
BYU absolutely could not afford to lose in San Diego on Saturday without seriously (and probably irreversibly) damaging their hopes for an at-large bid to the NCAA tournament — and after a blazing start, it spent about 20 minutes toying with that awful prospect.
But the Cougars closed strong, using a late push to finally put away the Toreros in the closing minutes for a 78-70 victory at Jenny Craig Pavilion — doing what Gonzaga had failed to accomplish just a week earlier. Tyler Haws led the Cougars with 25 points, while Matt Carlino added 14 and 6 assists. Anson Winder and Kyle Collinsworth finished with 11 and 10 points, respectively.
The victory didn't come easily, though. After surging out of the gate to a 16-point first half lead, BYU fell into a prolonged funk and completely squandered that advantage by the mid-point of the second period. With 10:53 left in the game, San Diego improbably led by three, 50-47. The Cougars had no intensity on defense, the Toreros were riding a wave of momentum and hot shooting, and everything looked out-of-sorts for the boys in blue on the offensive end.
In short, things were bad and many BYU fans had already begun to settle into the familiar cycle of grief they had come to know all too well in so many previous conference road losses. But then something happened.
With approximately six minutes remaining and his team clinging to a two-point lead, Dave Rose went with defense. In desperate need of a string of stops to open up the transition game and break away from the Toreros, BYU's coach subbed in perhaps his best defensive lineup — Luke Worthington, Nate Austin, Winder, Carlino and Haws. (I know Haws isn't a good defender by any stretch, but someone had to score the ball.)
The change worked. Over the next three minutes, BYU would get four straight stops and give themselves a little breathing room with a five-point margin. Although Rose made lineup changes for the final few minutes, the tone had been set. From there, it was all about closing the game strong.
Haws hit a three, a layup and a pair of free throws. Kyle Collinsworth knocked in a back-breaking miracle three with the shot clock expiring. Then the Cougars sealed the win at the free throw line, going 6-for-8 in the final two minutes. And that was all she wrote.
It was a crucial win, and a fitting capper to BYU's roller-coaster regular season. A team that struggled so mightily to close out wins on the road through much of the year finally came together and found it within themselves to pull out a victory they absolutely had to have. And they did it by grappling with some of their nastiest demons — getting late defensive stops, making clutch free throws, and finding and converting open looks.
All of that was a testament to the Cougars' growth, particularly over the back half of WCC play — a stretch where they went 8-1 and often looked like the conference's best team. This is a different team than it was a month and a half ago. Sure, they still have their share of issues that could very well come back to haunt them in March, but they're improving on them. The Cougars are playing together. They're getting more contributions from more places. They've learned to focus and bear down when it matters most.
In short, they've learned how to win. And with the No. 2 seed in next week's WCC tournament now definitively theirs, it's time for the Cougars to take that knowledge to Vegas. Given their string of recent performances, I'm finding it hard to bet on anyone else.
Stray Observations
Tyler Haws is still awesome. I want that guy on my team, any time, anywhere — especially late in games. He had been pretty quiet through much of the second half, but he was characteristically big down the stretch. His three from the wing to put BYU up 6 with 3:41 remaining was as cold-blooded as it gets. He did not hesitate one bit — and that's what makes him so great.
Another Haws note: he played 39 minutes tonight. They needed him for every single one of those to pull out the win, but one has to wonder if that kind of burden will be sustainable going forward.
Carlino and Winder didn't quite have the type of games they had last week — which would have been an unrealistic expectation — but both were solid yet again. Carlino's 14-4-6 line is exactly the type of effort the Cougars need from him every night in March, and Winder's 11 points on 4-for-6 shooting continued his efficient scoring streak — even as his recently stellar free throw shooting took a turn for the worse. BYU's success will rely heavily on both players in the coming postseason. They're just a different (and much better) team when Carlino and Winder are both on.
One area where Winder and Carlino did not excel was taking care of the basketball. Anson led the team with five giveaways — a truly unacceptable number who doesn't spend much time with the ball in his hands. Matt added three more turnovers of his own, which is slightly more acceptable considering his amount of possession and the way he distributed for his teammates, but you'd still like to see him play more low-turnover ball like he has the past few weeks.
To be fair, the sloppy play was far more than just a Winder and Carlino problem — every BYU player not named Josh Sharp committed at least one turnover, with Collinsworth, Eric Mika and Skyler Halford all giving it away twice. The Cougars turned it over 17 times as a team, which explains why they struggled to eek out a win despite shooting better than 50 percent from the field. That kind of performance won't cut it next week in Vegas.
Skyler Halford had a rough and very quick outing in the first half, turning the ball over and committing an intentional foul in approximately 12 seconds of playing time before heading right back to the bench. Things got a little better for the SLCC transfer in the second, as he knocked down a big three to help BYU keep pace with the Toreros when things were looking dicey. Hopefully that's a harbinger of good things to come for the struggling shooter.
I'm not one to blame the referees for my team's problems. I think that kind of thing is cheap and easy and usually wholly inaccurate. But man, the WCC crew working this game was wildly inconsistent. They caromed between calling a foul on every single bit of contact and letting borderline first-degree murder go unpunished, with no rhyme or reason as to why. It has to be difficult for players to know what to do under those kind of conditions. But hey, as long as they call an equally terrible game for both sides, right? Right?
Nate Austin had a tough stretch in the middle of the second half where he and Carlino struggled to communicate on screens and, as a result, gave up back-to-back Torero 3s, but he was huge otherwise — especially down the stretch. He finished with 9 points and 10 rebounds, including a stellar 5-for-5 performance at the free throw line. The Cougars don't win without Nate's contributions. Major props to the big man for taking care of business.
One cannot overstate how good Luke Worthington has become defensively. During the aforementioned stretch when Rose went with his defensive lineup, the freshman masterfully defended all manner of USD screens (which, as mentioned directly above, had been befuddling the Cougars immediately prior) and played a huge role in BYU battening down the hatches. His stat line may not look like much, but Mequon's favorite son has quietly used his wide body and nimble feet to become the team's best post defender. WISCONSIN FOREVER.
Speaking of clutch wing 3-balls: How about the back-breaker by Kyle Collinsworth? He didn't have his best game today and looked a bit off throughout (although the fact that he still had 10-5-3 tells you how talented he is), but Kyle came up huge when it mattered. With the shot clock nearly at zero and the ball suddenly in his hands, he fired up an awkward-looking three with a man in his face. Nothing but nylon. It may not have looked pretty, and it may have required a mid-air blessing by the Basketball Gods in order to go in, but it was still a massive shot that likely won BYU the game. (They were up 2 with 1:38 left at the time. A miss there would've given USD the ball with a chance to take back the lead.) Kyle didn't shrink from the moment, and it paid off big time. Good on you, KC!
If you were wondering, yes, this would have been a really bad loss.
But (thankfully) it wasn't — and now the Cougars can look forward to likely playing the winner of Portland and Loyola Marymount in next Saturday's WCC tournament quarterfinals — with Gonzaga and St. Mary's clear on the other side of the bracket. That could all change based on what happens in tonight's final games, but as of right now, things are setting up pretty nicely for the Cougars to make a little noise in Vegas.