Four reasons why BYU can finally win its conference tournament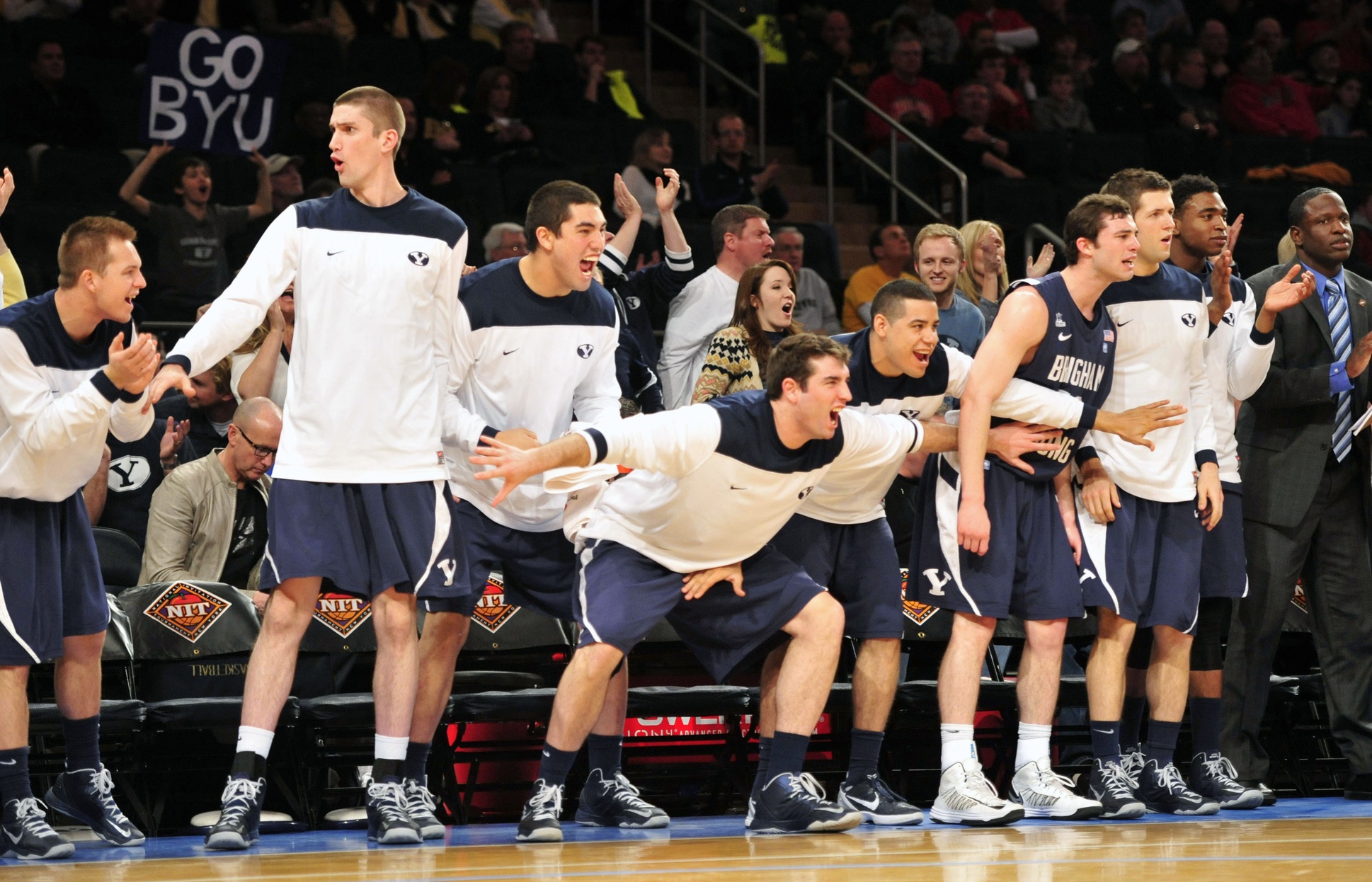 It's going to be different this time, right? Brett gives us four reasons why BYU can win the WCC tournament.
A lot has changed since BYU men's basketball last won its conference tournament. The spot in history September 11, 2001 holds is a chronological delineater for many, especially those of my generation. That was still in the future. It had been about 30 years since a person not named LaVell Edwards coached a football game for BYU. Both of those things were about six months away from changing.
At some times, both of those things seemed to have happened so long ago.
On March 10, 2001, senior Mekeli Wesley lit the nets of the Thomas & Mack Center on fire. Shooting 11-of-12 from the field (his only miss on a three-pointer, where he shot 1-of-2) and 7-of-8 from the free-throw line, Wesley tallied 30 points and 8 rebounds to lead BYU to a 69-65 win over New Mexico, claiming BYU's first and only Mountain West Tournament title.
Dissimilar to this year's team, the Cougars were senior-led, getting a combined contribution of 26 points, 8 assists, and 6 rebounds from senior guards Terrell Lyday and Trent Whiting.
Twelve full seasons have since passed — including eight of them under coach Dave Rose — with BYU unable to win its conference tournament. In 10 of those 12 seasons, BYU has been a three-seed or better. In five of those seasons, BYU was its conference's regular-season champion and still did not win the conference tournament.
To be fair to Dave Rose, playing UNLV in the MWC tournament was never a neutral-court experience. And in 2011, BYU was 28-3 in the regular-season, had just lost starting center Brandon Davies, and still secured a three-seed in the NCAA tournament despite losing the MWC tournament final — so winning the conference tournament meant very little to that team.
Still, for a team as successful as BYU has been in the last 12 seasons — totaling 280 wins and a winning percentage of .705 (280-117) — not winning a conference tournament in all that time seems odd. It's not like BYU is Navy, who hasn't won a single game in a conference tournament in 14 years.
This season, of course, BYU is the two-seed in the West Coast Conference tournament — marking time 11 of 13 the Cougars have been a three-seed or better in their conference tournament.
This year has to be different, right? (c. Chicago Cubs, 1910-current)
If BYU reaches the WCC tournament final, it still has some chance at an at-large bid to the NCAA Tournament. Last season it was the same song and dance, and the Cougars (surely you remember) were ousted by six-seeded San Diego in the WCC quarterfinals. Here are a few reasons this season might be the time BYU takes matters into its own hands.
1. NON-CONFERENCE NEUTRAL SITE/ROAD PERFORMANCE
This isn't necessarily about overall record in neutral-site games. It's hard to use games played in Salt Lake as a good barometer of neutral-site prowess (like this year's win over Utah State) — BYU plays at Energy Solutions arena at least once, if not twice, each season, and the stands are packed with Cougar faithful. Similarly, even though it was at a semi-neutral site, I wouldn't count the 2011 win over Northern Arizona as particularly indicative of playing at neutral sites. Beating a team that finished 5-24 by 35 points doesn't do much for me.
What does? Competing with or beating tournament-caliber teams on the road or at a neutral site.
Last season, BYU looked really bad in Brooklyn losses to Florida State (didn't make the NCAA Tournament) and Notre Dame. Notre Dame made the tournament, but lost to 10-seed Iowa State by 19 — the same ISU squad that hosted BYU and dismantled the Cougars by 21. BYU also lost to Baylor by 15 on the road last season.
This year feels different in that regard. Sure, BYU dropped opportunities against UMass and Oregon — and once carried a 12-point lead over still-undefeated Wichita State. But even in those losses, they were games until the end. BYU got wiped off the floor by Iowa State, Florida State, and Notre Dame last season. That only happened once this year — at Utah. As frustrating as some of this year's losses were, the Cougars were in all of them (except Utah, as mentioned). In the long-season sport of basketball, I choose to think that matters for more than as proverbial "moral victories."
Lest we forget, BYU won some of these types of games, too. The win over Texas was a battle from beginning to end, and BYU prevailed with Tyler Haws, Matt Carlino, and Eric Mika combining for 60 points. The Longhorns are on track to be a six-seed according to the Bracket Matrix.
Stanford, also still on track to make the NCAA tournament, couldn't keep up with the track meet the Cougars brought to Maples Pavilion. (That's a crazy box score to revisit, by the way. Haws and Carlino combined for 57 points and took half of BYU's field goal attempts.)
This team also won at Saint Mary's for the first time. Despite the bipolarity, this team has shown an ability to compete in and even win road and neutral games that it hasn't had in the past couple of seasons. With how the team is playing down the stretch (good BYU), I think this bodes well.
2. MOMENTUM
That moves well into the next point of consideration: momentum. Many have argued about the reality of "the hot hand" and "momentum." That's fine, and I don't necessarily disagree with those who don't believe in sports momentum. But for this team, I think it applies in an "improvement" type of momentum.
Since the disastrous Portland-Gonzaga road trip, BYU is 8-1 with the lone loss to hot-handed (if you believe in that) Pacific, a 43%-shooting team that shot 52% from the field. But in the stretch of wins was one at Saint Mary's, one over Pacific, and avoiding a trap-game at San Diego.
BYU sits at the culmination of a season-long process for Dave Rose. First was Matt Carlino's funk, which led to a disastrous decision to start him at shooting guard (say hi to the road losses at LMU and Pepperdine), followed by bringing him off the bench. To whatever degree you want to believe, the benching tempered Carlino's wild spirit, and has led to a much more refined, responsible leader and point guard.
Recently, Rose began using Luke Worthington and Josh Sharp as starters to help guys like Eric Mika and Nate Austin stay out of early foul trouble. It seems to work, and Mika especially remains in each contest and helps win games.
Playing Anson Winder in place of the slumping Skyler Halford, who played a key role in helping the team through Carlino's slump, has paid major dividends as well. Winder is shooting a high percentage, playing great defense, and knocking down free throws.
All of these things have now converged at the end of the season. Call it momentum, call it finding a sweet spot, call it blind luck. Whatever it is, things have come together at the right time.
Pages: 1 2