Best Game Ever: November 24, 2000 – BYU at Utah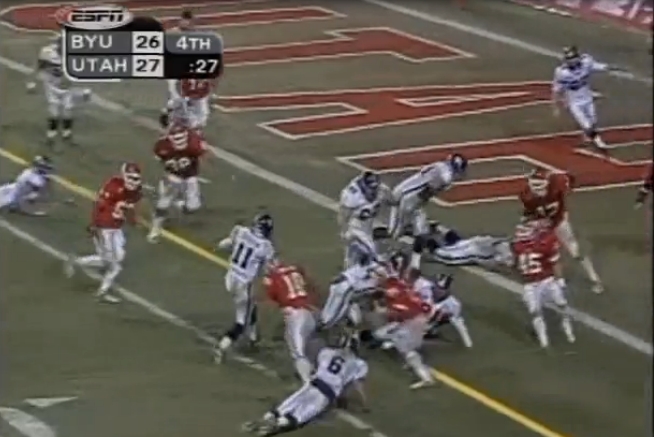 My name is Greg Welch, and the best BYU game I ever saw in person was on November 24, 2000.
My girlfriend and I were not planning on going to the BYU-Utah game. We had spent Thanksgiving with my parents in Idaho so I could  introduce her to my grandma and I figured out that we would be driving through Salt Lake City just before LaVell Edwards' final game kicked off.
Just after Thanksgiving dinner, I remember pitching the idea that since the timing worked out so well, we should all go. My parents said they definitely weren't interested. I was able to at least convince dad to pull off the freeway to see what the "secondary ticket market" looked like. As we were pulling up just outside Rice-Eccles Stadium, we heard the radio call of the first offensive play of the game, Brandon Doman throwing an interception that was run back for a touchdown.
My mom was apparently hoping this unfortunate start would deter us from our plans. I said that I still wanted to go and asked my girlfriend if we should just get dropped off, buy tickets and somehow find a ride home with someone dressed in blue. She said "sure" and I jumped out of the car to get two tickets. After I left, my mom rolled her eyes, sighed and told my girlfriend, "You could have said no."
I found a guy selling tickets right by the stadium. I think I paid $20 per seat for tickets with $25 face value. I came back to the car with the tickets and mom and dad left us at the stadium with the light coats we had packed on the road trip. We figured there were thousands of people at the game from Provo and we could find a ride with someone. It seemed reasonable to us at the time. Worst-case scenario, we thought we could figure out how the bus system worked.
Our tickets ended up being only one section over and one section above the visitors' section. So, we were close to friendly fans, but surrounded by fans dressed in red. Walking up the aisle, some guy with an aisle seat had printed a small stack of poor-quality porn pictures from the Internet. Anytime someone in blue walked up the aisle he would hold the pictures up and wave them.
We found our seats and a middle-aged couple dressed in blue said, "boy, are we glad to see you." The person we had bought tickets from apparently had four and had sold his other pair to them. We were instant friends. It was a little easier for the four of us to sand up together and sing Rise and Shout after a score than standing and singing completely alone. I had been to the WAC championship in 1996, but this was the first true road game I'd ever been to.
In the first half of the game, BYU settled down and moved the ball, but didn't score that many points. This was Brandon Doman's second game as the starting quarterback and the Cougars were wrapping up a tough season that included a depressing homecoming loss to San Diego State. The Cougars kicked several field goals on our end of the field, and led at halftime, but should have been up by a lot more.
During halftime, there was an altercation between a BYU fan, his teenage son, and the guy on the aisle with the porn. Security came and took his pictures away and the crowd booed.
Also at halftime, I walked around the BYU fan section looking for anyone with a car and two extra seats that would give us a ride home. I found the BYU ROTC kids who had run the game ball up from Provo. They had a 12-passenger BYU van and agreed to drop us off at the stadium — and that was close enough to our apartments that we could walk from there.
BYU's failure to capitalize on touchdown opportunities began to catch up with them. Utah replaced Lance Rice at quarterback with Darnell Arceneaux and I remember thinking, "This is Utah's last chance. They're desperate." Unfortunately for BYU, Arceneaux played really well.
After a very enjoyable three quarters, the fourth quarter became more and more nervy. As BYU was winning, my girlfriend and I hadn't been engaging the Utah fans around us at all and as our lead shrank and shrank, and then went away, we were grateful we'd made that decision.
BYU gave up the lead late in the fourth quarter on a wide-open pass over the middle. Rice-Eccles was rocking. We decided to leave our seats and watch BYU's last chances while standing on the concourse behind the visitor's section so we wouldn't miss our ride.
Doman, of course, converted a ridiculous fourth down pass from his own 10-yard line. We were still jumping up and down from the first 40-yard pass when he completed another. We were dead in the water and now it looked like we couldn't be stopped. Luke Staley ran one play up the middle and then Doman ran a sweep, right toward our section. I was standing directly above the goal line and had a perfect view of Doman crossing the line with the ball. We knew the moment he was in.
After the touchdown, something whizzed passed my right ear and a girl I was standing behind collapsed in a heap. Stadium security wasn't quite the same in 2000 — she had been hit in head by a half-full aluminum can. It cut her head pretty badly. I ran into the stadium and found security and first aid personnel that came and helped.
Utah had one last Hail Mary chance that a lot of people have forgotten about, I think. BYU was able to knock the pass down, but there were still plenty of nervous BYU fans right up to the final play.
We walked out of the stadium about 15 feet behind the ROTC guys. There was a pair of Utah fans that were yelling at the ROTC guy right in their faces, knowing they wouldn't do anything back, but we walked by thousands of other fans with no problem.
As we kept walking, every now and then you'd pass someone in blue walking out. We never said very much to any these fans, but you'd smile and say hi to them like they were your long-lost best friend. I remember a lot of great, small moments walking passed fans as we both thought, "Hey. You just saw what I just saw, and it was awesome."
I've been lucky to be in attendance for a lot of great games. The next year my girlfriend was my wife and we watched together from a perfect angle looking down the East sideline as Staley ran down it, but that was by far the best BYU game I ever saw.
BYU 34 Utah 27
Nov. 24, 2000 – 8:20 pm MT
Salt Lake City, UT | Attendance: 45,064
Box Score
* * * * * * *
This article appears as part of Loyal Cougars "Best Game Ever" series, where we share first-person accounts from BYU fans about the best BYU game they ever attended. Want to share your story? Email it to bestgame@loyalcougars.com