BYU wins in spite of self, outrebounds San Francisco to 68-63 win
Updated: February 9, 2014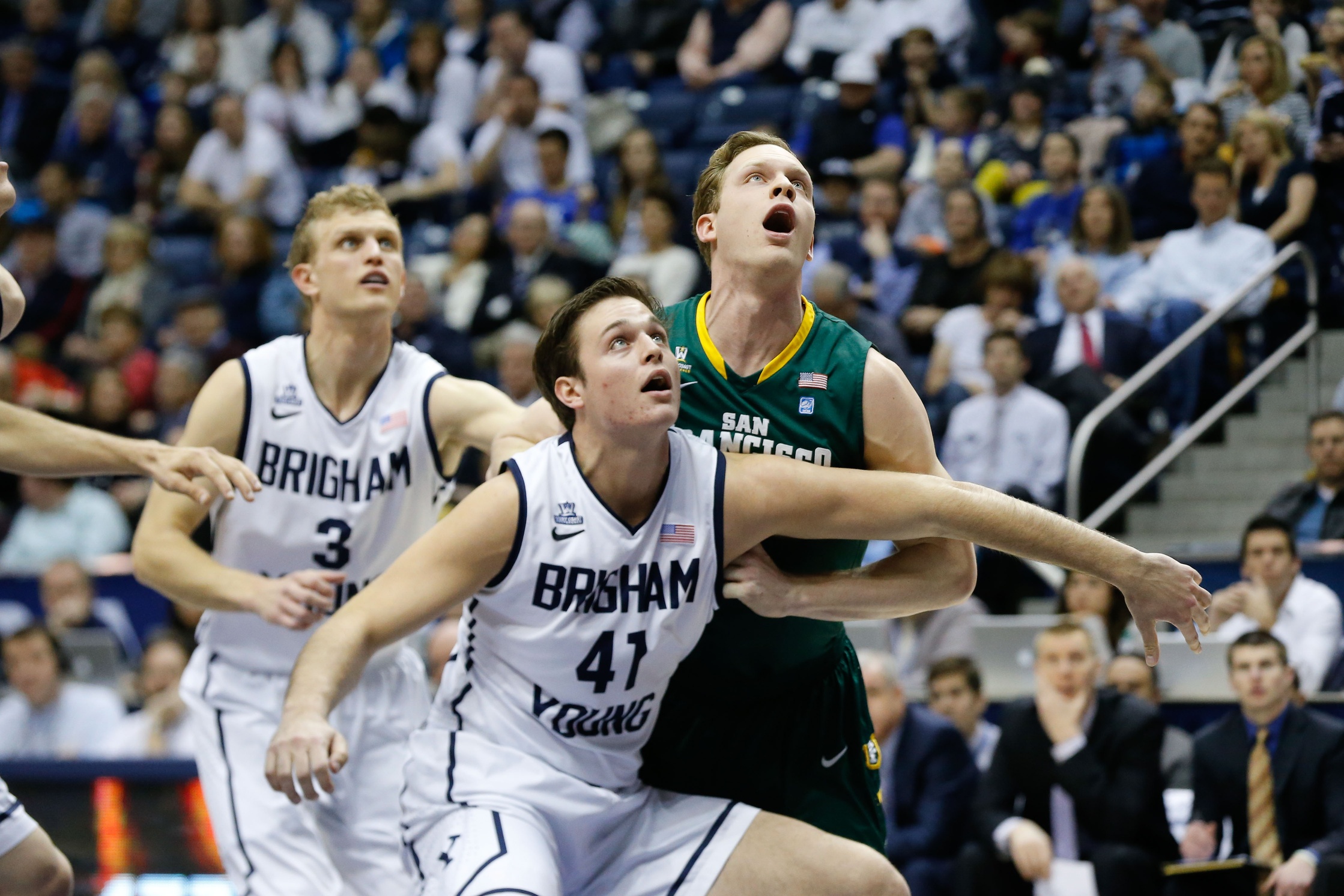 BYU took possession of 2nd place in the WCC race by rebounding its way past the Dons on Saturday night.
The Facts
BYU 68, San Francisco 63. BYU continued its home dominance in the WCC with its seventh straight home win in conference play. The Cougars' conference record is now 9-4, second in the league and two and a half games out of first. BYU also completed the season sweep of San Francisco (15-10, 8-5). Kyle Collinsworth and Tyler Haws each scored 19 points, and Eric Mika scored 13 points and grabbed 13 rebounds. Nate Austin added a career-high 16 rebounds.
BYU outrebounded the Dons 47-29 and grabbed a whopping 20 offensive boards.
The Analysis
This was a game that BYU won in spite of itself. Check these shooting splits from the whole team tonight: 42% from the field, 29% from three, and 48% from the free throw line. Fortunately, San Francisco shot almost as poorly, and Nate Austin and Eric Mika were so dominant on the glass (29 rebounds between the two of them, including 12 offensive rebounds) that BYU created enough extra shots to overcome its poor shooting. But sweet mercy, the shooting. The Cougars, AS A TEAM, missed over half their free throws: 14-for-29 from the line, including a rash of ugly misses from Kyle Collinsworth down the stretch. This was a "get the win, get out of the gym, burn the tape, then take blood oaths to never speak of it again" kind of game.
The MVP
Kyle Collinsworth had 19 points, 8 rebounds, 4 assists and 2 steals, but Kyle Collinsworth was not the MVP. Kyle Collinsworth almost lost the game with his poor free throw shooting (which I will get to in a second). Also, from what I counted, 8 of Collinsworth's 19 points were assisted from the night's actual MVP: Matt Carlino. Carlino had 11 points, 9 assists and zero turnovers in 28 minutes, including three 3s late in the second half that single-handedly broke USF's back. Not only that, but whenever Carlino sat, the offense ground to an ugly, halfcourt halt. BYU is at its best in transition, and BYU is most frequently in transition when Matt Carlino is playing the point, pushing the pace.
Kyle Collinsworth
Kyle Collinsworth frequently looks like BYU's best player. He's not, of course, because Tyler Haws exists. But for stretches, he carries the offensive, and he's definitely BYU's best finisher in the paint. He also rebounds well regardless of his position, and he picks up assists. He's a creator off the dribble, and besides Matt Carlino, BYU doesn't have one of those (and don't say Skyler Halford, because if Skyler Halford could create off the dribble, we'd see it either in his shooting stats, which have dropped off, or in his assists, which never happened in the first place). But also there's this: Collinsworth can't shoot free throws. He also can't really shoot mid-range jump shots, but he's good enough in the paint that it doesn't show up in the box score. For instance, he shot 8-15 from the field tonight, which makes for a great percentage, but which ignores what actually happened, which is that he made one outside shot, bricked a slew of midrange jumpers, and was lights out inside the key. This is an easier fix. He could just stop shooting them, and continue attacking the basket and finishing or getting to the line. The bigger issue is that when Collinsworth gets to the line, he can't make free throws. Unfortunately, Collinsworth's whole worth to the team stems from his ability as an attacker, somebody who can get in the paint and either distribute or get points. But if he continues to struggle from the line like this, that mitigates much of his usefulness, especially in crunch time when teams foul more. The free throw shooting didn't kill BYU tonight, but it has in previous games, and it will in future games.
The problem is his form. There's a lot of different philosophies about shooting form, but all of them agree that power comes from the legs and accuracy from the arms. Collinsworth bends his knees, but only to pay lip service to good form, not because he actually gets any power from it. That's because he pauses a little before he starts his arm motion, which means he's getting both his power and his accuracy from his arms. This is why he's so frequently short or long. He either comes up short for lack of power or overcompensates and bricks it on the back iron.
The good news is that he could fix this. Lots of players have. In the NBA, Blake Griffin has improved his FT percentage drastically. He just needs to retool. In fact, he really just needs to spend more time watching and emulating Tyler Haws, whose form is both perfect and stylistically speaking, not that different from Collinsworth's. It's a glaring flaw in Collinsworth's mostly complete game, but it's one that can be fixed. But this season, we may just have to ride it out and hope, even against mounting evidence to the contrary, that he can shoot passably well enough not to hurt the team late in games.