Best Game Ever: Feb 1973 – Blizzard road trip to see Kresimir Cosic one last time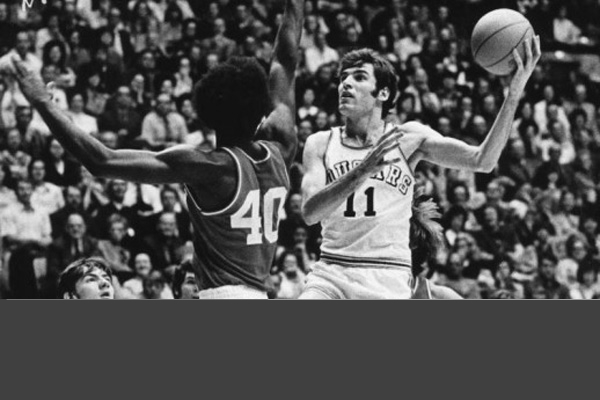 Ron Brown road trips to see Kresimir Cosic one last time for his dad's first-ever live BYU game — part of the Loyal Cougars "Best Game Ever" series.
I have seen a lot of live BYU sporting events. As a student at BYU from the fall of 1960 until the spring of 1964, I think I went to every home football and basketball game, and a few others as well — including what I recall as the 1966 football game at Utah when Virgil Carter led the Cougars to an upset of the Utes at their place. A friend of ours whose wife was a rabid Utah fan took me to the game. He was quietly happy BYU won. She was very annoyed! I was elated.
The next year, the Cougars won in a big upset at Corvallis over the Beavers, who would beat #2 Purdue and #1 USC and finish in the top ten. We really shocked them up there, and I got to go to that game as well. (I again saw BYU win in Corvallis a couple years ago with a great game by Cody Hoffman and his flock of fans from Crescent City.) After serving in Army Signal corps in Vietnam, I returned and finished as a student at BYU in 1971 and 72.
But it was in the winter of 1973, the year after graduation from BYU, that I probably had my most memorable experience. And it was not so much the game, but the chance to make the trip and be there with my dad.
My last two years at BYU were a magical time for basketball which featured the famous Kresimir Cosic. I had had the chance to watch him play all of his sophomore and junior years as a student, including a heart-pounding double overtime win on his way to the conference championship. Cosic was an electrifying center who handled the ball like a guard. I would have loved to have seen him play UCLA's Bill Walton, but he never got the chance.
In 1973, my dad and I decided we had to see him one more time. To do that, we would have to drive from southern Oregon to Provo, a 13-hour drive under the best circumstances.
We picked the twin-bill weekend with New Mexico and UTEP, both really tough teams in those days. In 1973, BYU was having a solid basketball year, ranked as high as 12 in the AP poll and had been as high as 6th the year before. The Marriott Activities Center had just recently opened and it was not only the first chance my dad had to see a game there, but his first chance to see any BYU basketball game live.
We hoped to get there in time for the Thursday night game with UTEP, but near Lakeview in south-central Oregon we ran into a blizzard. Highway 140 to Winnemucca was blocked by snow blowing so hard you could not see the road ahead, and plows could not keep up with the drifts in that high desert country. So we turned around and headed south to Reno and finally made it to Provo, too late to catch the UTEP game Thursday night. But Saturday, we were able to get seats in the nosebleed section of what many then called "The Big MAC."
The game was close throughout. Just as the game was nearing the end, there was some commotion in the seats just below us, where it turned out that a BYU fan couldn't take the excitement and passed out from a heart attack! Medics soon arrived and tended to him and he was fine. But most of the fans paid little attention as the game continued very close. Cosic had swept the Lobos and Miners at home in both my last two years at BYU, but ending up coming up a bit short for our trip.
The game, however, was really the beginning of our adventure, because the trip home turned into a real saga. The blizzard that brought huge snowdrifts a few days before turned to rain and flooding over the weekend just as we headed home. North of Winnemucca, in the desert near the Oregon border, the road was blocked by flooding and we were forced to turn back to the small ranching settlement of Denio on the Oregon-Nevada border. Heading north, the road was mostly gravel for about 50 miles, and crossing the south flank of Steens Mountain we were forced to plow through puddles and ponds across the road that sometimes were several acres in size.
But there was no turning back. The only other option was to go almost all the way back to Winnemucca and up through Idaho and across eastern Oregon. Dad would drive and I would operate the windshield washer to scrub the mud off the glass, and with a rag, wiped the fog that was thrown up from the Beetle's air-cooled engine-defroster. It was often underwater fording the floods! By the time we reached pavement near Frenchglen, the car was caked in mud, and looked like a mud bogging competitor.
It was then on to Burns and the nearest carwash, then several more hours driving home, with memories of a great game and good time together conquering mother nature in eastern Oregon and the Nevada desert.
I had seen so many great Cosic games at my time at BYU, he had so much magic on the the court, it was worth it to see him play one last time — even in a loss, and even if meant driving for three days with dad to see it.
New Mexico 76, BYU 66
February 17, 1973
Provo, UT
Ron Brown is a BYU graduate and 28-year veteran morning news anchor for KDRV-TV in Medford, Oregon, and continues to follow BYU on ESPN and BYUtv as much as his schedule allows.
The Loyal Cougars "Best Game Ever" Series is about shared stories — the time you left a game you attended in person and thought "that was the best game ever." If you have a story to tell of such a game, submit it to bestgame@loyalcougars.com and share it with the fan base.
Read the timeline of published stories at the Best Game Ever page.